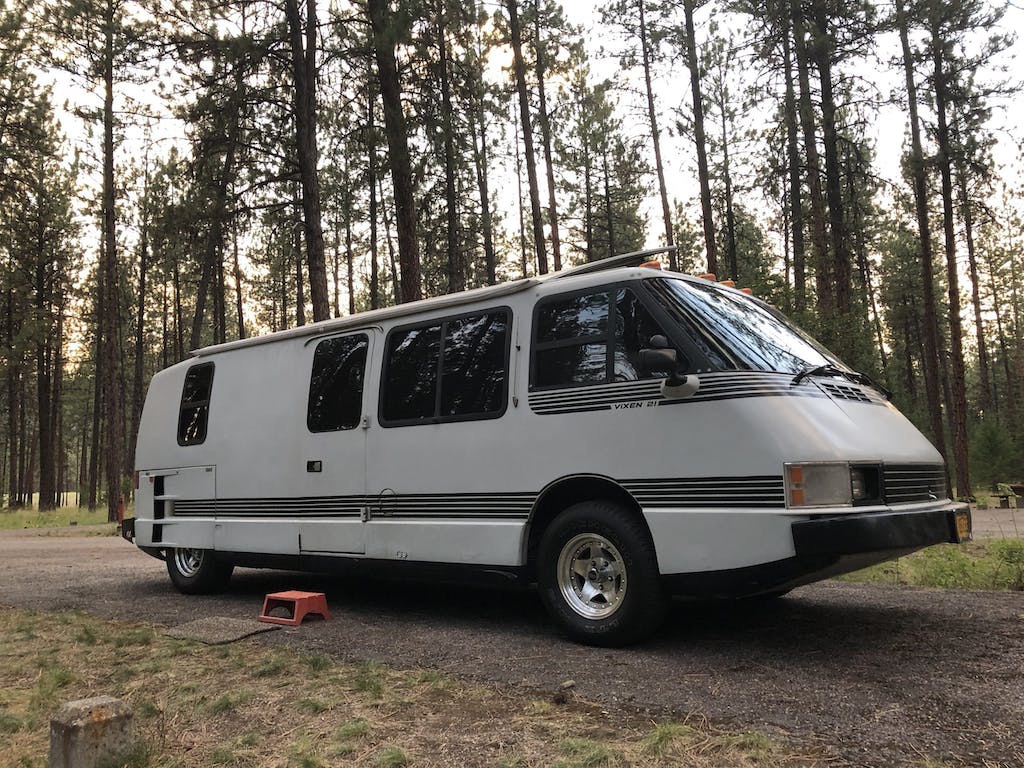 BY Ben Dain-Smith & Benjamin Hunting—When muscle car pioneer Bill Collins decided it was time to move on from his design role at DeLorean (where he penned the original take on what would become the DMC-12), he turned his attention to that most neglected of '80s market slots: the high-performance motorhome.
There's a good chance you've never even heard of the Vixen RV, and that's for good reason. Built between 1986 and 1989, there were only ever 587 of them made in three different types; the original 21 TD, and subsequent 21 SE, and 21 XC models.
Designed by Bill Collins as his answer to the GMC motorhome, the Vixen was made to be stored in a typical garage as it was only 6 feet high and 21 feet long. While it was small, the Vixen still had all of the features you would expect of a larger motorhome.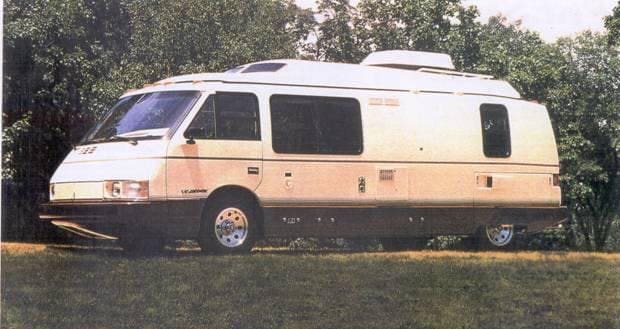 Road trips are some of the most fun holidays you can take, and there is almost no better way to learn about the place you're traveling through than when you hit the open road and move with the people. Unfortunately, for many of us, road trips are punctuated by stays in motels and hotels, but what if the road trip could be never-ending? This is what you get with an RV, a small comfortable home on the road, often coming with cosseting features like running water, electricity for appliances, and even, in some cases, cooking equipment.
There have been a number of popular RVs throughout the last five decades or so from the likes of Winnebago and Ford, but there have also been some you may never have heard of, like the Vixen TD 21. This unique RV has an incredible look and a lot of cool features too. Here's the lowdown.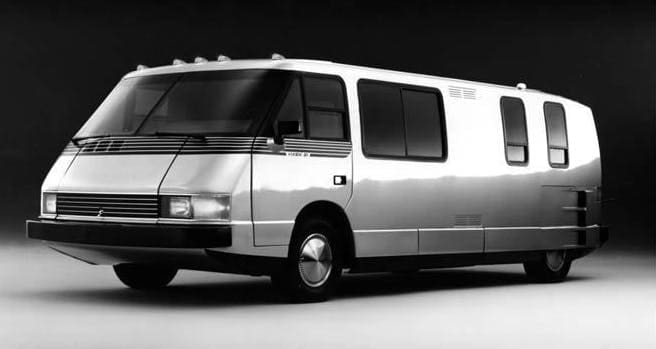 A Background On The Vixen RV 
The Vixen, which was called the "Driver's RV" by some people due to its low center of gravity and wide stance, was subject to wind tunnel testing in its development to create a totally smooth fiberglass exterior top and bottom, and this was successful enough to give it a drag coefficient of less than .30.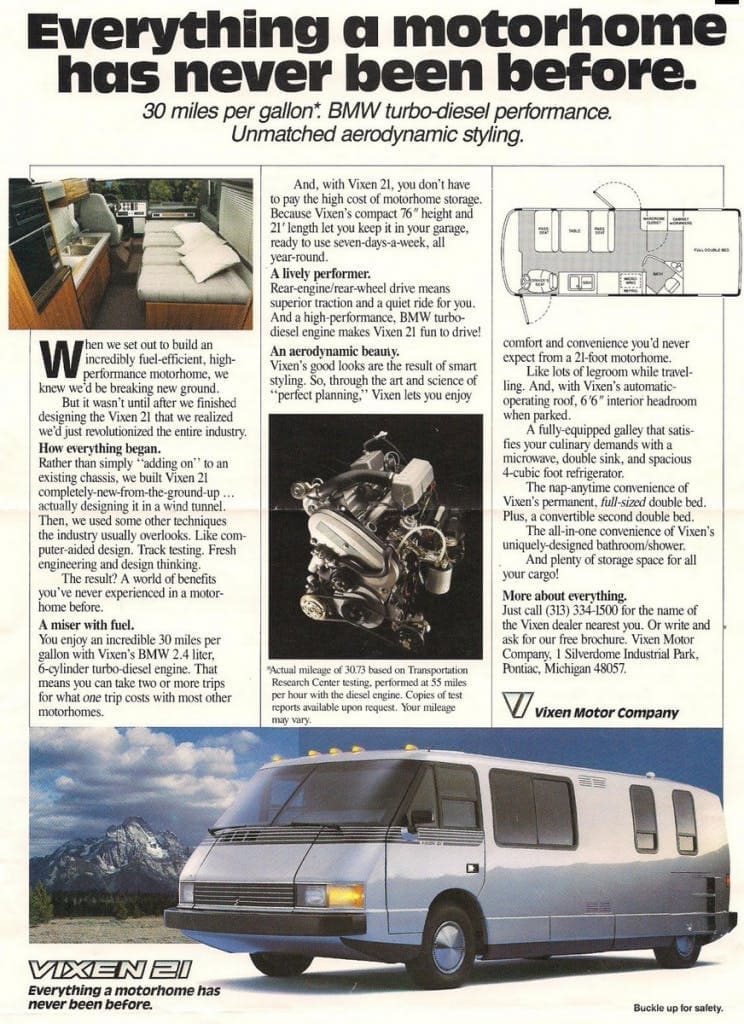 Vixen would debut the 21 TD at the Detroit International Auto Show in 1986, and it turned more than a few heads with what at first seemed like outlandish claims about its capabilities. Collins was adamant that not only would the 21 TD best 30 mpg on the highway, but it would also crest the 100-mph mark on a long enough stretch of road—two things that motorhomes of the day were notorious for not doing, even downhill with an F5 tornado providing a tail wind.
Surprisingly, Collins was right on both counts. Although few owners would tempt fate at the time, modern Vixen stewards have entered the TD 21 in land speed contests and posted radar-verified speeds matching its advertised capabilities—not bad considering its 115-horsepower rating. The Vixen's efficiency, however, was far easier to verify on public roads, and this combined with the vehicle's excellent handling and the novelty of a shift-it-yourself camper of this size would quickly win it praise from all quarters of the RV community. Some owners were so tickled by their fun-to-drive motorhomes that they began to affix BMW badges to the front, reflecting the engine inside and confusing nearby dealers forced to field calls from 7 Series owners seeking the next step up in long wheelbase luxury.
The automotive press loved the vehicle upon its release giving it glowing reviews, but the general public did not seem to be convinced and only around 300 units were purchased in the first two years of business, leading the Vixen business, which was created specifically for the RV, to diversify their range, introducing the XC model, which was more of a limo-style vehicle, and finally, the SE model.
Unfortunately, sales never picked up for Vixen, and the company folded in 1989, with many of the assets purchased by a group of owners looking to support their vehicles in the future. While Vixen never achieved anything like what it aimed, the 21 TD proved to be ahead of its time, and history has been kind to it with values rising dramatically in recent times.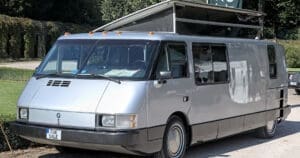 Specifications
The Vixen 21 D remains unlike any other RV to have ever existed, and its streamlined look is still striking to this day. The underpinnings of this bizarre RV are just as interesting as its outward appearance, though.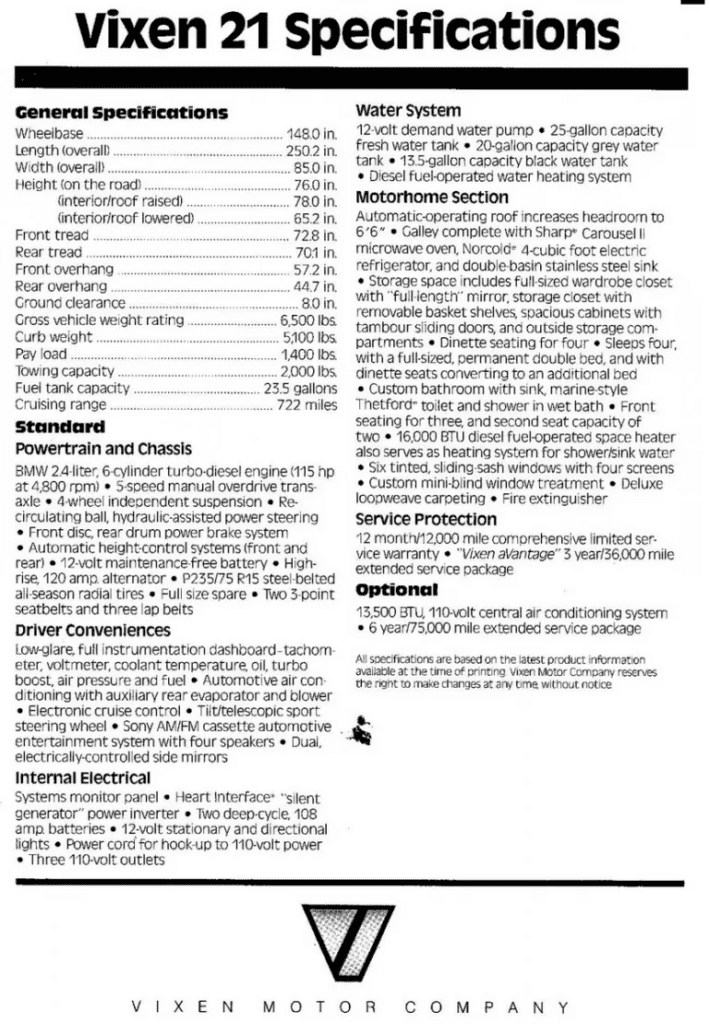 All examples of the Vixen TD 21 were powered by a reliable 2.4-liter turbodiesel inline-six made by BMW. The engine was not the most powerful, putting out 114 hp and 163 lb-ft of torque, small numbers, you may think, for a vehicle of its size. Thankfully, due to the size and wedge-like shape, which was developed in a wind tunnel for the best drag coefficient possible, the engine proved to be more than sufficient for its job, giving the RV a top speed of over 100 mph, and an average fuel economy of up to around 30 mpg.
Despite its bulky appearance in photos, the Vixen is surprisingly small in stature. It measures in at around 21 feet long, and just 76 inches tall, making it capable of fitting in the typical garage of its era.
The Vixen 21 TD was a surprisingly advanced vehicle for its time and has always been admired by those in the know for its technical prowess and abilities, which is why values are beginning to increase.
Rarity And Second-Hand Value
The Vixen 21 TD has become an exceedingly rare motorhome considering its lack of popularity when it was new. Only 587 Vixen vehicles were sold altogether, and around 300 of these were 21 TD RVs. As such, finding one is rare enough, but getting one in a roadworthy condition is almost the holy grail. Put it this way, when one of these vehicles goes up for sale, it usually gets a mention in the automotive news online.
As such, values really are starting to rise now. However, the Vixen 21 TD is a niche purchase and it requires a special owner. Due to its age, stewardship is a case of regular maintenance and problem-solving, and any prospective owner should expect to get dirty. Additionally, parts are becoming increasingly rare given the lack of Vixens that were created. While the BMW M21 engine it used is not a particularly specialized unit, other aspects of the vehicle are far more particular, so sourcing replacement parts should always be at the forefront of any prospective owner's mind.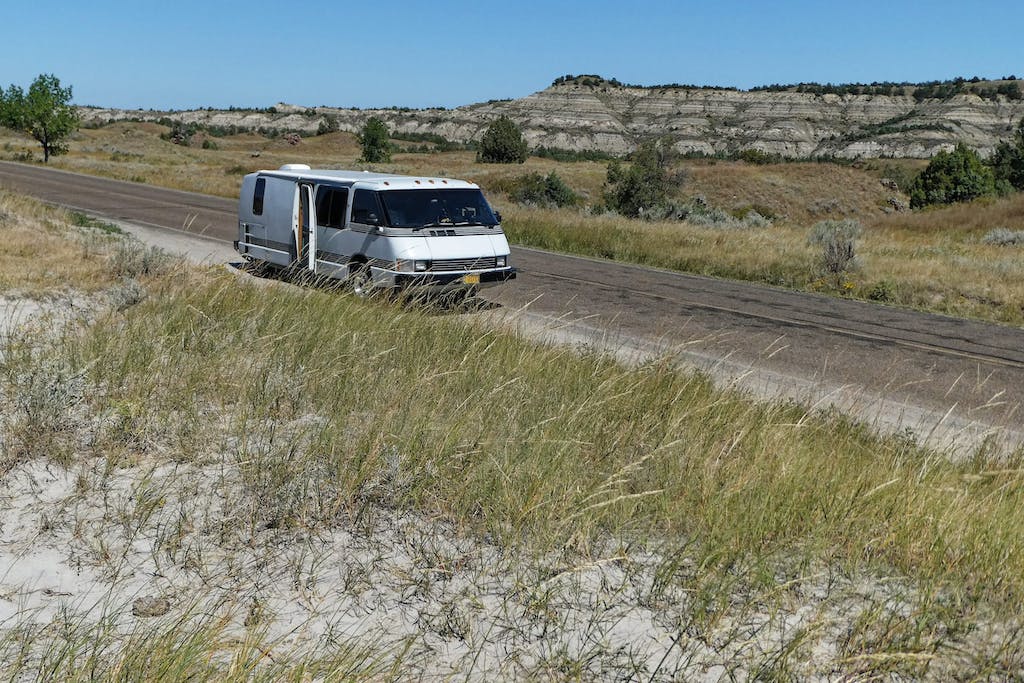 Despite now approaching middle age, the 21 TD, SE, and XC have enjoyed healthy interest from enthusiasts through the Vixen Owners Association, which regularly gathers together large numbers of Vixen RVs from around the world. Collectors are also beginning to take notice of the vehicle, with examples trading hands for between $30,000–$40,000, depending on condition.
With all of this in mind, it's understandable that, while rising quickly, prices are still reasonably low for this RV, despite its rarity. This is up from around $24,000 around 2 years ago. Prices will, of course, vary from vehicle to vehicle depending on its individual condition, and with such a rare piece, it's hard to gauge an overall value, but it certainly looks as if prices will only continue to climb as time passes.
The Vixen 21 TD is undoubtedly one of the coolest RVs to have ever existed. The motorhome was born from such an intensive development stage, and it was clearly a great product in its time, but, sadly, it just never got the recognition or popularity it deserved.
Sources: Hagerty and Hotcars. No copyright infringement intended.
---
About The Author
Ben Dain-Smith has been obsessed with all things automotive since childhood. While other kids went outside and played sports, he studied car catalogs and learned about the workings of a V8 engine.

That insatiable interest has only grown as time has passed, and these days, you'll usually find Ben writing for Hot Cars or tinkering on his beloved Mini R56.