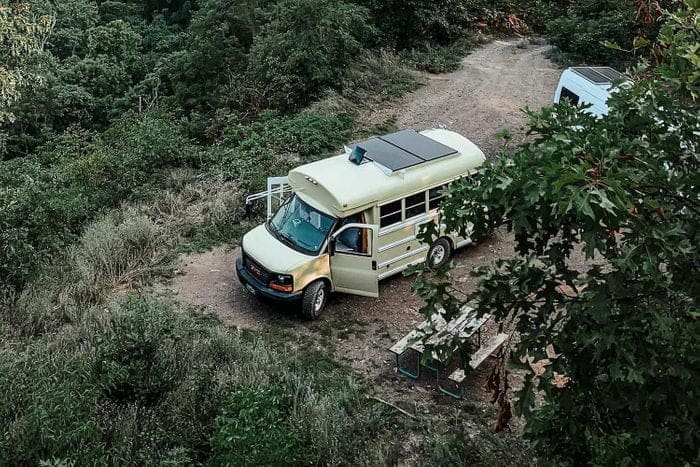 BY Karuna Eberl—A skoolie can grant you boundless freedom, or become a really expensive lawn ornament. If you're thinking about getting one, here's what to know.
When I met him, he lived in one on a remote beach in Baja California, in Mexico. The scene resembled a cliché paradise movie plot: Each day when he finished kayaking with dolphins on the Sea of Cortez, he would build a fire in his wood stove and start making bracelets, which he would sell for a little extra cash. What a life!
Rio's skoolie covered all his basic needs but was a little rough around the edges. Other skoolies I've been in are more refined, and some even resemble mini luxury apartments. But still, living in a skoolie is a minimalist lifestyle that isn't for everyone.
What Is a Skoolie?
Courtesy @RidingDirtyWithFergie/Instagram
A skoolie is an old school bus that's been converted into a mobile home. Some people choose skoolies over RVs or campers because of their structural integrity.
"School buses are designed to survive roll-overs, whereas RVs or campers have, in the past, completely burned to the ground or lost walls due to wind while on the highway," says Sabrina Bosserman, owner of Phoenix Skool Buses in Mt. Pleasant, Texas.
People also like skoolies because they're often cheaper than an RV and customizable. Plus, many buyers appreciate the environmental benefits of repurposing a vehicle that would otherwise be junked.
They also have excellent off-grid capabilities. You can add a large solar array to the roof, plus there's plenty of room for extra water tanks and other accessories.
Conversely, here's what people don't like about skoolies:
They're usually not geared for highways;
They get poor fuel mileage;
They can be difficult to drive;
Their previous use and age means they're more prone to mechanical issues;
They're harder to insure;
Some campgrounds and national parks won't let them in.
---
---
How Much Does a Skoolie Cost?
It varies, but most people end up spending upwards of $25,000 for materials, appliances and tools, plus the price of the bus and any mechanical repairs. If you aren't qualified to do electricity, plumbing or welding, count on more for hiring skilled labor.
"I would say that to buy a safe, well-done skoolie one can expect to pay anywhere from $30,000 to $100,000, depending on the amenities you're looking for," says Bosserman. Purchasing a complete one from a builder like Phoenix Skool Busses generally costs $50,000 or more. Base rates of some other companies start at $100,000.
How To Build a Skoolie?
Choose your bus style
The main body types are a dog nose, where the engine is in the front under a hood, and a flat nose.
Pros and cons of dog-nose school buses:
More widely available;
Drive more like a car;
Engine doesn't take up floor space;
More of a pain to paint;
Look more like a school bus, which can be a problem getting into RV parks.
Pros and cons of flat-nose school buses:
More powerful, if it's a model with the engine in the back (aka a pusher);
More in-demand and thus harder to find for sale;
Two additional wheel wells to plan around;
More difficult to drive.
Shop around for a bus
When looking at potential buses to buy, don't just opt for the cheapest one, says Mitchell Rosko, owner of Paved to Pines. Instead, focus on ones in better shape even if they cost a bit more. Make sure you're building your investment atop a decent foundation.
Before buying, it's imperative to look at it in person and get it inspected by a licensed heavy-duty mechanic, not just a mechanical friend. Steer clear of rust, which often leads to a major money pit.
Also, make sure it has a transmission geared for highway speeds. And if possible, choose a bus that mostly has screws vs. rivets. That will make life easier when it comes to gutting it.
Plan your layout
You'll find many design plans available online, so that's a good place to start looking for ideas. Consider your priorities. Do you want a large bedroom, or extra desk/counter space for working from home? Because the tallest part of the bus is in the middle, that's often where people put the shower.
Also, make sure to take the wheel wells and gas tanks into account, says Bosserman. It's common for buyers to realize too late you can't route plumbing in those areas.
Gut it
Remove just about everything from the inside, including the factory floor and ceiling, to ensure there are no leaks, rust or mold. Make sure to wear proper personal protective equipment (PPE). Recycle the metal to make a few bucks and avoid trips to the dump.
Build it
This takes anywhere from a few months to a few years, depending on how much time you can dedicate to it. "It's very difficult to build these and many people give up," says Bosserman. "Try to do at least one thing a day to stay motivated."
Also:
Use a service like Noah RDI to inspect and certify your build's safety;
If you aren't skilled in plumbing and electrical, make sure to hire someone who is;
When choosing materials like flooring, keep in mind it will likely need to function in many different climates.
Things To Consider for Living Your 'Bus Life'
Courtesy @RidingDirtyWithFergie/Instagram
While you won't be paying rent, you must account for other expenses including gas, parking, campgrounds, maintenance, repairs and insurance. That last one can be difficult to get for skoolies.
Another big hurdle can be finding a place to park since some RV parks don't allow skoolies. Keeping the outside of your bus presentable can help with this.
Finally, living in tight quarters can be difficult for some people, physically and mentally. Before embarking on a skoolie build, rent an RV, camper or van to make sure you actually like the lifestyle.
Maintaining Your Skoolie
Courtesy @RridingDirtyWithFergie/Instagram
Budget extra for maintenance costs during the first year for problems traditional inspection cannot catch, like seals and air lines that break after you start using them. Then stay on top of keeping everything in working order.
"The best thing you can do for your skoolie is preventative maintenance," says Bosserman. "Correctional maintenance can be extremely expensive."
Have a mechanic look it over at least once or twice a year, and plan for at least $3,000 in yearly maintenance.
Also, if you stow it for an extended period, make sure to prep it first. Throw away old food, drain the plumbing systems, connect it to a trickle charger and removing lithium batteries (if part of the solar system) so they're not exposed to extreme heat and cold.
Source: Familyhandman.com. No copyright infringement intended.
---

A freelance writer and indie film producer, Karuna Eberl covers the outdoors and nature side of DIY, exploring wildlife, green living, travel and gardening for Family Handyman. She also writes FH's Eleven Percent column, about dynamic women in the construction workforce. Some of her other credits include the March cover of Readers Digest, National Parks, National Geographic Channel and Atlas Obscura. Karuna and her husband are also on the final stretch of renovating an abandoned house in a near-ghost town in rural Colorado. When they're not working, you can find them hiking and traveling the backroads, camping in their self-converted van.