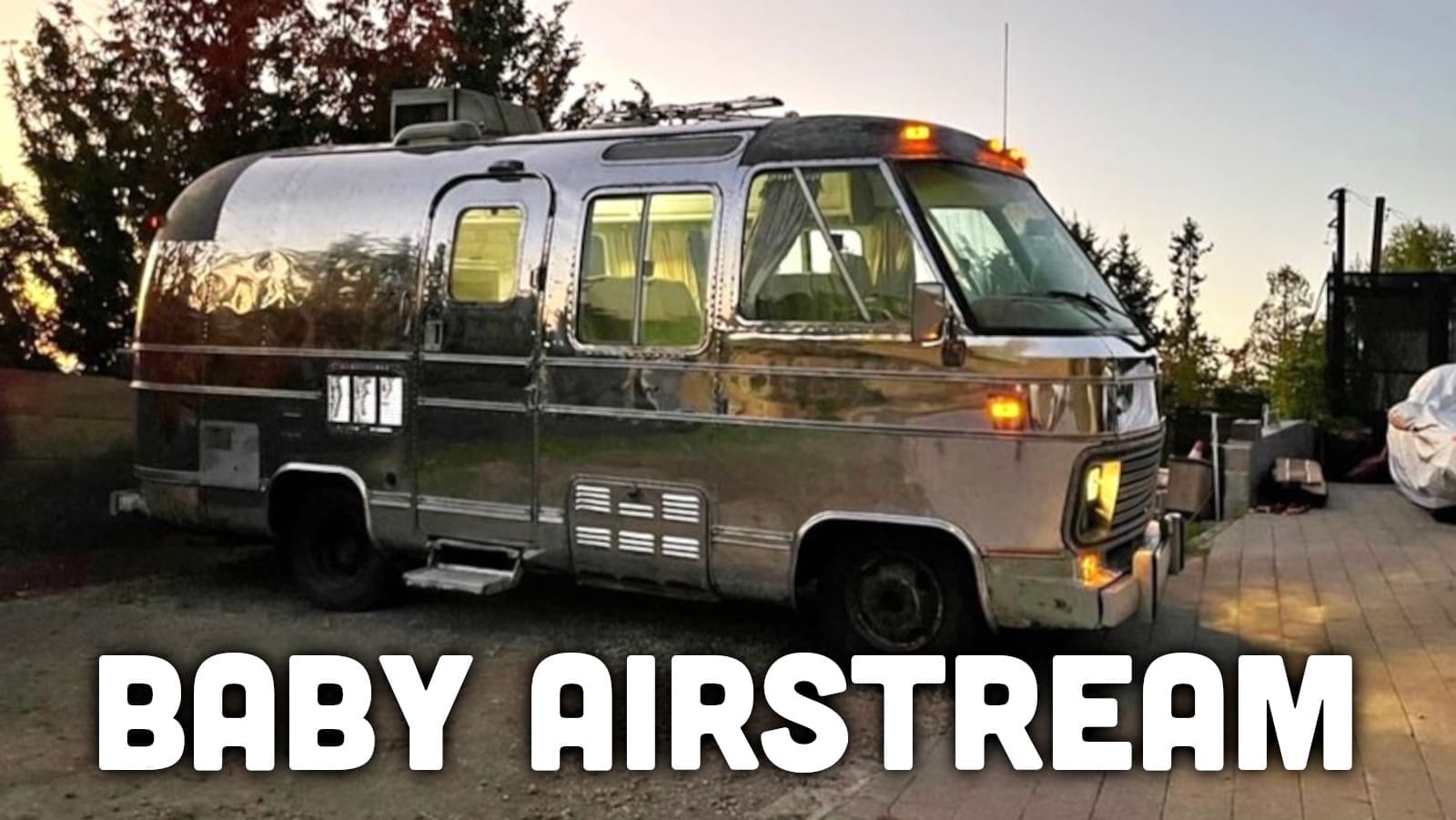 BY–Mercedes Streeter. This year, RV sales are returning to pre-pandemic normals. Despite that, camper vans continue to be a substantial segment. If you like Airstreams, its cheapest new camper van is the $147,570 Rangeline. Or, for half of that money, you can roll into a campground with something that'll turn some heads.
This 1977 Airstream Argosy Motorhome is the same size as a Rangeline, but looks stunning and comes complete with a restored, yet largely period-correct interior.
As you know, I have a rather long list of cars I want to buy should I ever run into the requisite money. Well, I have a similar list of campers, too. In fact, there's a very pink vintage canned ham camper that I've been eyeballing for a couple of weeks. I should get to fixing my U-Haul, but the cuteness is almost too hard to resist. If I ever happened to come across enough money, I'd love to pick up a vintage Airstream. I'm a sucker for polished aluminum, I mean, just look at this Argosy!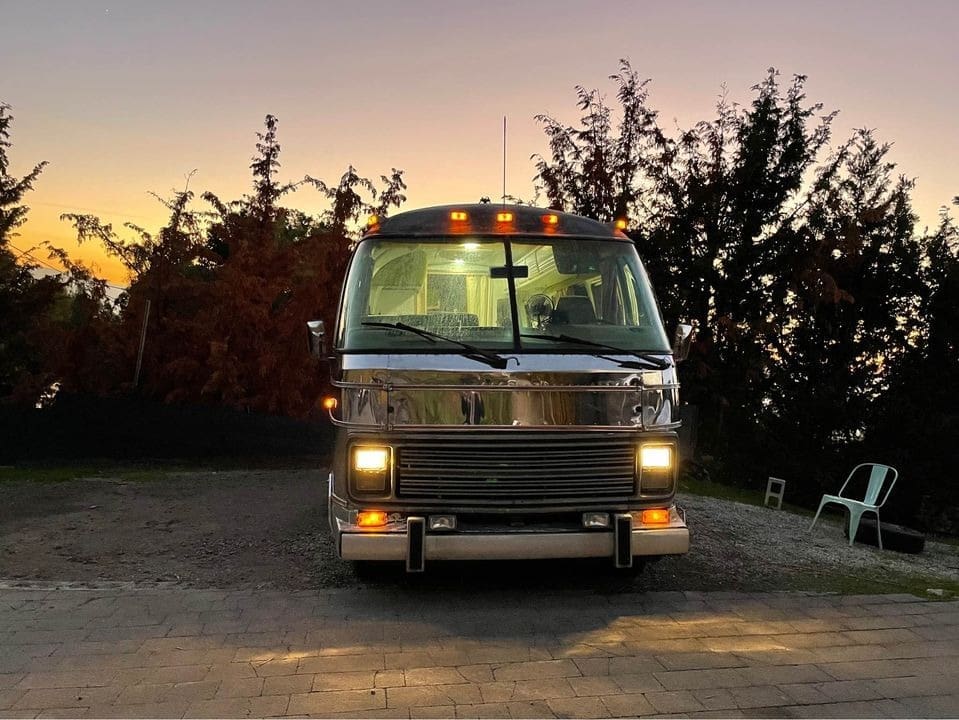 The Painted Airstream
While the motorhome before us today is shiny enough to look at yourself in, it didn't start out its life that way. Here's what it looked like when new.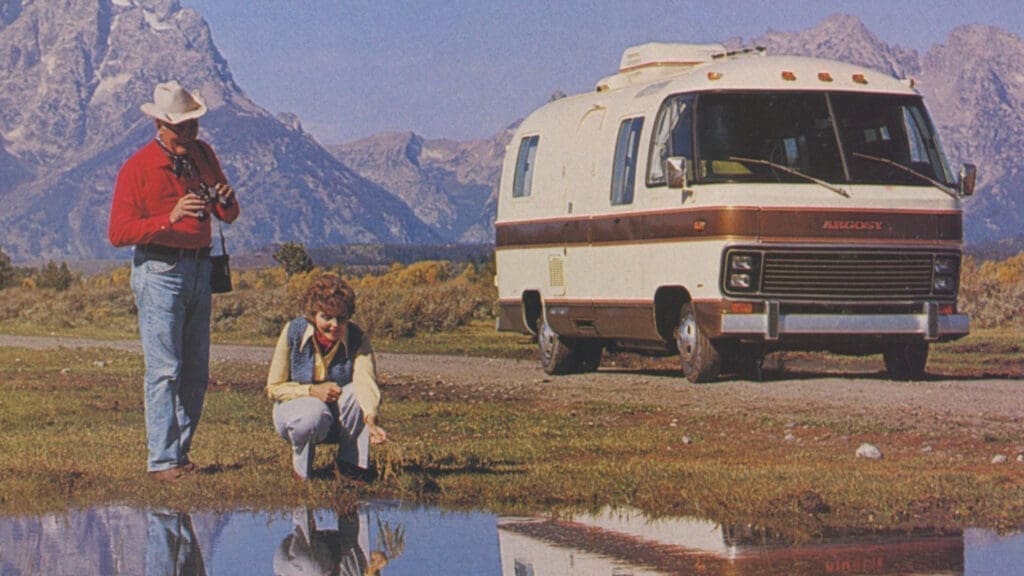 You'd be forgiven for thinking that an Argosy was a clone of an Airstream. They have the look, but what's up with the paint?
As Airstream writes from its archive, in the early 1970s, the company began exploring the idea of offering a mid-priced line of campers. Then Airstream president Chuck Manchester saw the need for a separate line featuring campers with a mix of characteristic Airstream traits and experimental design.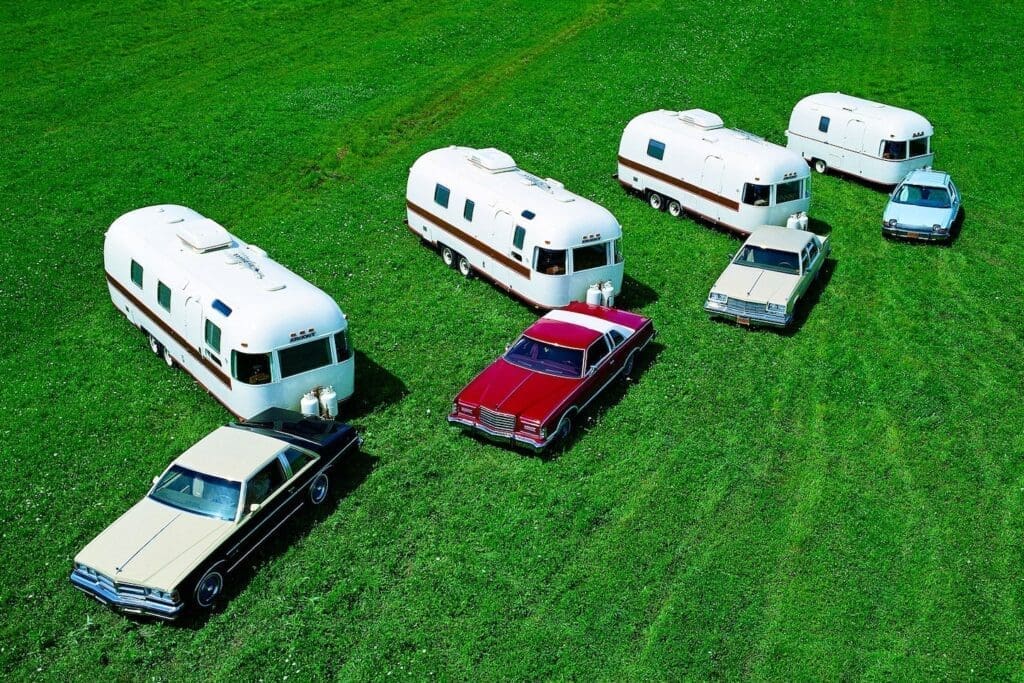 Airstream opened a plant in Versailles, Ohio, 36 miles from its facility in Jackson Center. The new camper line would have a separate production and management team. Those first Argosy trailers were delivered in 1972 and Airstream marketed the campers almost Airstreams. Basically, you were buying a trailer with the riveted aluminum body and quality that made Airstream famous. Even the axle underneath was the same used on trailers branded as Airstreams.
By all accounts, these were real Airstreams, but Airstream distanced the Argosy trailers from the main line. Airstream informed Argosy owners that they could not attend Airstream rallies and were locked out of the Wally Byam Caravan Club. Still, Airstream wanted owners to know: "Argosy, above all means value," and that their campers were "built by the pioneers of the trailering industry."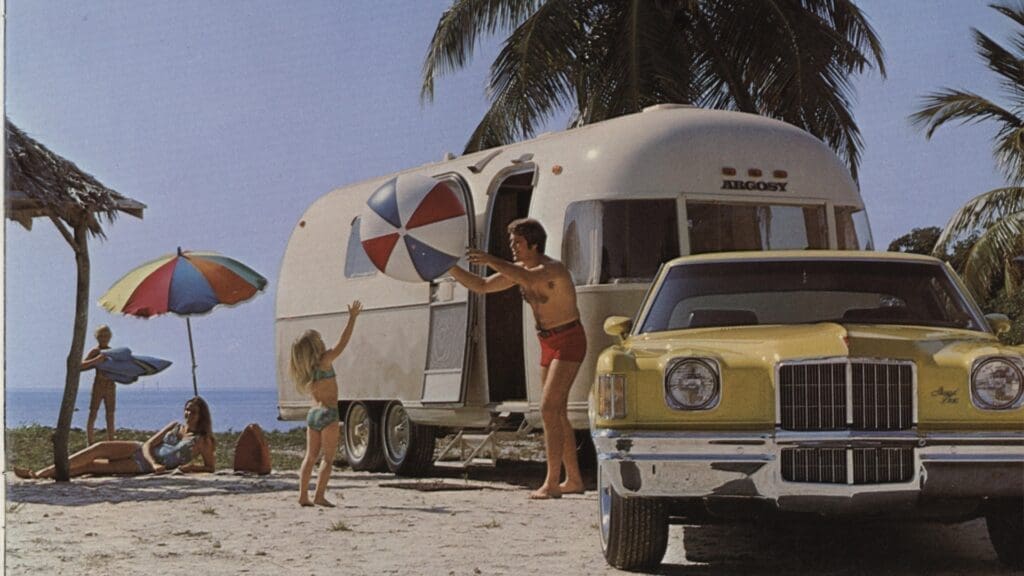 Airstream says that the Argosy name fits with the company's nautical naming scheme as Argosy was the name of a merchant ship. The company got Argosy pricing down in a couple of ways. These campers were filled with less-expensive equipment, but their bodies were also sometimes intentionally imperfect.
Unlike a mainline Airstream, the factories building the Argosy line used scratched and dented aluminum panels. The shells also weren't fully aluminum, either, as galvanized steel was used for camper end caps. An attractive paint scheme would hide the aluminum damage and different end cap material. By 1973, using cheaper parts and sometimes damaged aluminum meant buyers got to save $1,500 to $3,500 ($10,708 to $24,986 today) at purchase time. Airstream also reduced its guarantee from lifetime to just a year to further cut costs. A year later, Airstream's California plant began producing Argosy campers to cut transportation costs out of the equation.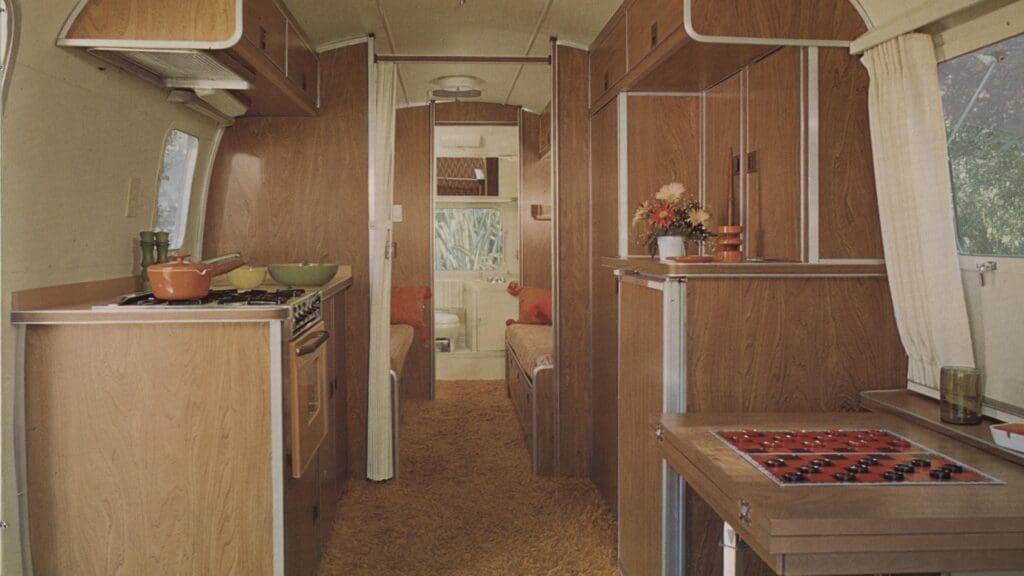 The Argosy line wasn't just Airstream's bargain brand, but also a sort of skunkworks where the company would try out new ideas before moving them onto the main line. Experiments back then included panoramic wrap-around windows, rear doors, and a front bed setup. Some of those features were more popular than others. The panoramic windows were loved so much that they made it onto the main line. Airstream tested the steel domes to see if the company could save money by not having to make end caps out of expensive segments of aluminum. In Argosy campers, the steel caps sometimes had problems retaining paint.
The Argosy experiment also included more ambitious projects such as the Argosy Motorhome, also known as the Argosy Touring Coach. Introduced in 1974, the Argosy Motorhome was Airstream's first motorhome and technically the predecessor to Airstream's coaches of today.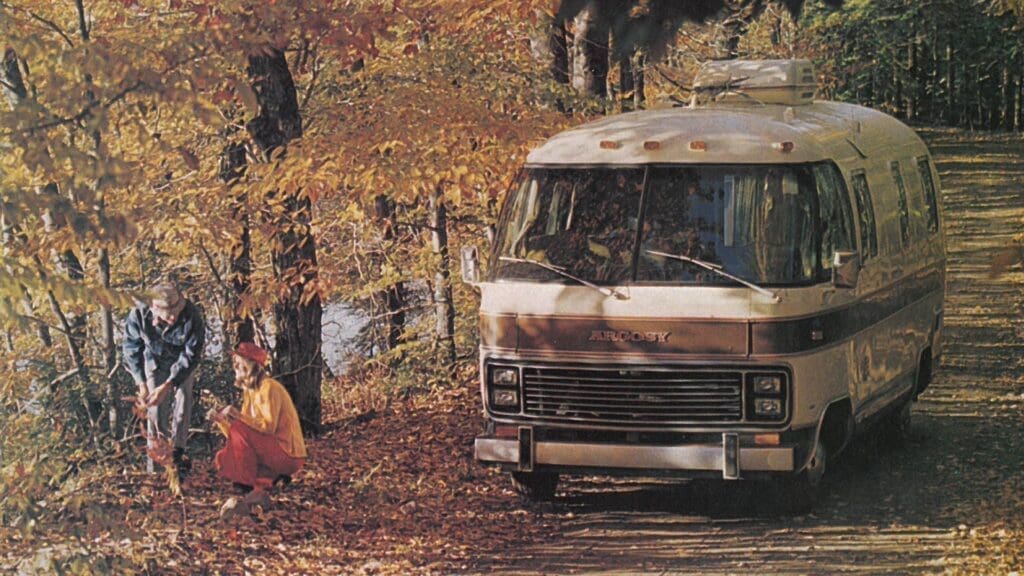 In terms of technology, the Argosy Motorhome went in a different direction than other innovators of the era. This was the era that the GMC Motorhome stole the show with its front wheel drive, low floors, and aerodynamic body. The Argosy Motorhome also took on a more aerodynamic shape than most coaches of the day and it had an air suspension, too, but it was based on a Chevrolet P-30 chassis and motivated with either a 350 or 454 cubic inch V8 driving the rear wheels. That said, the Argosy Motorhome was still an Airstream at heart. It was built out of hand-riveted aluminum like the trailers and featured extruded aluminum bumpers and a rollbar. Even the cab was largely made of aluminum.
The Argosy Motorhome was such a success that the California factory began production of the coaches in 1975 and by 1979, Airstream began selling coaches under its own name. The Argosy Motorhome also formed the basis of the Argosy Compact Bus, a small transit bus!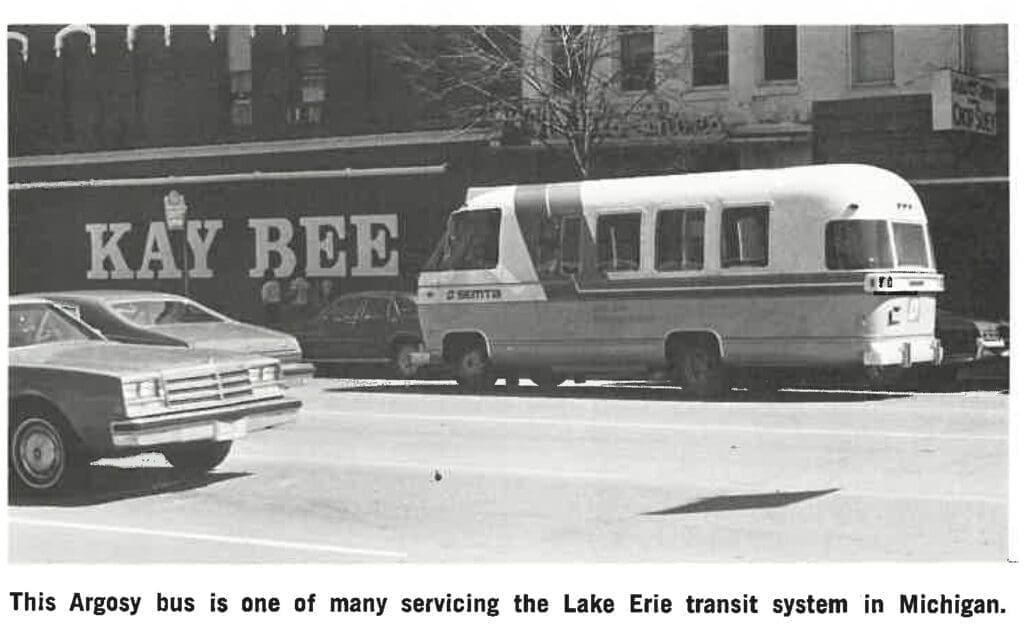 This Argosy Motorhome
The most striking difference between a stock Argosy Motorhome and the 1977 unit up for grabs today is the lack of paint. Argosy Motorhomes were painted like the trailers with Centauri Dupont enamel, but this one has been stripped of it and wears its polished aluminum with pride.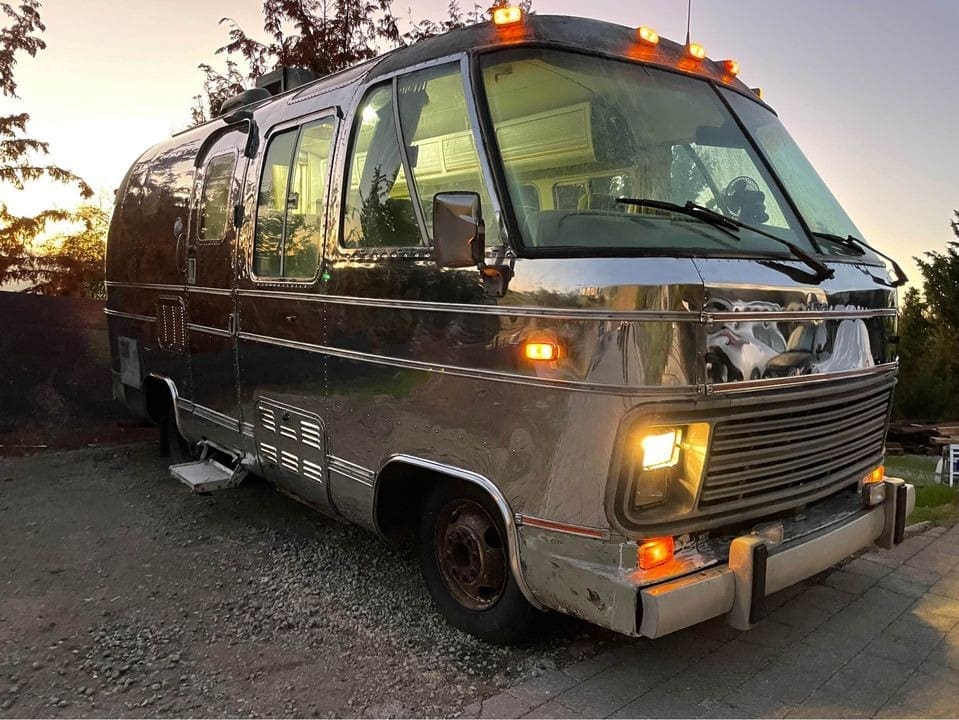 This Argosy Motorhome is a 20-foot model, which means it should be about as easy to drive as a camper van. Of course, no camper van looks as fantastic as this Airstream does. Sadly, the Argosy does sit taller than a van. At 10 feet tall, it's not going to be fitting in your garage. However, with 6 feet, 7 inches of interior height, most people can stand in there. One potential benefit of its more typical drivetrain is 13 inches of ground clearance, 7 inches at the differential. The Argosy Motorhome shouldn't struggle going down an unpaved road to a campground.
Before we head inside, check out that greenhouse. The cab gives you a commanding view of your surroundings and the camper itself has large windows and wonderful skylights. I've noticed that many camper vans don't have a lot of natural light, leading to a cramped feeling. That's not a problem with this Argosy Motorhome.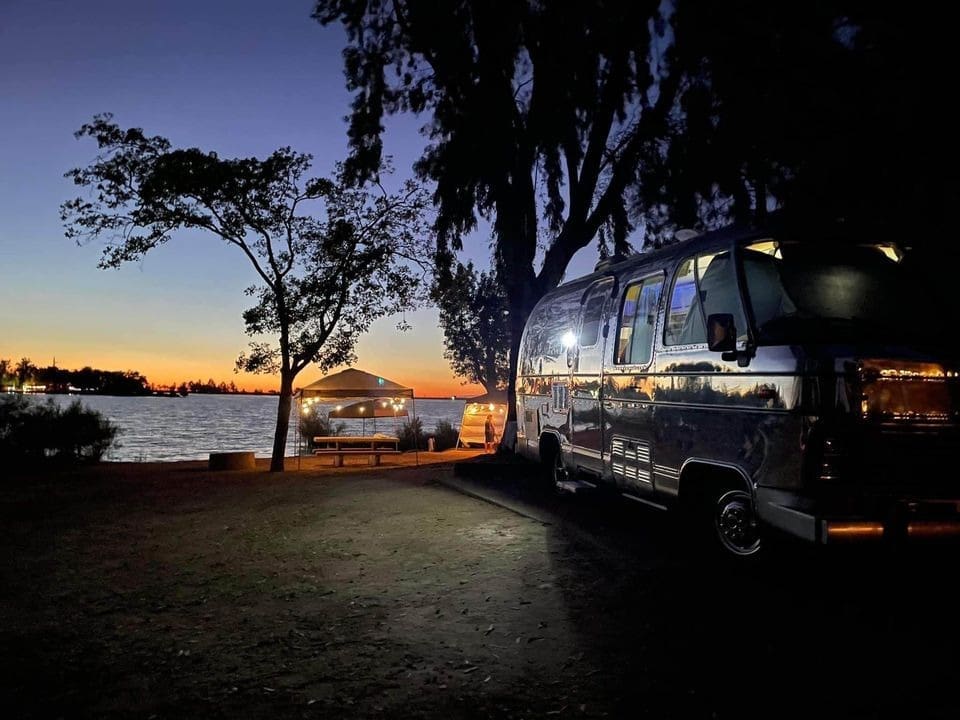 Moving inside, the interior has been updated. What I love about this renovation is that the original character of the Argosy Motorhome has been retained. Check out the period-correct seating and overhead storage bins. You get that 1970s aesthetic without being chained to 1970s camping equipment.
The seller notes a new combination stove and oven unit, LED lighting, USB ports, curtains, water pumps, and cameras for the sides and rear. Also pointed out in the listing is a Maxx Air fan and the carpet has been replaced with vinyl flooring. Changes not noted in the listing appear to include a renovated bathroom and what looks like a low-profile air-conditioner.
Stock, an Argosy Motorhome came with wear-resistant vinyl walls laminated to aluminum, a lounge that converts into a bed, and a forced-air gas furnace. In terms of holding tanks, a factory Argosy had 35 gallons of fresh water. Black tank and gray tank capacities are not listed, but these coaches did come with both. Options included a central vacuum system, a 3 kW Onan generator, a four-speaker stereo system with an 8-track player, and more. It's unclear what options this unit has, but the seller does say it has the optional 454 cubic inch V8 engine. Airstream does not list power figures, but I'd expect this unit to make around 240 HP.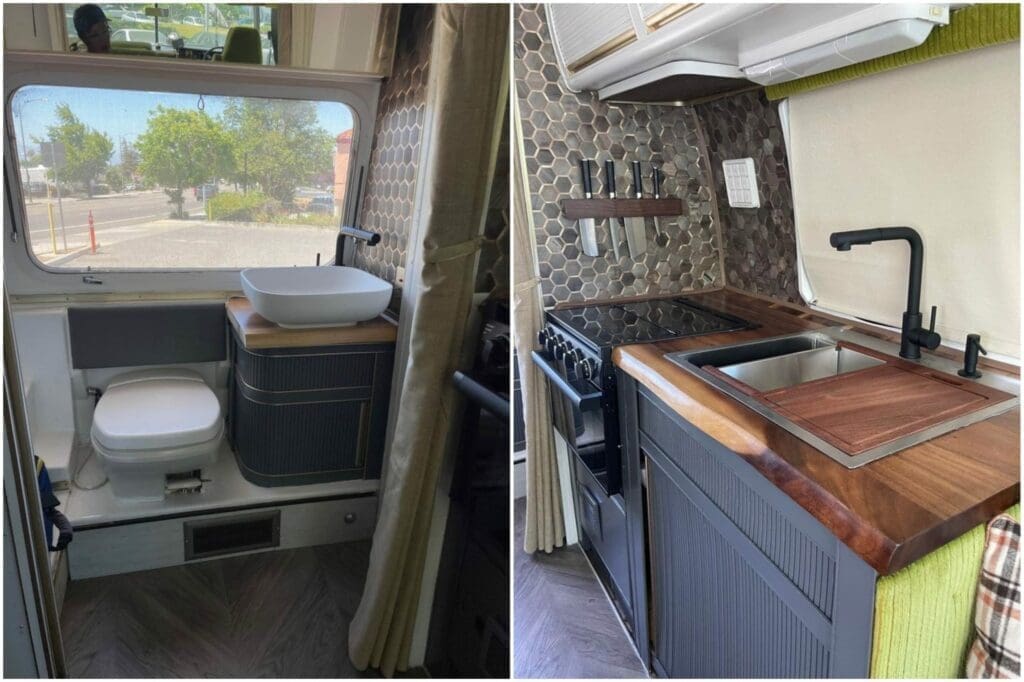 There are some quirks to this camper. Since it was stripped of its paint, you can clearly see what parts are steel and what parts are aluminum. You'll notice that the end caps are dark gray steel and look closely enough you'll see little dings and dents on the body. Of course, it's a 46-year-old coach with 109,100 miles, so some of the damage almost certainly occurred over the years. Though remember, Airstream also used imperfect aluminum to construct these, so I wonder how many of the dings came that way from the factory.
An Expensive Gem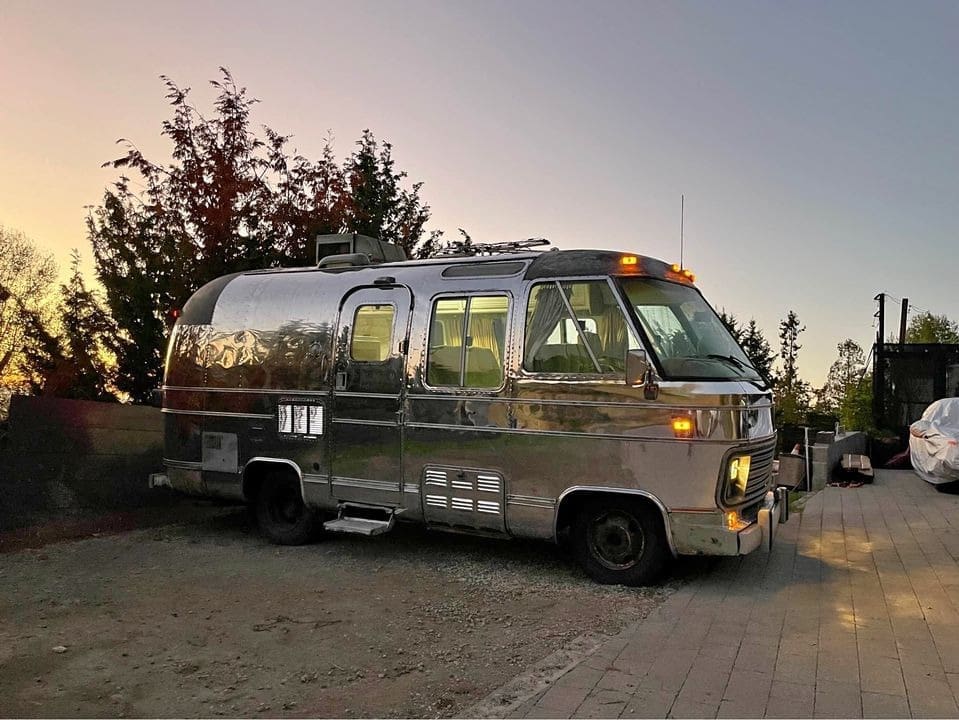 As I said before, this camper is half of the price of getting a brand-new $147,570 Airstream Rangeline. The seller, based in San Jose, California, wanted $75,000 for it (it sold it for $69,000). Prices for Argosy Motorhomes suggest that the price should be lower, but there aren't a ton of sales to go on. One person wanted $34,950 for an Argosy Motorhome in original shape but wasn't roadworthy due to a failing control arm and ball joint. A restored Argosy 20-footer sold for $44,000 at a Barrett-Jackson auction last year. Airstream says that these are rare but are they $75,000 worth of rare? I'm not so sure. Though, I bet the seller would be willing to negotiate with a serious buyer.
Airstream says the original Argosy line was discontinued in 1980, only to be brought back in the middle of the decade for a square body travel trailer made with bonded aluminum skin. Airstream also turned the '80s Argosy into a fifth wheel design.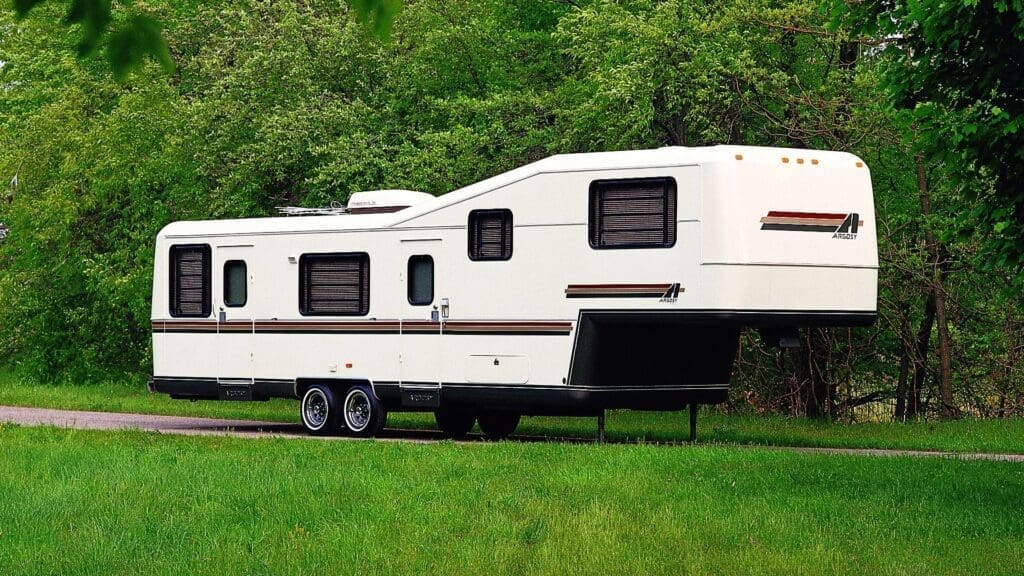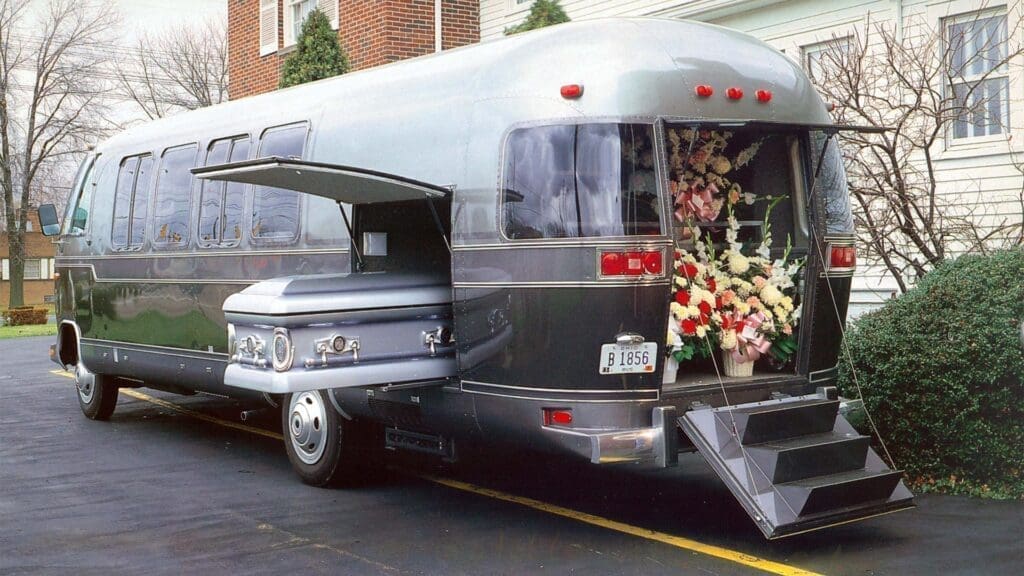 The company also went a bit nutty with coaches, making the Air Coach mobile office, Sales Coach mobile sales office, the NASA Astrovan, and even the Funeral Coach, which was essentially a mobile funeral home.
All of those coaches blazed the path for the Airstream coaches of today, and I suppose you could argue that the Rangeline itself is a return to the Argosy days. Either way, I dig this 1977 Argosy Touring Coach. I love restorations that remind you of what the camper used to be and this just hits the spot.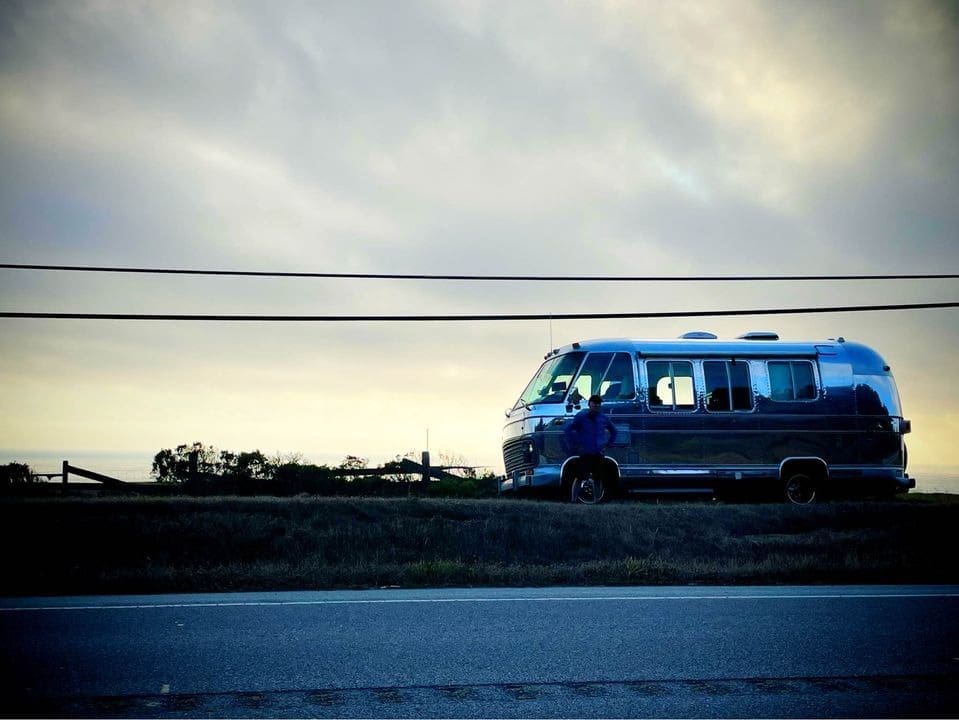 Source: The Autopian. No copyright infringement intended.