Description
Take charge of your outdoor cooking experience with Ooni Koda 16, our gas-powered outdoor pizza oven designed for stone-baking epic 16-inch pizzas and delicious flame-cooked steaks, fish, and vegetables.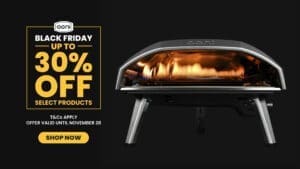 Blending a showstopping design with the convenience of cooking with gas, Ooni Koda 16 boasts a wide opening, large cordierite stone baking board, and innovative L-shaped flame. Switch on the instant gas ignition, and you'll be ready to cook in 20 minutes. Like all Ooni pizza ovens, Ooni Koda 16 reaches up to 950°F (500°C) −- the blazing heat needed for cooking stone-baked, perfect pizza in 60 seconds.
The Ooni Koda 16 oven is gas fuelled for the ultimate ease and control, and it reaches 950°F (500°C) in 20 minutes for stone-baked fresh pizza in just 60 seconds. The oven contains an extra-large cooking area for 16" pizzas, meat joints, breads, and more!
Why Choose Ooni Ovens?
Why Choose Gas?
Ease:

Ready right out of the box, simply connect to a propane tank and get cooking!

Control:

Turn the heat up and down easily with the heat control dial.

Convenience:

No need to clean up fuel residue after cooking!
How To Make Sourdough Pizza | Making Pizza At Home
Want to learn how to make awesome sourdough pizza from start to finish? This how-to guide takes you through everything you need to know, from maintaining a sourdough starter to creating a tried-and-tested sourdough pizza dough, lead by sourdough expert, pro baker and Ooni lover, Bryan Ford of Artisan Bryan!