Description
The Ooni Karu 16 Multi-Fuel Pizza Oven brings the most versatile Ooni outdoor cooking experience and advanced technology to the pizza party.
Phenomenal large pizzas, roasted meats, seared vegetables or even fresh bread. Flame-cook epic meals outdoors with wood, charcoal or gas.
With multiple fuel options, try using wood and/or charcoal for the joy of the pizza purist experience and a subtle wood-fired flavor, or opt for a low-maintenance cook with an Ooni Karu 16 Gas Burner (sold separately)
Thanks to new design features, make 16-inch pizzas while enjoying better temperature control, more fuel-efficient air flow, increased oven insulation and better visibility.
After just 15 minutes of preheating, you'll be cooking at 950°F (500°C), making flame-cooked pizzas in 60 seconds, perfectly seared Tomahawk steaks, grilled veggies and more with the Ooni Karu 16 oven.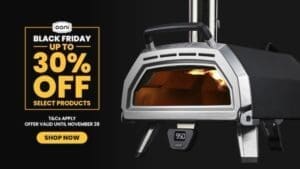 Why Choose Ooni Ovens?
Why Choose Multi-Fuel
Authenticity:

Cooking with wood and charcoal gives food a wood-fired flavor that can't be replicated.

Control:

The Ooni Karu 16 Gas Burner gives you additional temperature control and convenience.

Flexibility:

Choose and change your fuel as you wish! Gas for consistency and low-maintenance cooking, and wood/charcoal for smoky, aromatic flavor.
Ooni Karu 16: the most advanced pizza oven in its class
Maximum flexibility in cooking experiences
Fire up with wood or charcoal right out of the box for a subtle wood-fired taste, or use gas with the Ooni Gas Burner – sold separately – for maximum flexibility in cooking experiences.
Cook 16" pizza in just 60 seconds
Reaches 950°F / 500°C in 15 minutes, for fresh flame-cooked pizza in just 60 seconds.
ViewFlame™ technology lets you keep a watchful eye
New full glass oven door design lets you keep a watchful eye on your creations with ViewFlame™ technology and maintains oven temperatures thanks to improved insulation.
Control cook with increased precision
Control cook with increased precision thanks to the fully insulated oven body and mounted digital thermometer displaying Ooni Karu 16 internal temperature in F or C.
Improved insulation and weather resistance
The Ooni Karu 16 oven features optimized airflow engineering, a carbon steel shell with a high temperature-resistant powder-coated finish, and many more innovations that make this oven the most advanced in its class.
(Note: The 60 day guarantee only applies to purchases made through ooni.com)
How To Make Sourdough Pizza | Making Pizza At Home
Want to learn how to make awesome sourdough pizza from start to finish? This how-to guide takes you through everything you need to know, from maintaining a sourdough starter to creating a tried-and-tested sourdough pizza dough, lead by sourdough expert, pro baker and Ooni lover, Bryan Ford of Artisan Bryan!
How To Make Neapolitan-Style Pizza