BY Christopher Gardner—When notice of the release of the AlpenGlow Mini from BioLite Energy ($39.95 each or 4-pack for $143.82) hit my email inbox, my first reaction was akin to walking down the cereal aisle wondering how many versions of Cheerios do we really need.
(We test everything we review and recommend to our readers. We participate in several affiliate marketing programs including that of BioLite and Amazon.com. If you choose to purchase any of our reviewed products by clicking through our links, we may earn a commission but at no cost to you.)
What are we going to do with a smaller still AlpenGlow Mini, which weighs in at a svelte 3.5 ounces, but doesn't offer a pure white-light option? We can do quite a bit with it, actually, and a couple of these around the house or in the backpack might be more practical and fun than the bigger brethren.
The AlpenGlow 500 offers 5 hours of 500 lumens of light, myriad settings and color tones, and can get you through a few weekend camping trips if you keep it on lower brightness settings. A 14-ounce unit too much to carry? Grab the AlpenGlow 250 (reviewed here) for pretty much the same features in a plenty-bright 7-ounce lamp.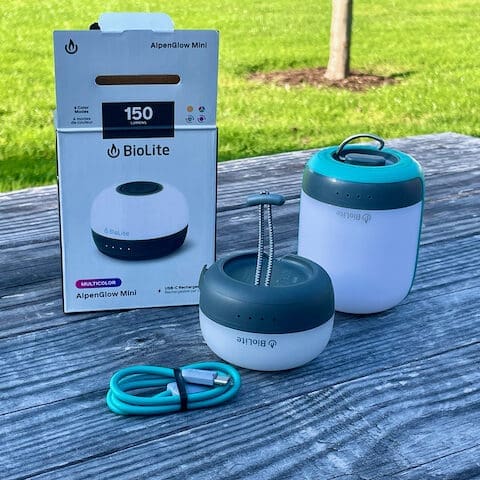 To be sure, the AlpenGlow Mini is missing a few features that its larger siblings have. The fact that it does not have a white-light setting has just been noted, but the warm white light is actually easier on my eyes for most out situations. The Mini also doesn't offer a USB-out port to give your cell phone a bit of a boost while out in the woods. It's battery, obviously smaller, gives you about forty hours of glow on a lower setting, and on my first full-charge/full-brightness test, I got 20 minute more than the listed 5 hours.
The Mini does offer similar dimming features to the 250 and 500, albeit between 150 and 5 lumens. It can offer the warm white light, single solid colors, a quickish cycling of colors, and what BioLite calls the "Horizon" setting, which is a blend of blues, purples, pinks, and blood-oranges meant to be a slow and peaceful approximation of twilight. As I noted in my review of the 250, a number of lamps on the cycling or Horizon settings scattered around a deck, pool, or gazebo could create a lovely atmosphere for a summer-time party. Not sure why I'd go for such settings while on a camping trip, though.
But what really sets the AlpenGlow Mini apart are its pocket-sized convenience and its flexibility for mounting. The larger lamps have convenient metal hanging hooks that are cleverly and securely tucked into the base (or top) of the unit. The Mini, on the other hand, has a strong and short looped elastic cord with a plastic t-bar that locks into the side of its base. The elastic cord can serve as a loop to place it on the end of a branch or hook or jacket tab. I have used it in an otherwise unlit walk-in closet by attaching it to a clothes hangar. It also will wrap around a tent pole or faucet or small appliance or most anything smaller than an inch in diameter. This feature allows you to place the mini snugly along an angled or vertical pipe, rod, or handle—something the big kids can't do.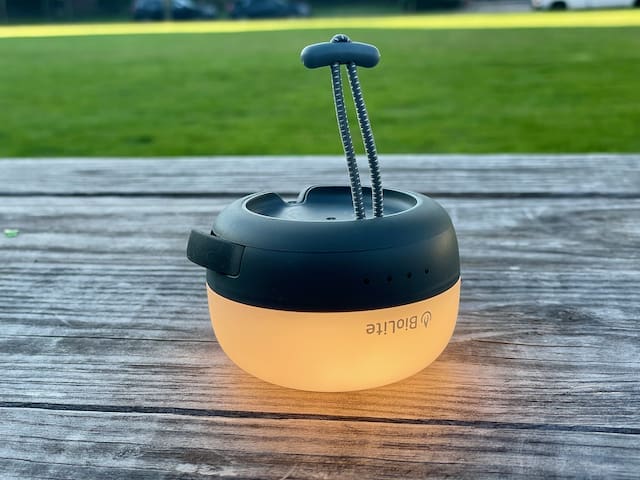 The Mini also can go into an outer bag of most any backpack, or a car's glove or center compartment, or even a (roomier) pants pocket. The convenience of its size and the flexibility of its hanging/mounting/wrapping elastic cord means taking a couple of these on a camping trip could be the ideal plan. One could be carried around as needed while the other keeps the tent and table illuminated, and having a couple of light sources offers directed light with fewer hard shadows than the bigger lamps. Moreover, The AlpenGlow Mini is IPX4 weather resistant, so it can withstand some unexpected wet weather and splashes from a water source. Such a rating does not allow for it be fully submerged, though, so be careful where you set them by the pool or on the lakeside deck.
Such conveniences come at a cost, though. Two Minis cost more than one AlpenGlow 250, for example. BioLite offers a bundled four-pack of the Minis for $143.82, which is a notable savings of buying four individual ones. The lamp platforms and waterproof buttons come in four colors (black, white, red, and teal), and the bundle has one of each. The bundle could be handy for a family of four on a vacation trip beyond the grid (Or would the kids fight over who gets which color?), but otherwise it seems like too many for workaday use and not enough for a backyard party. If you want the lights for your backyard cookouts, you might find a few sets of the SiteLight Strings ($19.95 for four lights along a 10-food cord that can be extended with more sets). Of course, mixing-and-matching BioLite products could be the prettiest of suburban solutions, but that won't be cheap either.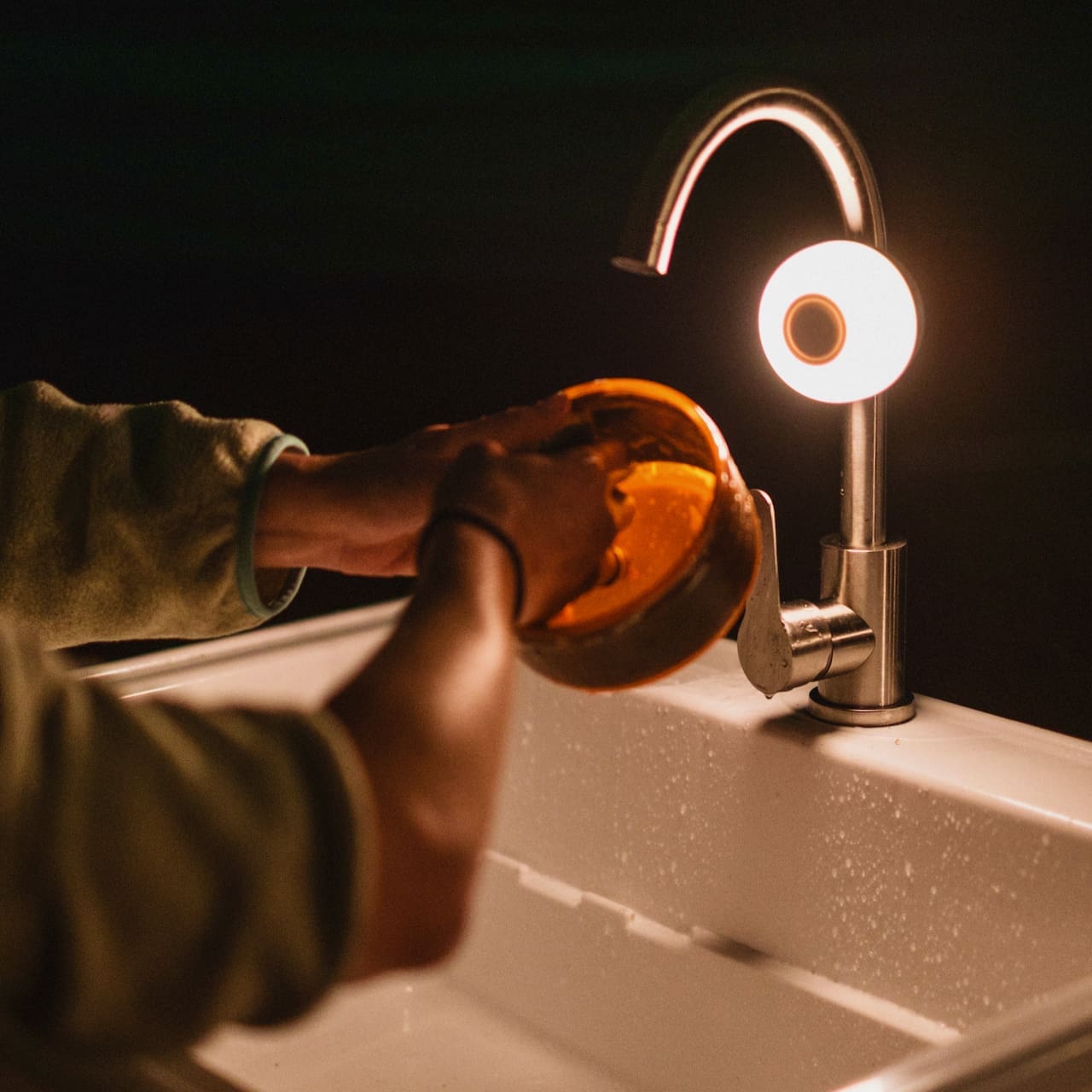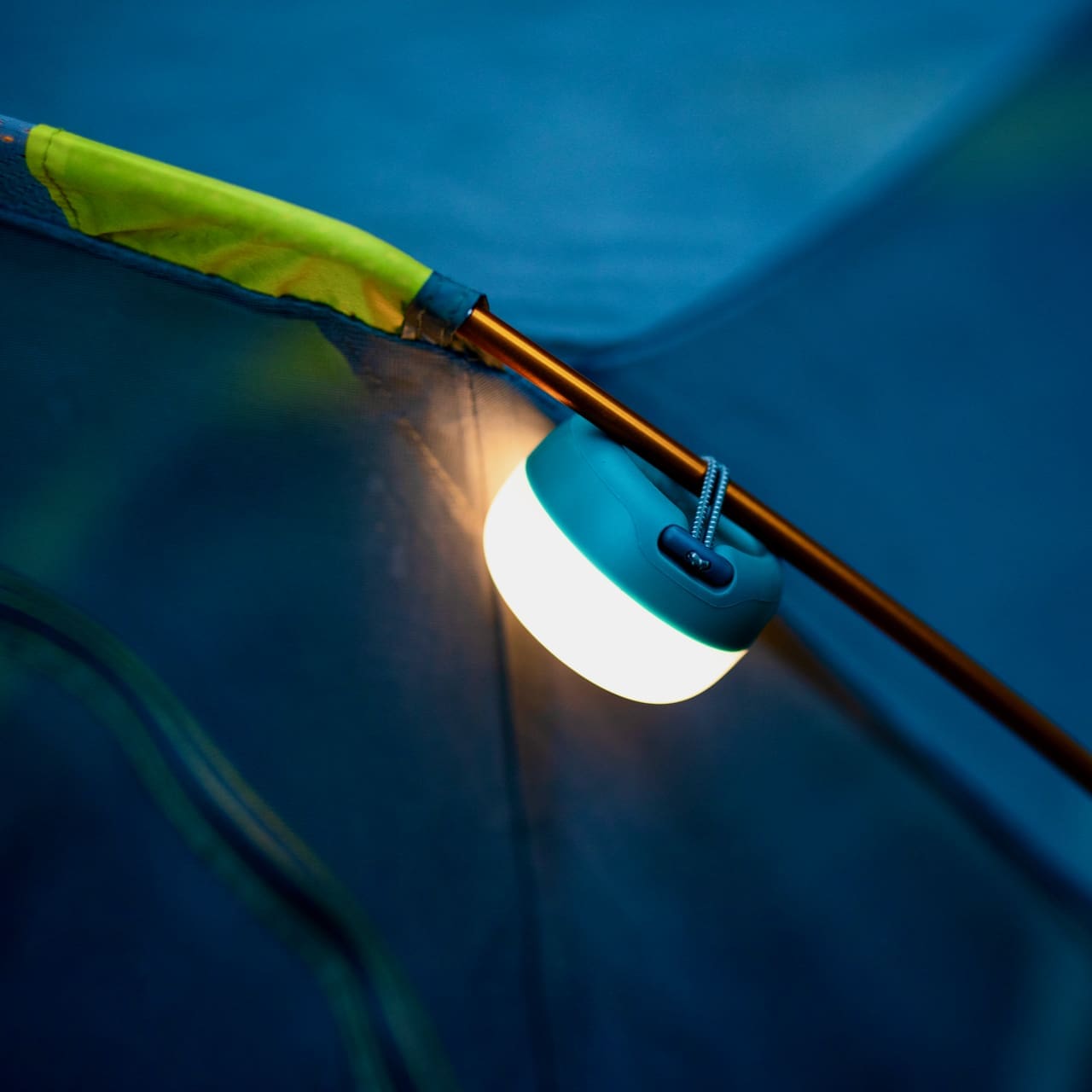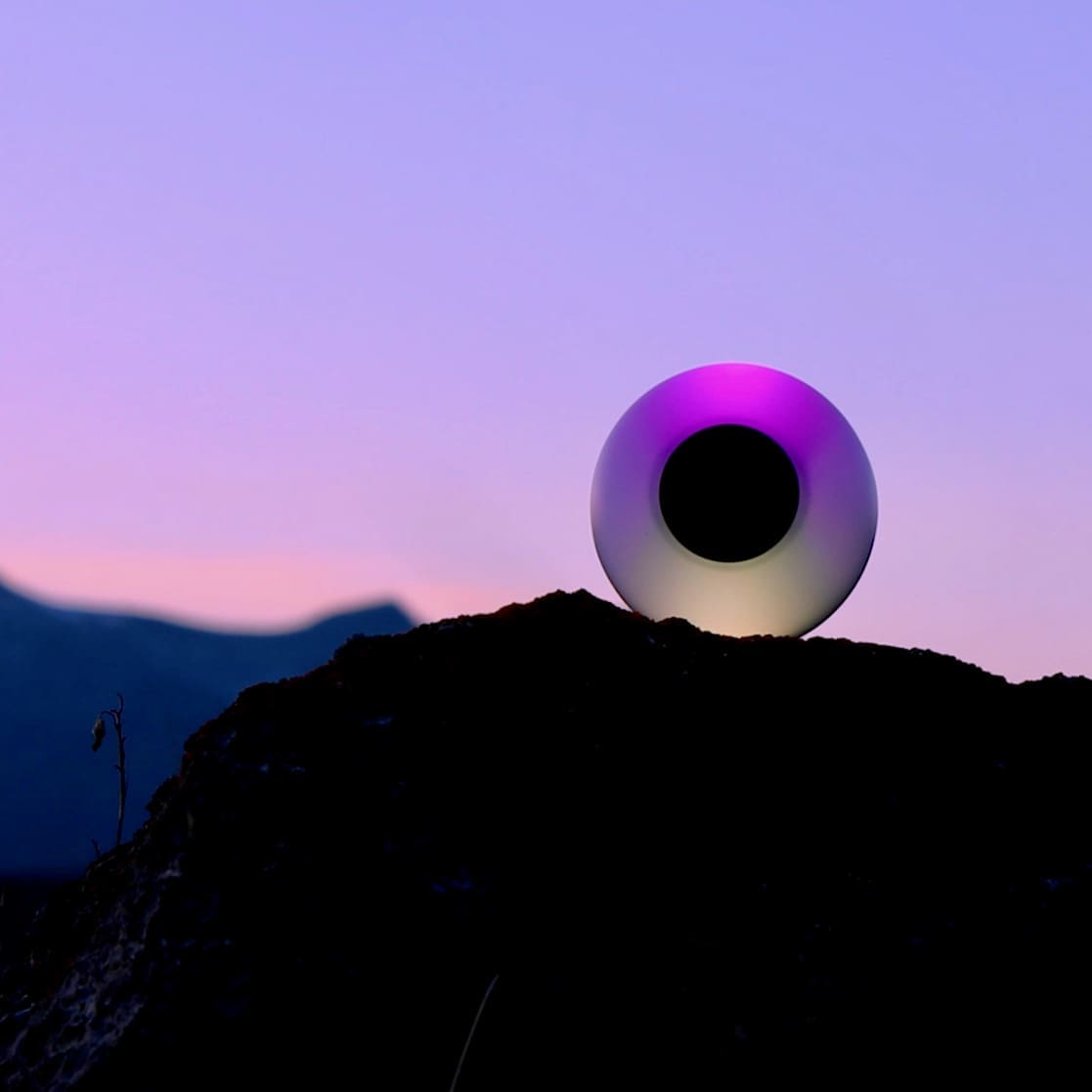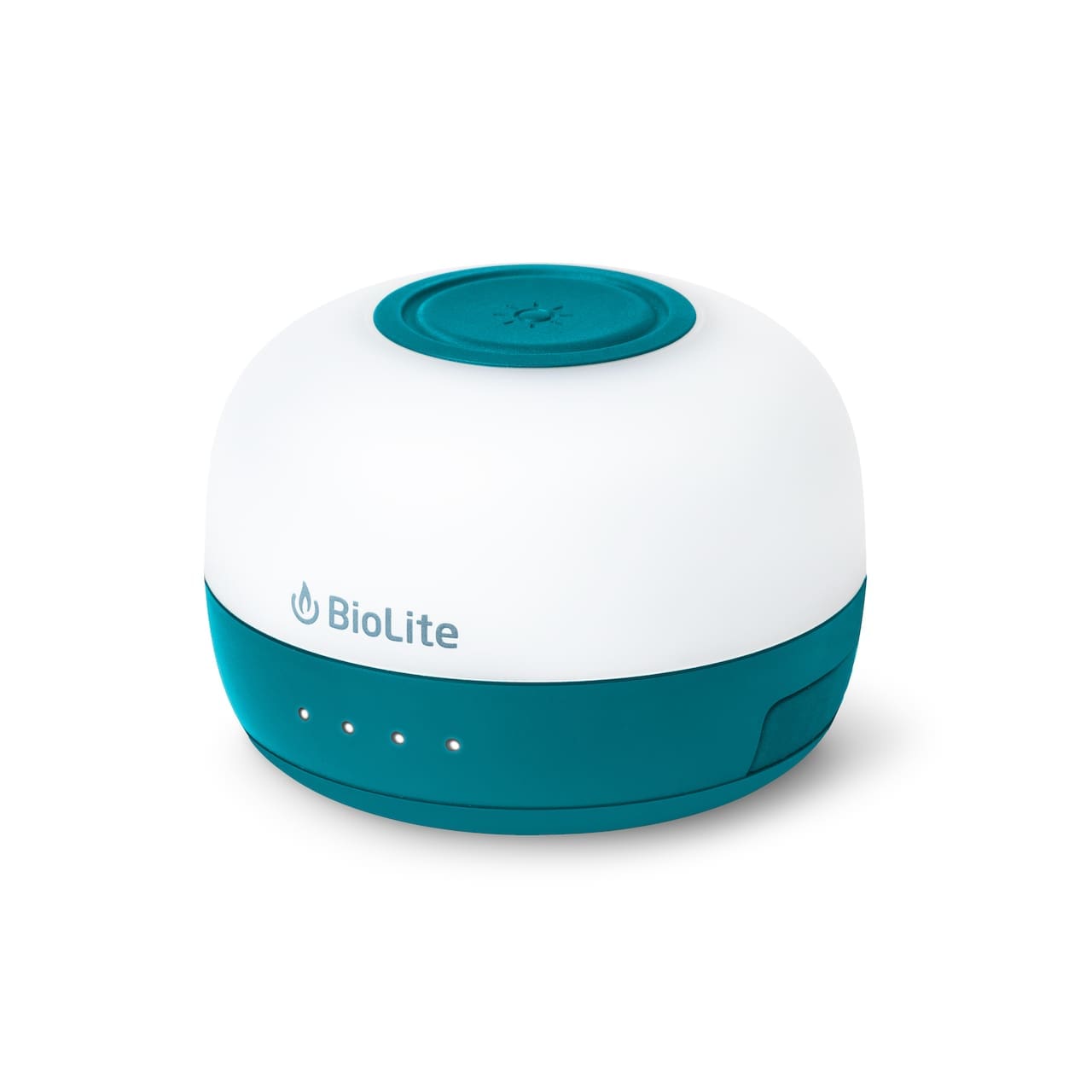 When I bring up the price of BioLite products, I also want to bring up the value of the company's mission "to provide 20 million people with access to clean energy and to avoid 3 million tons of CO2e by the year 2025." Those of us who can afford some of BioLite's great products help support their Emerging Markets project, which includes the effort to work "with key partners across 23 countries to provide last-mile distribution, training, and financing to remote customers. …BioLite creates affordable, durable products that harness surrounding energy to cook, charge, and light daily life for off-grid households." Purchasing BioLite products also means supporting a US-based small business making a positive difference in the world, a bonus inspiration for the consumer that might not apply to the next box of cereal.