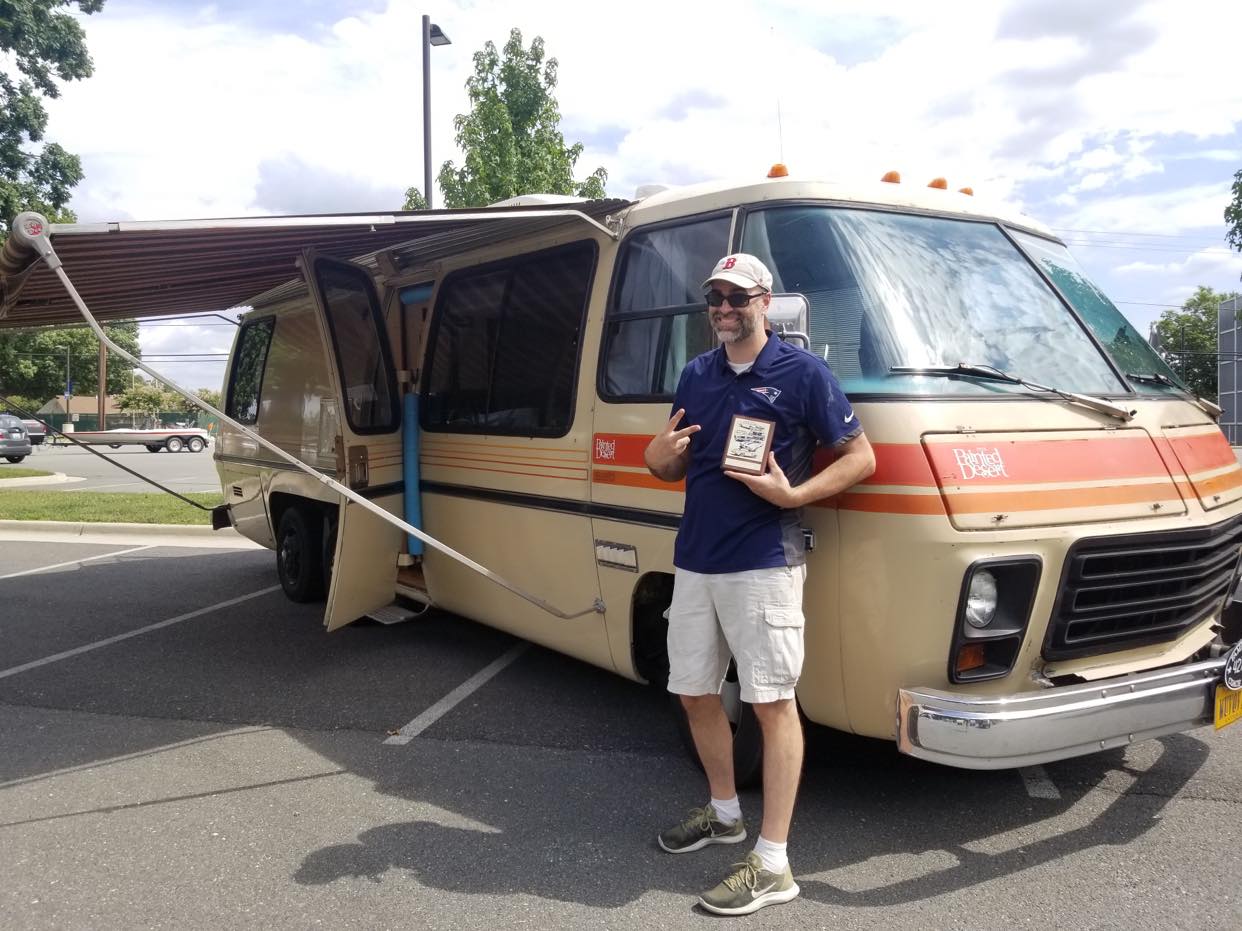 By Marco Kathuria—Part two of an interview series featuring Jared and Stefanie Kohl, owners of two GMC Motorhomes. It is part of an on-going series of interviews and coach tours focusing on the GMC Motorhome owner community. Other videos in this series can be found on our YouTube channel.
About the Kohl's
Jared & Stefanie Kohl are from Rappahannock County, VA the gateway to Shenandoah National Park. They have owned their GMC Motorhome since 2012 and added a second one in 2018.
"We use them both interchangeably depending on where we're going. We've been as far west as Yellowstone National Park, as far north as Montreal, Quebec, as far south as Orlando, FL and as far east as the Outer Banks. We've still got many, many more places to visit in our GMC Motorhomes and can't wait to do so."

Jared Kohl

Jared is a Network Engineer for a Networking firm in Falls Church, VA and Stefanie is a Physical Therapist Assistant specializing in Home Health. They travel in their GMCs with 5 small beagles who absolutely love traveling. Jared is also the President of the local GMC Motorhome owner's group in Virginia, the GMC Tidewater Crabs. The group organizes meetups almost every month during the camping season where they exchange helpful tips and just enjoy the company of fellow GMC'ers.
#Background
Built by General Motors using automobile assembly techniques, 12,921 GMC motorhomes were produced from model years 1973 to 1978. Over 7,000 are currently listed at the GMCMI.com international registry. Estimates suggest that at least 8,000 to 9,000 of the original production run are still in operating condition.
#Watch More
Follow this series on our YouTube channel.
#Be Featured
Are you a GMC Motorhome owner? Use our contact form to let us know you'd be interested in having your coach featured in the future. While you there, don't forget to subscribe to our occasional email newsletter featuring news, competitions and giveaways, and RV owner-submitted photos and videos of their vehicles.
#GMC Motorhomes International
GMC Motorhomes International is an organization dedicated to promoting the legacy, enjoyment and use of GMC Motorhomes. Our goal is to provide fellowship and technical information through continuous improvement of communications and conventions. Visit the GMCMI website to find out more.
#GMC Regional Chapters – FMCA Chapters
GMC Cascaders
Oregon, Washington, Idaho, British Columbia & Alberta (Canada)
Website: www.gmc-cascaders.com
Facebook: https://www.facebook.com/GMCCascaders/
---
GMC Classics
Arkansas, Louisiana, Oklahoma, Texas
Website: www.gmcclassics.com
Facebook (closed group): www.facebook.com/groups/gmcclassicsclub/
---
GMC Colonial Travelers
New Jersey, Pennsylvania, Maryland & SE New York
Website: www.gmccolonial.com
---
GMC Dixielanders
Alabama, Georgia, Kentucky, Mississippi, Tennessee and the Western Carolinas
Website: www.gmcdixielanders.org
Facebook: www.facebook.com/GMC-Dixielanders-610910142357001/?fref=ts
Facebook (closed group): www.facebook.com/groups/751435414991402/
---
GMC Eastern States
The Mississippi River and east in the United States and Canada
Website: www.gmceast.com
---
GMC Flatlanders
Kansas, Missouri, Oklahoma, Arkansas, Nebraska, Iowa, and Colorado
Randy Van Winkle | 417-429-5925
Facebook: https://www.facebook.com/groups/884368598352256/
---
GMC Forty-Niners
Northern California & Northwest Nevada
Club Email: [email protected]
---
GMC Great Lakers
All States & Canada Provinces touching the Great Lakes
Website: www.gmcgreatlakers.org
Facebook: https://www.facebook.com/groups/182402062678966/
---
GMC Greater Midwest Classics
Iowa, Minnesota, Nebraska, North Dakota, South Dakota, Wisconsin, Manitoba and Ontario
Website: www.gmcmidwestclassics.org
---
GMC Heritage Cruisers
Covering Parts of Ontario, New York, Pennsylvania, Ohio, Michigan, & West Virginia
Website: www.gmcheritagecruisers.com
---
GMC Mountainaires
500 mile radius of Denver, CO
Website: www.gmc-mountainaires.org
Facebook: www.facebook.com/GMCMountainaires/
---