Description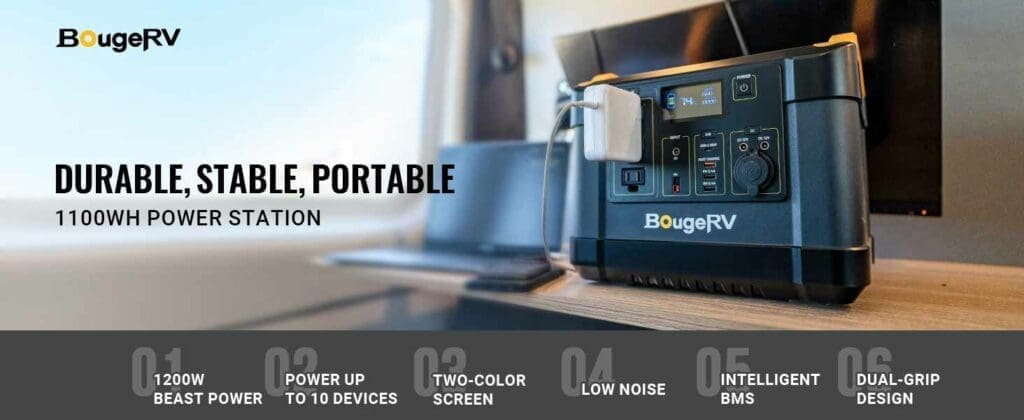 Adopting Square Aluminum Shell Lithium Battery makes solar generator possible to be recharged over 1500 times. 2X Longer Lifetime than other Cylindrical batteries.
Large Capacity and Robust Power Supply 
This Power Station has a large capacity of 1100Wh, and 1200W rated power (2000W peak), which exceeds many similar products in the market. A single charge can power your home and critical devices for up to 2 or 3 days.
10 PORTS FOR ALL
Equipped with 3*110V Pure Sine Wave AC Outlets, 1*USB PD 60W (Input/Output Supported), 1*USB QC3.0 ports, 2*USB-A ports, 2*DC ports, 1*12V car charging port
Safe and Easy To Use
A bright and dynamic LED display easily keeps track of charging status, recharging status, battery capacity, and error information, and prevents your power station from Overcharge, Over-discharge, Over Current, Over Voltage, Overload, Short Circuit, and Overheating.
STRONG BUT QUIET
Aluminum housing provides the best protection from shake and fall, can stand up to harsh environments. Good heat dissipation of Aluminium shell leaves you with VERY LITTLE to LOW NOISE.
FAST RECHARGING
Built-in a MPPT technology enables efficient charge management. The power station can be recharged by the solar panel and USB-C PD 60W for 4.5-5.5 hrs. Can also be charged simultaneously via a 200W wall outlet and USB-C PD 60W, from 0 to 100% in 4.5 hours.
Product Specifications
| SKU | ISE120M |
| --- | --- |
| Battery | Lithium-ion Battery |
| Cycle Life | 1500+ Cycles to 80% Capacity |
| Capacity | 1100Wh/50Ah |
| PV Solar Recharge | 12-30V, 8A 200W Max |
| DC Recharge | 12-30V, 8A 200W Max |
| AC Output | 3 x 110V, 1200W (2000W Peak) |
| Cigarette & DC Output | 2 x DC5521, 1x Cigarette Port, 120W Max Total |
| USB-A Output | 2 x 5V/2.4A, 12W |
| USB-A QC3.0 Output | 1 x 5V/3A, 15W; 9V/2A, 18W |
| USB-C Output | 1 x 5V 3A / 9V 3A / 12V 3A / 15V 3A, 60W Max |
| Operating Temperature | 32°F-105°F (0°C~40.5°C) |
| Discharge Temperature | 14°F-113°F (-10°C~45°C) |
| Charge Temperature | 32°F-113°F (0°C~45°C) |
| USB-C Recharge | 5V 3A / 9V 3A / 12V 3A / 15V 3A /20V 3A, 60W Max |
| Weight | 13.5kg/30Lbs |
| Dimensions | 16 x 12 x 14 in |
FAQs
Q1: How long can the SYZ-G1000 power my device?
A1: You can use the formula to calculate: 1100WH * 0.9 / operating power of your device.
The duration of our equipment is based on laboratory data, and the duration of specific equipment used may vary.
Q2: How to choose the solar panel and what is the charge time?
A: BougeRV provides a ONE-STOP SOLUTION, you can search on RV using the keyword: BougeRV Solar Panels.
Charge time: Depends on the input power of the solar panel (the strength of the direct sunshine, realistic data varies from different temperatures, angles, weather, etc.)
Q3: Can charge and discharge at the same time?
A3: Yes, the SYZ-G1000 supports pass-through charging, but it will decrease the battery life, so we suggest you don't do that.
Q4: What is the noise level of BougeRV?
A4: The noise level will be less than 40DB ( 10-centimeter distance ).
Download the User Manual
Bouge RV PowerStation Manual