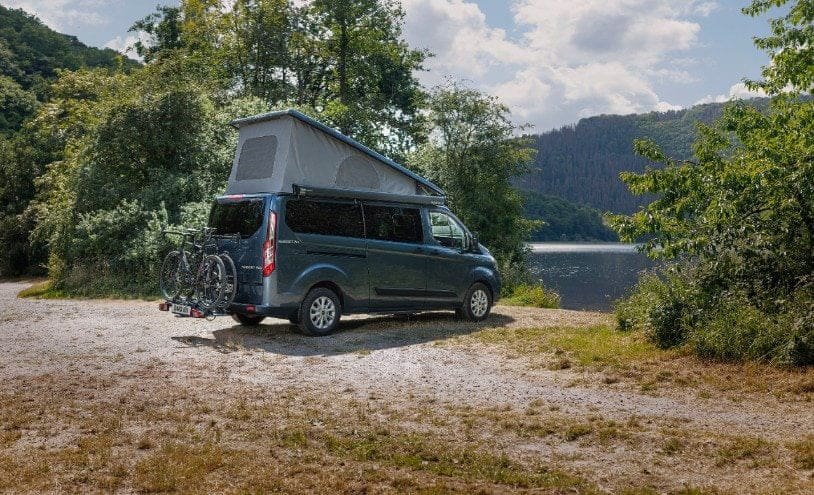 BY Various Sources—After more than a year of pandemic, the desires of the French have gradually changed: travel, teleworking, consumption… Disruptions that Ford wanted to study by carrying out a new study with the YouGov institute.* And the results are surprising.
Are you ready for the "Vanlife"?
One of the questions Ford (France) asked was, "Are you familiar with the term "Vanlife"?" The Vanlife is the literary translation of: "life in a van / converted van". Thus by definition, Vanlife is the fact of living and living (short or long term), in a converted vehicle. More than one in three French people say they are ready to switch to the Vanlife. The strongest incentives to adopt this lifestyle result from the desire for a more free and flexible life (40%), the economic aspect (24%) and the desire to consume differently (23%).
The pandemic has also considerably accelerated teleworking in France and this is also reflected in the Ford study: 4 out of 10 French people (42%) say they are ready to adopt digital nomadism, which designates a person exercising a profession allowing them to work in remote line and travel.
Another neologism that has appeared in recent years and whose practice has accelerated in recent months: "workations". It's about combining vacation and remote work, dividing your time freely between telework and travel.
The constraint of health restrictions has tended to fade since last year. 66% of French people consider that they have an impact on their desires to travel, compared to 74% in 2021. In this context, the French continue to favour land means for their travels. Like last year, 62% of them plan to use the car as a means of transport for their next vacation. Motorhomes, vans and converted vans remain in the minority (5%) in these projects but are gaining in popularity with consumers. Indeed, 44% of French people would be ready to switch to Vanlife for their holidays compared to 36% in 2021.
In a context of loss of purchasing power, Vanlife invites itself for 31% of the French as an economic solution to spend holidays at a lower cost, while 58% of parents of children under 18 would be ready to go on holiday with their child(ren) in a van or camper van. The most popular regions in France for Vanlifers were Brittany (17%) and Provence-Alpes-Côte d'Azur (16%).
Additionally, the imagery of freedom, discovery and nature, associated with Vanlife has grown in popularity in recent years. Today, Vanlife appeals thanks to its guarantees of freedom and flexibility (46%), its lower cost (31%) and its response to the desires of the French to consume differently (26%).
Who are the "Vanlifers"? From the connected nomad to the adventurous camper, Vanlife seems to be attracting more and more consumers, and in particular young working people: 56% of 25-44 would be ready to take the plunge. This mode of travel also conquers families. 58% of parents of children under 18 would be ready to go on holiday with their child(ren) in a van or campervan. In an inflationary context, although the price of fuel continues to rise, Vanlife appears to 40% of these families to be a more economical solution compared to renting a house or apartment. The Vanlife also offers a new way to discover (or rediscover) the country. The majority of respondents (65%) would prefer to stay in France for a stay in a van. The coastal regions in the South and West seem to be the most popular destinations. While young people (18-24) are more attracted to the Provence-Alpes-Côte d'Azur region (28%), seniors over 55 favor Brittany (22%).
The top five preferred regions for Vanlife were Brittany 17% Provence-Alpes-Côte d'Azur 16% Corsica 10% Occitania 9% New Aquitaine 6% 
The pandemic and the economic crisis are forcing us to reconsider our ways of living and traveling. The Vanlife is taking the time to enjoy the road and the journeys, which we tend to want to erase from our holidays. By combining adventure and comfort, our Ford Transit Nugget meets the expectations of the French in terms of freedom and offers another way to discover the world. The increase in Ford sales for this vehicle confirms the appeal of this new trend.

Louis-Carl Vignon, President of Ford France
In 2019, Ford launched its own line of camper vans — the Transit Nugget. Based on the Ford Transit Custom, the European market leader for utility vehicles, the Nugget was developed in partnership with motorhome specialist Westfalia. Thanks to its four beds and its kitchenette, it offers a fully equipped camping interior. To reassure the 39% of French people who are afraid of lacking comfort in a van, the Ford Transit Custom "Plus" model is even equipped with a toilet, a sink and a retractable privacy screen. Determined to help the French realize their dreams of adventure, Ford offers consumers the opportunity to test the Vanlife for the weekend or the holidays.
(SOURCE: aboutcampbtob.eu and Ford (France). No copyright infringement intended.)