BY Christopher Gardner—BioLite Energy has made a headlamp that offers almost all of the advantages one would want in a headlamp, while also doing good for the world. Let's look in turn at the lamp as wearable tech, then as a valuable part of your toolbox, exercise routine, and camping gear.
---
(We test everything we review and recommend to our readers. We participate in several affiliate marketing programs including that of BioLite Energy. As a BioLite Associate we earn from qualifying purchases so if you choose to purchase any of our reviewed products by clicking through our links, we may earn a commission, but at no cost to you.)
---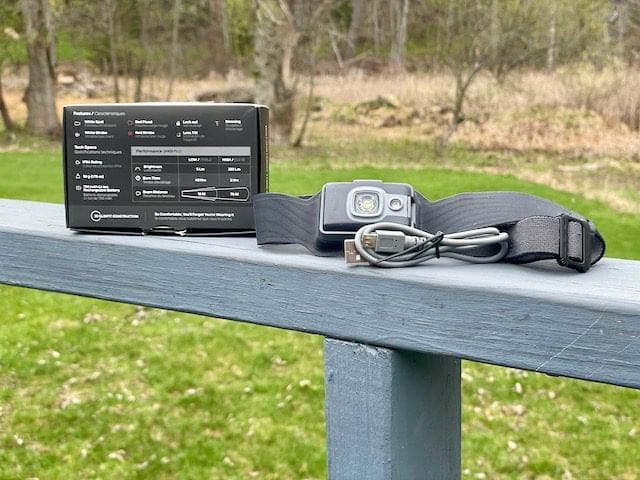 The BioLite Headlamp
The rechargeable Biolite Headlamp 325 is incredibly lightweight, as it needs no replaceable batteries, yet offers up to an ample 325 lumens through its powerful LED bulb to brighten your view of the campsite or the draining bolt to the oil pan of your vehicle.
Even in the package, the BioLite HeadLamp 325 weights in at a mere 50g/1.8oz. Indeed, as I unpacked the unit, I wondered about its durability in my meaty hands, but so far it has stood up to my tendency to toss my headlamp back into my toolbox without much care. The unit comes in three colors: Ocean Teal, Midnight Grey, and Ember Yellow. The matching band is made of a moisture-wicking smart fabric that sits on the forehead and an elastic band for the back. The elastic strap includes a reflective strip, which is a nice touch. The only thing that might require two hands for operating the headlamp is adjusting the elastic straps: the two plastic slider buckles make for easy and sure adjustment, but it is easiest to adjust the two at the same time. So far, one adjustment has held through multiple wearings.
BioLite HeadLamp 325 in Close-up (Teal)
The adjustable strap means the headlamp can go around a baseball or winter cap, and when sitting on your forehead the curved container for the bulb and battery are lined with the smart fabric as well, so it sits comfortably in place. BioLite rightly brags that it is "a headlamp so comfortable, you'll forget you're wearing it." Indeed, for what advantage might be had with multi-bulb/high-lumen/battery-powered headsets, what I hate about them is the heavy square box pressing awkwardly into my curved forehead (and eventually onto the upper ridge of my nose). The BioLite lamp sits gently almost anywhere I place it along my head, and it doesn't slip as I bounce around.
The BioLite HeadLamp 325 is the smallest of the HeadLamps made by the company, yet its luminosity will be enough for most any situation. It is powered by a USB-charged 700 mAh Lithium Ion battery that should last about 40 hours at its lowest setting, and 3 hours at its brightest (see below for further discussion of brightness settings). The lighting features are easily accessible via the switch at the top of the unit. The packaging and the company's website have clear and full directions for all their products, but let me admit here that their lights come with a "locking" feature that initially befuddled me when I first got this lamp and before I bothered to read directions. Holding the power button for 8 seconds "unlocks" their lamps, and holding a second 8 seconds "locks" them. When locked, lights can't be switched on accidentally when buffeted around a toolbox or backpack. If the button is pushed while "locked," the light quickly flashes twice to let you know of the need to unlock it. This feature ensures that you can enjoy the full charge of the unit without it being drained accidentally while buried in your kit.
---
---
Setting and using the headlamp
The power button allows you to cycle through four settings: white lamp, red flood/night light, white strobe, and red strobe. The brightness of both the white and smaller red LED bulbs can be adjusted with the same button by holding the button as the bulb dims to its lowest point. From there you can press-and-hold again for it to brighten to the desired level or brightest point. A nice feature here is that the bulb quickly flashes a couple of times to let you know it is at its highest or lowest lumen level. Typical to most headlamps, the light articulates downward in three holding positions, the last of which is about 80 degrees—excellent for late-night reading or fiddling with a tiny something up close. For example, I put the bulb on its lowest setting and full articulation when reading in bed, and I find the first locked angle at the brightest setting handy when detailing my motorbike or going for an after-dinner walk. The unit will remember which brightness setting you have when you turn it off, but once you start to cycle to the other bulb or to the warning flashes, the unit defaults to brightest settings, which makes sense: Why trigger a flashing warning light in a dim setting?
First Use Summary
Give the HeadLamp a full charge upon arrival (USPS requires them to ship half charged) using the micro-USB charging port on the side of the front panel (Tilt to access)
Unlock the HeadLamp by pressing and holding the power button for 8 seconds
Switch light modes by pressing the power button in 1/2-second intervals
Dim your light by pressing and holding the power button
Using the two adjustment clips in unison, tighten or loosen your HeadLamp 325
I'm not a runner, but what impressed me most about the BioLite HeadLamp 325 was how bright the white light was while moving about and yet forgetting I had the thing on my head—as advertized. I never have to adjust the band or fiddle with the light/battery pack while shifting up-and-down-and-around my projects or while briskly walking along the local school's track. Just to test its longevity, I wore it at full brightness after a full charge and enjoyed 3 hours and 6 minutes of light. It then went dark without notice. Such could be a concern on a camping trip, so you might want to consider investing in a BioLite Fast USB-C PD Powerbank for such adventures. (You might also consider a Light Diffusing Stuffsack that can turn the headlamp into a softer hanging floodlight for a tent or cabin table.) Whether at a plug or through such a portable power source, you need to pull the headlamp out to its fully-articulated position to reach the micro-USB charging port. Even then, it can seem a bit awkward and forced to attach the plug. (Again, I worried my meaty hands might do some damage.) But once attached, it got a full charge in a few hours from the outlet.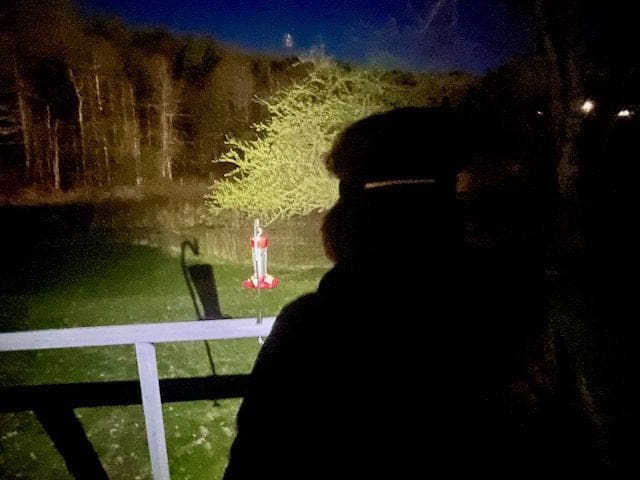 When you turn off the headlamp you'll see two flashes of light that give you a ballpark sense of the charge left. If it flashes twice green, the battery is at least 50% charged. Two flashes red mean less than 50% and four flashes mean the battery is (about) empty. That's not a sophisticated monitoring scale, and one positive about alkaline batteries is that you can see the bulb(s) dimming for some time before it gives up the ghost, whereas this headlamp burns bright, until it doesn't burn at all. Also, larger battery-powered units tend to offer both a far-reaching spotlight feature and a broader floodlight option. The Biolite HeadLamp 325 splits the difference with its one bulb, but its power and adjustability mean you won't feel you've made any compromise. These points are about the only negatives I can offer for the lamp, and I don't see them as nearly enough of an issue to outweigh the many positives about the rechargeable and lightweight LeadLamp 325.
---
---
In fact, just buying a BioLite product can be understood as a positive because the company is actively engaged in bringing its solar-powered products to communities without access to dependable energy, much less renewable energy. According to the company's website, "Our vision is to provide 20 million people with access to clean energy and to avoid 3 million tons of CO2e by the year 2025. …Headquartered in Nairobi Kenya, the BioLite Emerging Markets (EM) Team works closely with key partners across 23 countries to provide last-mile distribution, training, and financing to remote customers." BioLite does not hide the fact that those who can afford to buy their products help fund the investments that make such ambitions possible. The socially conscious company calls it "Parallel Innovation." The fact that the HeadLamp 325 is such a handy, comfortable, and flexible lighting device makes it easy to recommend in its own rights, and the opportunity to help further the mission of BioLite in some small way only adds to the shine.
For more information about the BioLite HeadLamp 325 or to explore other products offered by the company, please visit BioLiteEnergy.