Description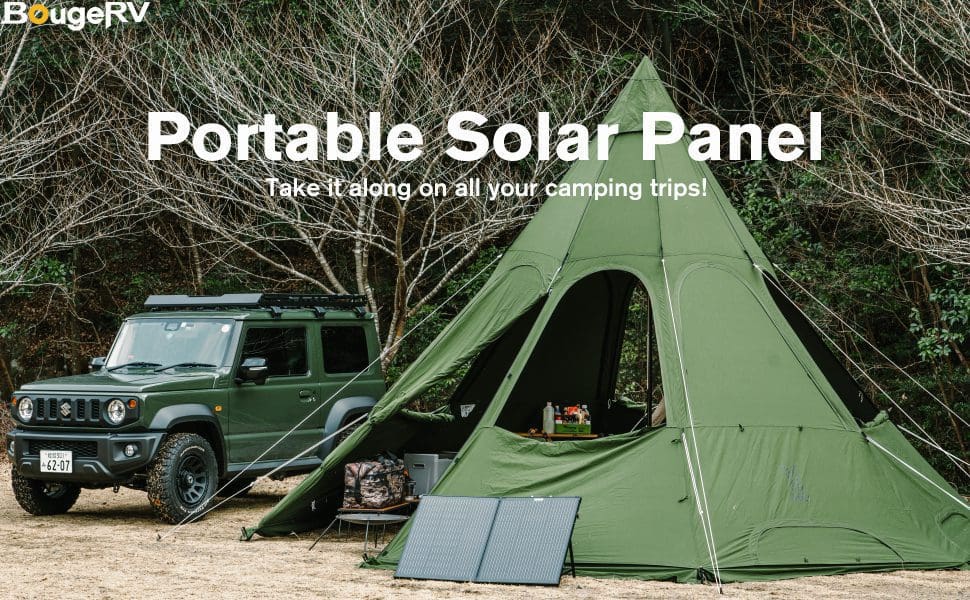 The high electricity conversion of 23.5% and adjustable brackets for better angles will make charging on the go as easy as 1-2-3!
Order Direct
120W Monocrystalline Foldable Solar Panel (Lightweight and Portable)
from: BougeRV
BougeRV 120Watt Portable Solar Panel
WHY BougeRV 120 Watt Portable Solar Panel?
INNOVATIVE TECHNIQUE — The BougeRV 120 Watts portable solar panel innovative adopted the 9BB (9 Bus-Bar Cell) mono solar cell, promoting significantly the efficiency to 23.5% by reducing internal resistance loss, trapping light and collecting current better, expanding greatly the active area of the solar panel compare to solar panel used the traditional 5BB cell (5 Bus-Bar Cell).
LIGHTWEIGHT — Only 12 pounds for the 120 Watts, easy carry to anywhere, make you travel light.
PORTABLE — Adjustable kickstands, twist latch and protective bag included, the solar panel is foldable, which is easy to set up and easy to pack up, anytime and anywhere for your every trip.
COMPATIBILITY — Solar connector to DC adapter conversion cable included, the 120w solar panel can charge any generator with DC 7909/ DC 5521 input outlet. With the universal solar connector, the 18 volts solar panel can also charge the traditional battery, SLA, FLD, AGM, GEL, LiFePO4 and so on.
WATERPROOF — BougeRV 120W lightweight solar panel consists of EVA, monocrystalline cell, PET and superior metal frame, which is meet the IP67 waterproof level, can stand outdoor with a sudden rain on your camping time.
STABLE AND SOLID — The kickstand and the frame made of quality aluminum, 120 watts portable solar panel can stand stable anywhere, grass, sandy or rocky areas, born to be your reliable partner on your every trip.

120Watt Portable Lightweight Solar Panel Specification
| | |
| --- | --- |
| Maximum Power(P max) | 120±3% W |
| Open Circuit Voltage(VOC) | 22±3.3% V |
| Max. Power Voltage(VMP) | 18.5±3% V |
| Max. Power Current(IMP) | 6.49±3% A |
| Short Circuit Current(ISC) | 7.03±3%A |
| Solar Cells Efficiency | 23.5% |
| Max. System Voltage | 1000V DC |
| | |
| --- | --- |
| Series Fuse Rating | 10A |
| Operating Temperature Limits | -40℉ to +185℉ |
| Waterproof Level IP67 | IP67 |
| Dimensions (folded) | 25.6*20*2 inches |
| Dimensions (unfolded) | 25.6*40*1 inches |
| Item Weight (kg/lb) | 5kg/11lb |
| Package Included | 1*Solar Panel, 1*Fabric Suitcase, 1*Solar Connector to DC Adapter, 1*User Manual |

SOLID SOLAR PANEL

Cover with a protector on each corner, the 120w portable solar panel is wear-resistant for using in coarse places, ensuring the solar cell will not be worn to reduce the output.

Consist of quality aluminum frame, BougeRV 120 watts lightweight solar panel is corrosion resistant and strong, this 18 volts 120 watts foldable solar panel also has longevity.

ADJUSTABLE KICKSTAND

The kickstand is made of quality aluminum, stand stable anywhere, camping ground, sandy area, rocky area or grass, while the kickstand is foldable, fold it and it could hide on the back of the solar panel which is better to take it. Easy to set and easy to take.

ROTATABLE BUTTERFLY LOCK

Two butterfly locks on the side of the solar panel, fold it and lock it to take it easily, when you want to set it, rotate the butterfly lock to unfold the solar panel. A handy handle on the top, also comes with the storage bag, when you want to store it, hold the handy handle and put it into the storage bag.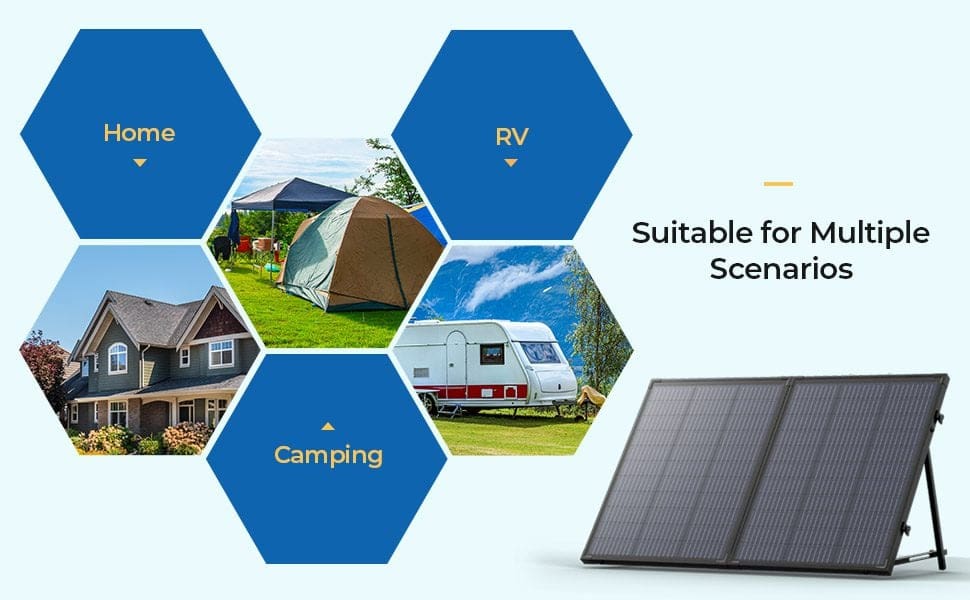 What kind of device can be charged by BougeRV 120 Watts Portable solar panel?
Solar Power Station

Battery. Such as Lead-acid, Lithium, Gel and so on (should be used with solar charge controller)
Please note that BougeRV 120 Watts Portable Solar Panel Kit does not include the solar charge controller, if you do not know what parts are needed to charge your battery, please send us your needs and the specification of your battery, we will help you to pick the appropriated parts for you.
Is this solar panel waterproof?
Yes, BougeRV 120 Watts Portable Foldable Solar Panel complies with the IP67 standard dustproof and waterproof (main body panel part), do not install it in water or frequently submerged places.
What is the difference between 5BB and 9BB?
The most difference in mainly, 9BB is more efficient, less heat, more longevity.

The bus bar more thin, the total surface the cells occupied is larger, the more power produced. Through increase the number of the bus bar and reduce the total surface the bus bar occupied, internal resistance and the heat during solar panel working has been reduced greatly. With less internal resistance and less heat, the longevity of 9BB solar panel is promoted substantially than 5BB solar panel.
What causes the low output power or no output during the use of solar panels? How can I solve it?
 

The output power of solar panels is mainly affected by light intensity, light angle, and shadow occlusion during the use of solar panels. Therefore, during daily use, the angle of illumination must be adjusted to prevent shadows, and the obstructions on the solar panel must be cleaned regularly, such as bird droppings, dust, and garbage. Such obstructions may cause the solar panel to not output at all.
| | |
| --- | --- |
| Brand | BougeRV |
| Material | Polyethylene Terephthalate |
| Item Dimensions LxWxH | 25.59 x 40.16 x 0.98 inches |
| Folded Knife Size | 25.59″x20.07″x1.96″ |
| Maximum Voltage | 18.5 Volts |
【 9BB & 23.5% High Efficient】Mono solar panel of 9 busbar solar cells, shows stronger current collection ability which can provide high conversion efficiency up to 23.5%. The narrower busbar space and more cells receiving surface brings lower kilowatt-hour cost and increase the output of the PV module. the smaller chamfer design increases the area of each cell, which greatly improves the charging effect.

【Lighter & Portable】The volume and weight of foldable solar panels with suitcase design are smaller than the 5 busbar of the same spec, after folding is only 25.59*20.07*1.96 inches, easy to store and carry. Made of Ultralight material(PET), only weighs 10.36 lb. The corner protection design of the frame and the spring loaded butterfly twist latch buckle can protect the solar panel when you use or store the panel.

【Durable & Waterproof】BougeRV foldable Solar panels with 9 busbar solar cells have much lower hot spot temperature which can bring lower annual power attenuation and a longer lifespan than the market average level. The waterproof design of the solar panel meets IP67 standards and requirements,fit for different weather conditions: rain, tempest, ideal for outdoor activities: Camping, hiking. Also, the solar panel protective case can prevent dust or other dirt from damaging the panel.

【Simply & Stability】The solar panel is equipped with adjustable brackets, which can be easily placed on uneven ground such as grass and beach.This solar panel can be installed easily even without any experience. Although lighter, the portable solar panels can withstand high winds and other weather when used outdoors, such as camping, and are firmly anchored to the ground without being blown over by the wind, making them perfect for your camping trip.

Compatibility & Package】BougeRV 120 watts solar panel is compatible with most solar power station systems and solar off-grid system(RV, Home, Boat)on the market. This portable solar panel is any of the BougeRv solar generators.Package:120W Solar Panel*1, Solar connector to DC cable(for solar power station)*1, Protective case*1,User manual*1.Inaddition, an 18-months product warranty backed and our friendly 7*24 customer service will help you to solve any product problems.
User Manual