Description
 The LED technology shows immediately that a fuse has opened, making them easy to spot in fuse panels tucked up under a dark dashboard.
Features
LED shows fuse has opened

Universal color coded to easily indicate ampere rating

Enclosed element protects against shocks and sparks

Enclosed element is corrosion resistant for longer life

Meets or exceeds Original Equipment and SAE standards
---
From the manufacturer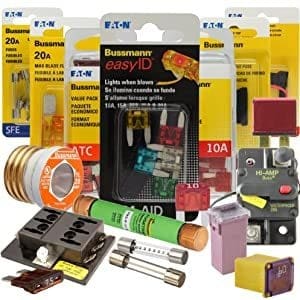 About Eaton
Eaton – Powering Business Worldwide
At Eaton, we make what matters work. Our mission is to improve the quality of life and the environment through the use of power management technologies and services. We provide sustainable solutions that help our customers effectively manage electrical, hydraulic, and mechanical power – more safely, more efficiently, and more reliably. With greater than 21 billion in revenue and customers in more 175 countries, we have the capability to make a difference and we do every day.
Bussmann Series by Eaton
Superior Circuit Protection for More than a Century
It's been more than 100 years since the Bussmann brothers first started producing fuses from the basement of their home. And in that time span, Bussmann has grown from providing fuses for horseless carriages and World War II aircraft, to offering more than 30,000 products.
From humble beginnings in St. Louis, Missouri, to a global product and distribution network, the Bussmann name is synonymous with technological innovation. Today, Bussmann products continue to reflect a long-standing tradition of providing fusible circuit protection and electrical safety solutions that help protect equipment and enable reliable, efficient power distribution. And now that Bussmann products are part of Eaton, two of the industry's top innovators have united to provide ultimate circuit protection.
Circuit Protection Technology for Automotive, Home, Off-Road, Marine, and RV
Automotive Products and Accessories

With a wide range of circuit protection offerings, from blade fuses to glass fuses, fuse blocks to relays, and so much more, for Domestic, Asian, and European Cars, Trucks, Suvs, Vans, Commercial and Farm equipment, Bussmann has the solution you need.

Marine and Off-Road Products

Marine, RV, and Off-road vehicles present different challenges for circuit protection that Bussmann meets head on. Rugged products suitable for a wide range of environmental conditions, including marine rated components are just some of the solutions available.

Hardware and Home Products

Bussmann's full line of home circuit protection products reflects a long tradition of creating solutions that enhance electrical safety, reliability, code compliance and efficient power distribution in household and commercial environments.
| | | |
| --- | --- | --- |
| Automotive High Amp Fuses, Cartridge Fuses, Fuse Panels, Fusible Links, Junction & Terminal Blocks, Flashers, Toggle Switches, Battery Isolators | Marine Water and Splash Proof Circuit Breakers, Current Limiting and Marine Rated Fuses, Fuse Accessories, Battery Isolators | Household Glass and Ceramic Fuses, Cartridge Fuses, Plug Fuses, Circuit Breakers, Box Cover Units with and without Outlet, Surge Protection |