Description
These Worx Clamping Sawhorses with Bar Clamps stand durable but light, easy to transport, and can support up to 1,000 lbs as a pair.  They include a built-in shelf, and the cord hooks can hold and clamp almost anything.
They're only 4 lbs a piece (that's a far cry from old, heavy, wooden sawhorses), so you can run them up and down the stairs or toss them in the trunk. The sawhorses stand 27" x 5" x 32", the same height as our other work tables. Therefore, you can use them all on the same project. And they fold up into just 2.5" deep, so they'll store anywhere.
The integrated clamps are like an extra set of hands! They lock down on the material with up to 300 lbs of force. They have a maximum clamping width of 18". The clamps are detachable, so you can use them both horizontally and vertically, or take them off for other projects.
A shelf built into the base holds tools, accessories, or power strips. Cord hooks on the side let you manage your cables to keep you from tripping. Plus, the Worx Sawhorses include a 2-inch wide indentation on the top to hold plywood, particleboard, and other sheet goods.
These clamping sawhorses make great gifts for new homeowners or DIY enthusiasts because they're ideal for woodworking. And the lightweight yet sturdy design makes them popular among people who just don't like lugging heavy equipment around.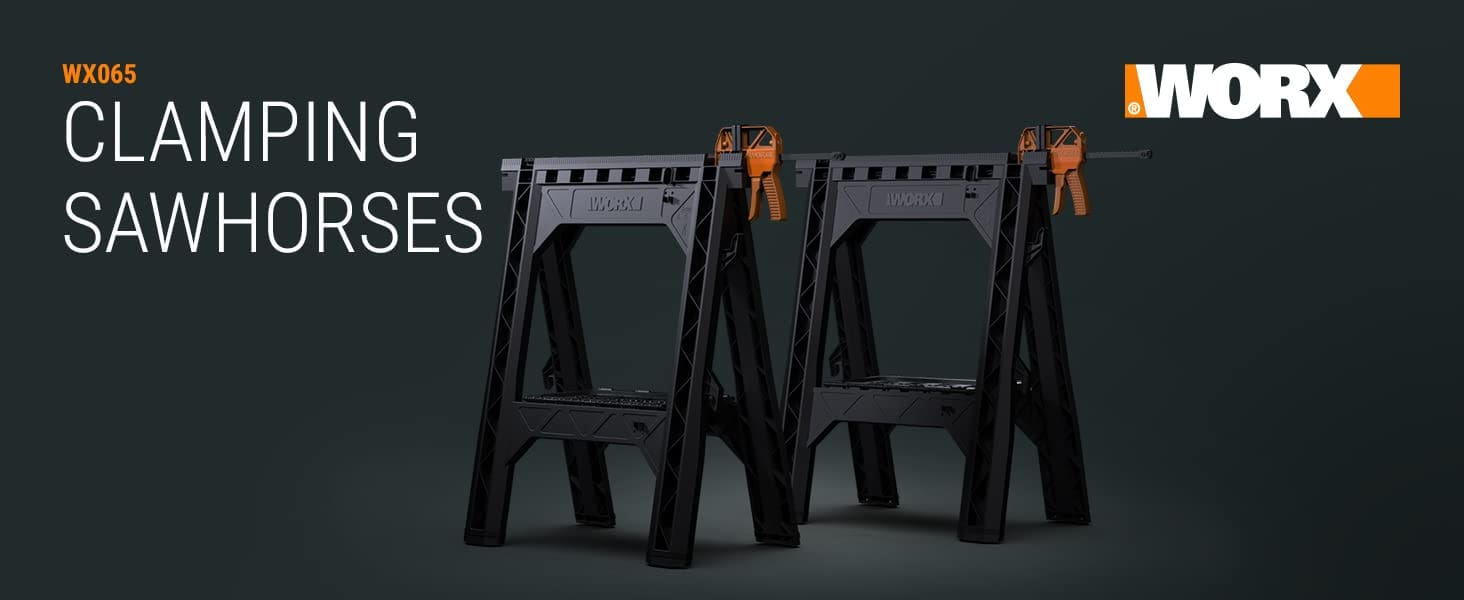 Clamp it Down!
Even though they're meant to work seamlessly within the sawhorses themselves, you can remove them for other tasks and projects. Just some added functionality we threw in. And they'll exert 300 lbs of clamping force wherever you use them.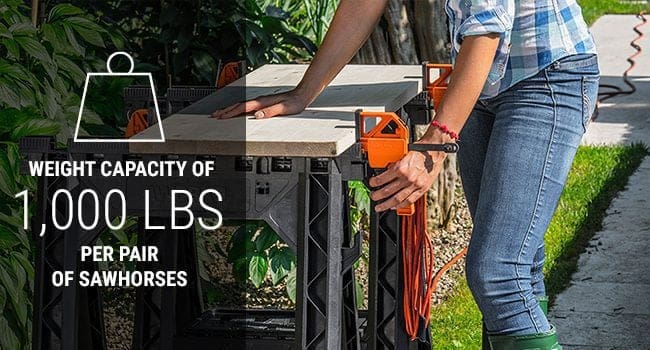 Like an Extra Set of Hands
An extra set of very strong hands, that is. Instead of asking a buddy for help, you can hold your project firmly in place all by yourself. Can you believe some sawhorses come without an integrated clamping system?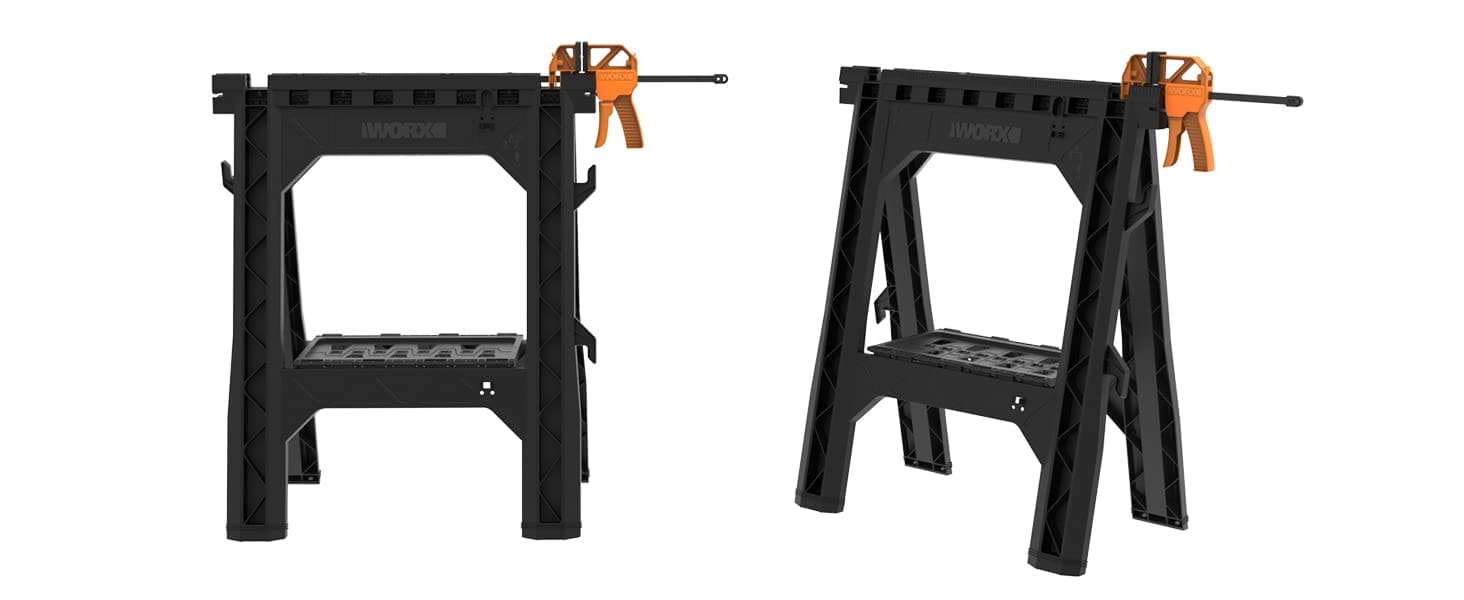 [CUSTOM MADE CLAMPS] These two sawhorses come with integrated bar clamps to fasten big or small projects securely in both vertical and horizontal positions

[LIGHTWEIGHT & EASY TO MOVE] At only 4 lbs. each, you can toss them into the back of a vehicle or store them in the corner in-between projects

[SUPPORTS 1000 LBS] And the clamps provide up to 300 lbs. of pressure. Hold heavy projects securely in place for as long as you need

[STORAGE SHELF] On the bottom of these sawhorses we've made a place to hold a power strip or supplies. Give your workspace an extra shelf or more storage

[DO IT YOURSELF.k DO IT WITH WORX.] WORX tools are engineered with cutting-edge technology, and above modern efficiency standards, so you can build a cost-effective tool collection that's been designed to last

[AFFORDABLE] The clamps act like a second pair of very strong hands, so you can work on large projects all by yourself

[USEFUL CLAMPS] The bar clamps detach, so if you have a project on another workspace, you can take that 300 lbs. of pressure wherever it's needed

[ABS & STEEL] The sawhorses themselves are made from rugged, molded ABS, and the clamps are ABS and steel. That's why they can support and squeeze so much
The Clamping Sawhorse dimensions are:
Folded: 32.6″ H x 27″ W x 2.5″ D
Open: 32″ H x 27″ W x 15″ D
Individually they can handle 500 lbs each, so when you pair them up, that doubles to 1000 lbs of weight capacity. That's why we sell them as a set so you can work on larger and heavier projects.
Yes, the Clamping Sawhorses work perfectly with the Pegasus Folding Work Table and the Worx Sidekick Portable Work Table. They are all the same height and use the same clamps. Also, the slots on all three line up so you can create one large work table.
They come pre-assembled, which makes the Clamping Sawhorses easy to ship and to store. They're lightweight and fold easily. And they come ready to go with the clamps stored right on board.