Description
We inMeet your new favorite workhorse, the Pegasus. This multi-function work table and sawhorse with quick clamps and holding pegs can support up to 300 lbs as a table, and up to 1,000 lbs as a sawhorse!
The legs lock into place and we made them of tough molded ABS with steel supports. The non-slip feet stay in place on both grass and pavement. Yet the Pegasus itself is only 25 lbs, so you can fold it up and carry it anywhere, or keep it in the back of the truck.
The integrated clamping system exerts up to 300 lbs of force to keep your project firmly in place, and has a max clamping width of 18 ¼". And the clamp dog pegs allow you to secure round and oddly shaped materials.
This table is 31" x 25" and is a standard 32" high, so it can link up with our other Worx tables, and other Pegasuses, to make a longer, fully-functional work table. (Link locks are included.) And we designed the folding tray at the base to hold tools, power strips, or anything you need on the job.
The Pegasus is tough and solid enough to be a permanent work table or sawhorse but built to be portable, so you can take it from job to job, or from the basement to the garage without a problem. And it folds down to a depth of only 5", so it's easy to store when you're not going to be using it for a while.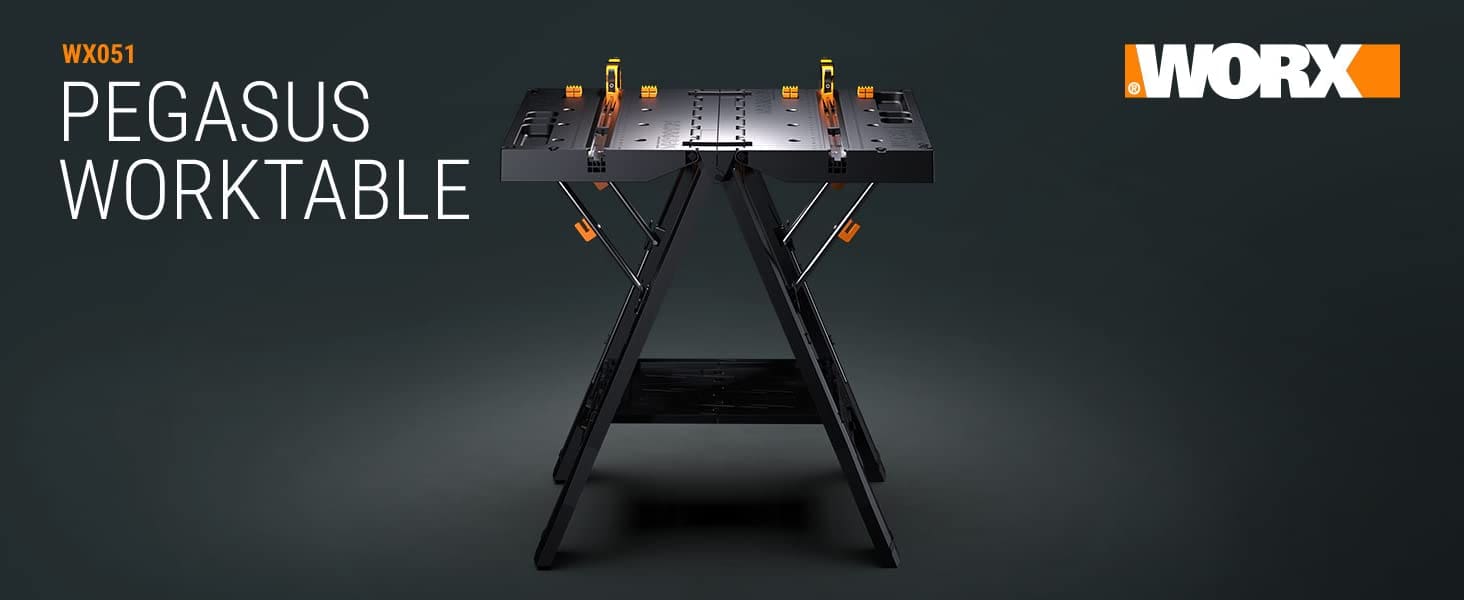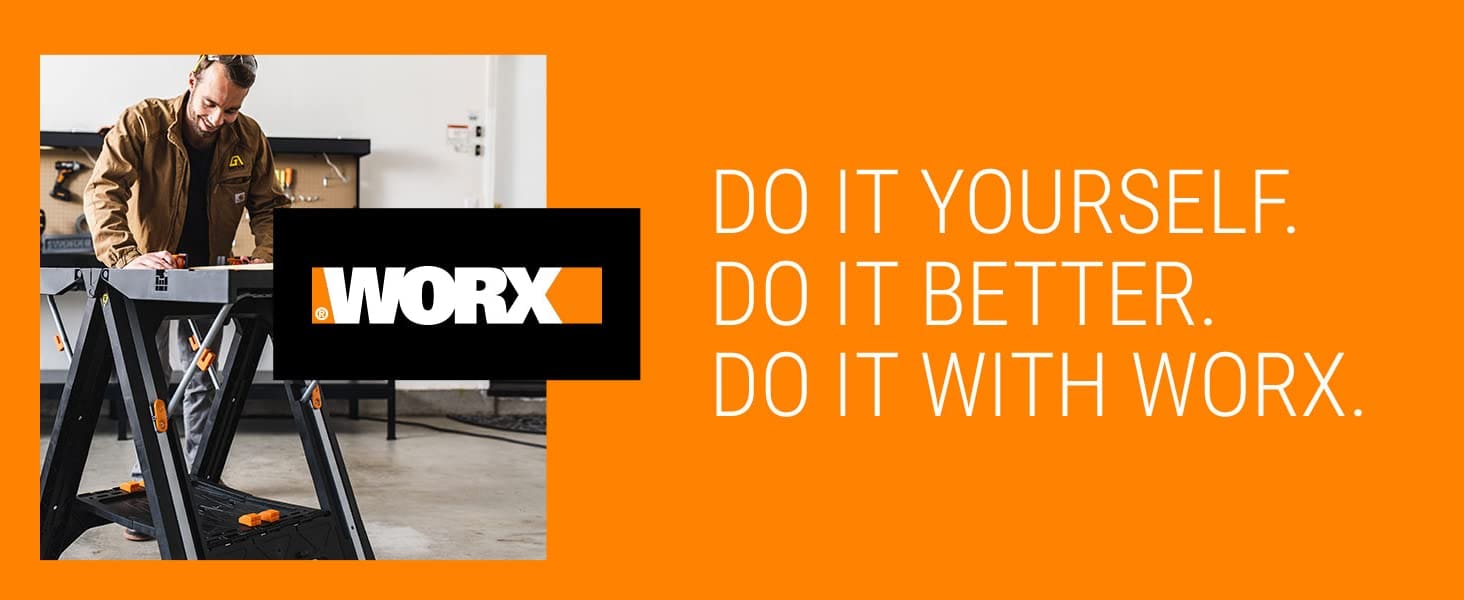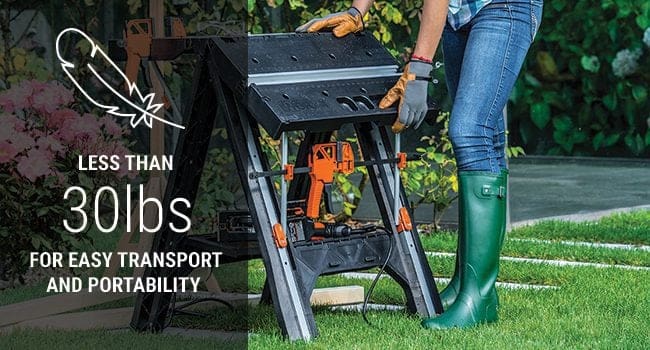 Collapsible and Lightweight
Pegasus folds easily and quickly into a form that you can easily carry. And 30 lbs is light for a sawhorse. If you work in a lot of places, Pegasus is the table and sawhorse for you.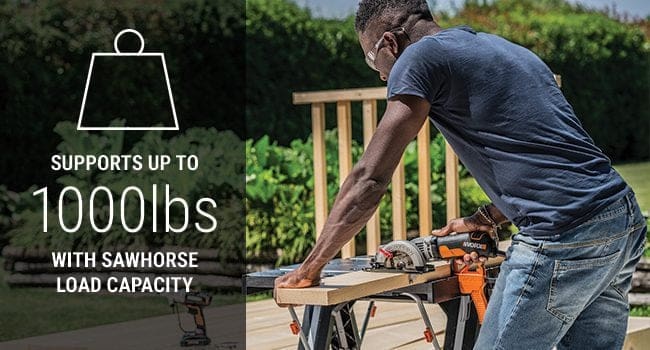 High Load Capacity
As a worktable, Pegasus can support up to 300 lbs, but folded down into a sawhorse, it can hold up to 1000 lbs. It may be light, but we engineered Pegasus to be sturdy.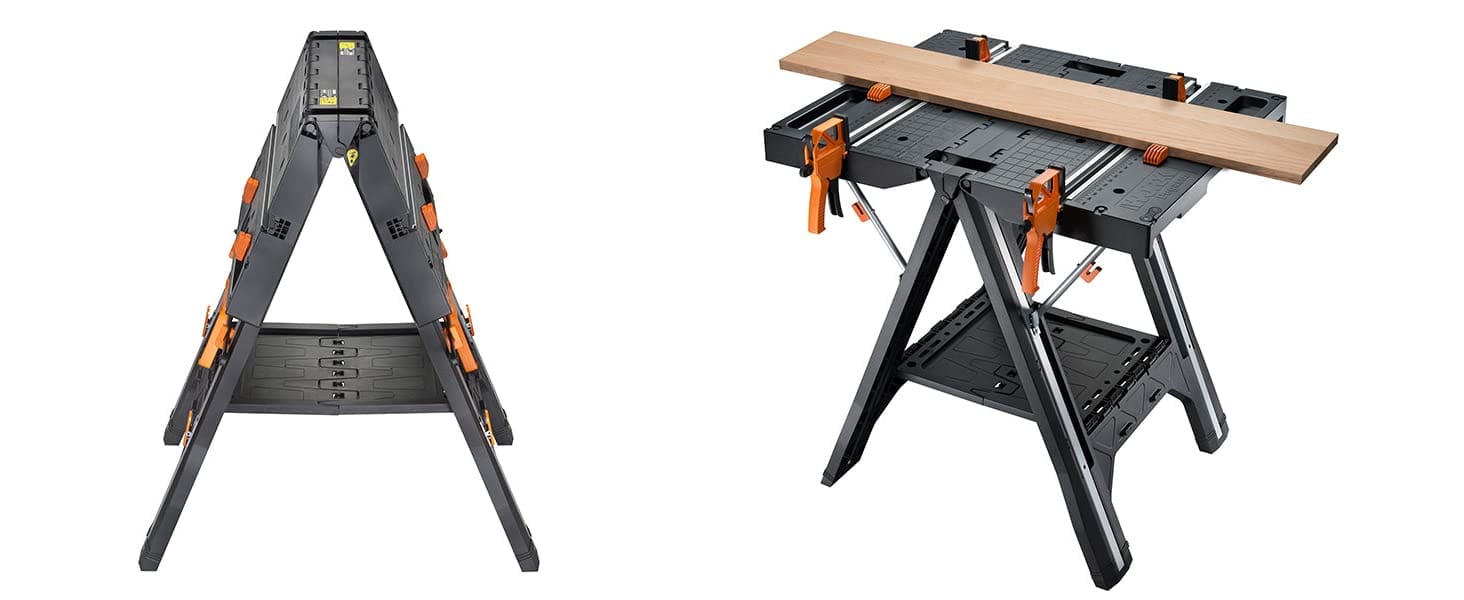 The Pegasus is made out of durable, molded ABS with steel supports and fittings.
Folded: 35″ H x 25″ W x 5″ D
Open: Table Size – 31″ x 25″ Working Height – 32″
The clamps can handle materials up to 18" in either a horizontal or a vertical position. The clamps can provide a maximum force of up to 300 lbs.
The Pegasus is the same height as both the Worx Clamping Sawhorse and the Worx Sidekick. They all have the same joiners so you can lock a few together and create quite a functional worktable.
We built the Pegasus Folding Work Table to be compact and easy to store, so that makes it easy to ship, too. The Pegasus is ready to go right out of the box.
[WORKTABLE & SAWHORSE] Holds up to 300 lbs. as a work table, supports 1,000 lbs. as a sawhorse. And it's easy to transition between the two

[CUSTOM CLAMPS] Two integrated quick clamps stay attached even when you fold the table into a sawhorse. Because we designed them specifically for the Pegasus, they stay strong.

[LIGHT AND STURDY] It's only 25 lbs., and its foldable design makes it easy to move and store

[CONNECT MULTIPLE TABLES] Create a whole work counter when you link 3 or more Pegasus' together. Whether your worksite or workshop is spacious or tight, this building solution expands or contracts to fit your needs

[DO IT YOURSELF. DO IT WITH WORX.] We engineer WORX tools with cutting-edge technology, and modern efficiency standards, so you can build a cost-effective tool collection that will last

[STORAGE SHELF] On the bottom of the work Pegasus we've made a place to hold a power strip or supplies. Perfect extra shelf or storage for your workspace

[BUILT TO LAST] Made out of a dependable, molded ABS with steel supports and fittings. This table will be with you for the long haul.