Description
The Worx 13-Amp Electric 2200 PSI Pressure Washer generates enormous cleaning power for dirt and grime removal around the exterior of the home or property. It produces 2000 PSI (2200 PSI MAX) and 1.2 GPM (1.4 GPM MAX) to make quick work of cleaning the driveway, deck, siding, or brickwork. It's also a great tool for blasting mud out of outdoor camping or sporting equipment or for muddy cars and SUVs. And the onboard soap tank and included soap nozzle allow you to add detergent right into the stream for the dirtiest applications. This pressure washer also comes with a turbo nozzle, when you need maximum pressure, say, for brickwork, and 40-degrees and 25-degrees nozzles for when you need a lighter touch. Plus, the universal ¼ in. quick-connect adapter makes switching between nozzles a breeze. But the best part about this pressure washer may be that it's easy to use. Not only does it have a pair of rugged wheels to make it quicker to cart around, even over rough terrain, almost anyone can handle all this power.
The Worx Electric 2200 PSI Pressure Washer won't knock you over while still delivering a mighty force of water, thanks to its powerful 13-Amp commercial-grade brushless induction motor. And when you're finished pressure washing for the day, onboard storage for the nozzle and wand and the hose reel & cord-wrap make cleanup quick and easy.
Features
| | |
| --- | --- |
| Brand | WORX |
| Power Source | AC/DC |
| Color | Black , Silver |
| Item Dimensions LxWxH | 21 x 18 x 19 inches |
| Maximum Pressure | 2000 Pound per Square Inch |
| Hose Length | 20 Feet |
[BRUSHLESS INDUCTION MOTOR] Commercial-grade motor for power, performance, and durability. Delivers 2000 PSI (MAX 2200 PSI) and 1.2 GPM (MAX 1.4 GPM)

[SPRAY-WAND W/ QUICK-CONNECT] Spray-wand with universal ¼ in. quick-connect for easy nozzle changes

[ONBOARD SOAP TANK] Soap application to tackle the dirtiest jobs

[DO IT YOURSELF. DO IT BETTER. DO IT WITH WORX.] Worx tools are engineered with cutting-edge technology, and above modern efficiency standards, so you can build a cost-effective tool collection that's been designed to last

[METAL-FRAMED CART] Durable design for ultimate portability

[HOSE REEL & CORD-WRAP] Built-in hose reel & cord-wrap for quick cleanup & easy storage

[ONBOARD STORAGE] Provides quick nozzle and wand access for various applications
---
From the manufacturer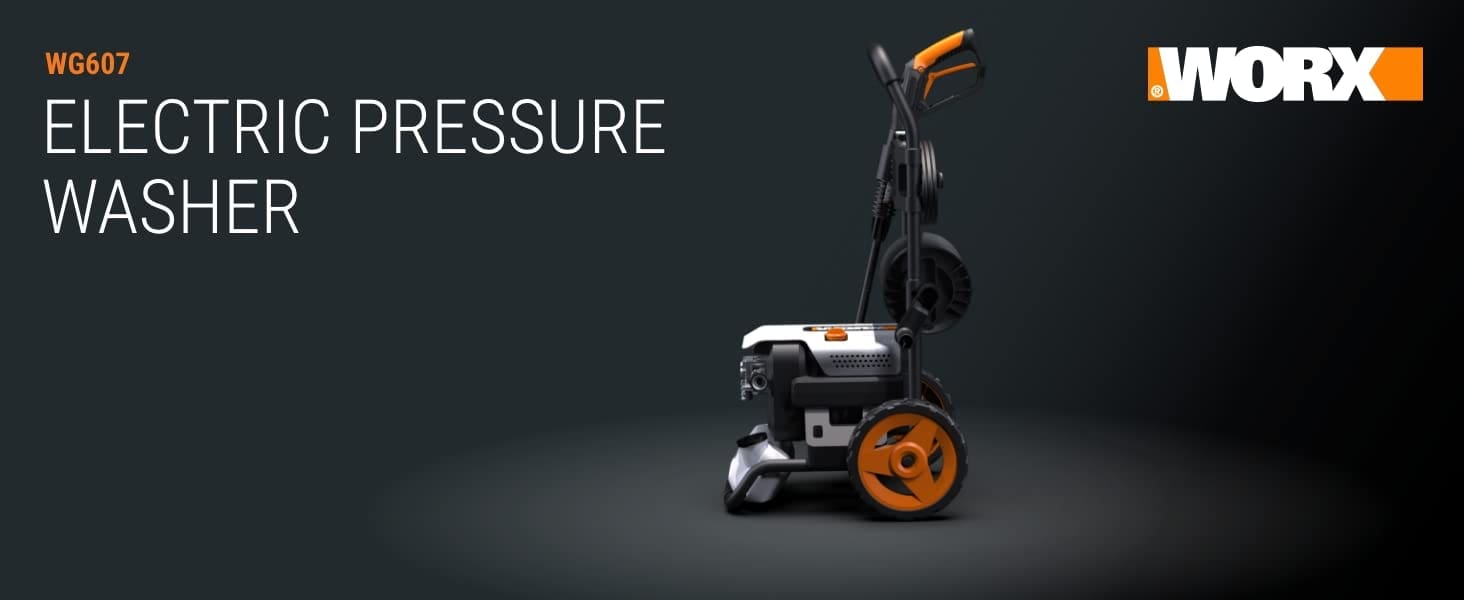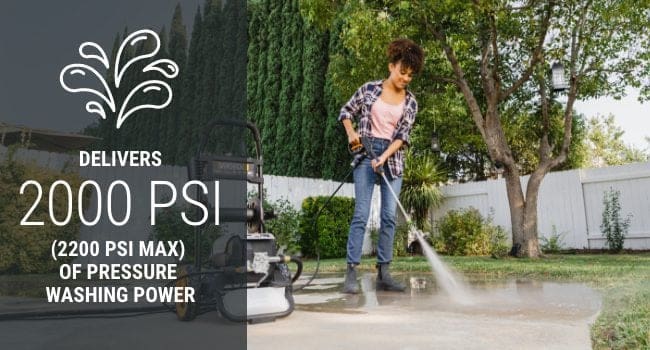 Commercial-Grade Motor
A whole lot of cleaning power, but still easy to use. This pressure washer was designed with a durable metal-frame cart and rugged wheels for portability. While the onboard hose reel & cord-wrap, plus quick-connect nozzle, make for convenient use and organization.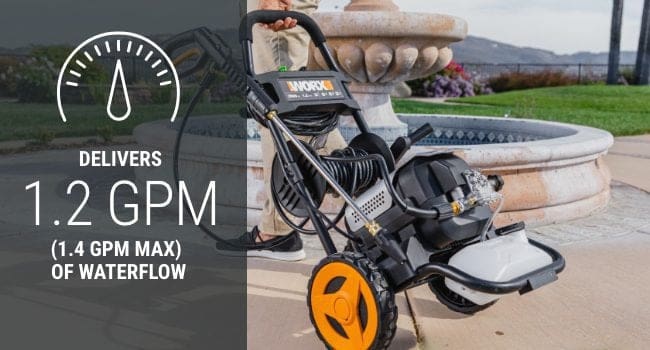 Onboard Soap Tank for Mud & Grime
The pressurized stream does most of the work, but sometimes you want to add some soap for really dirty jobs. The onboard soap tank and included soap nozzle make it simple to add some suds.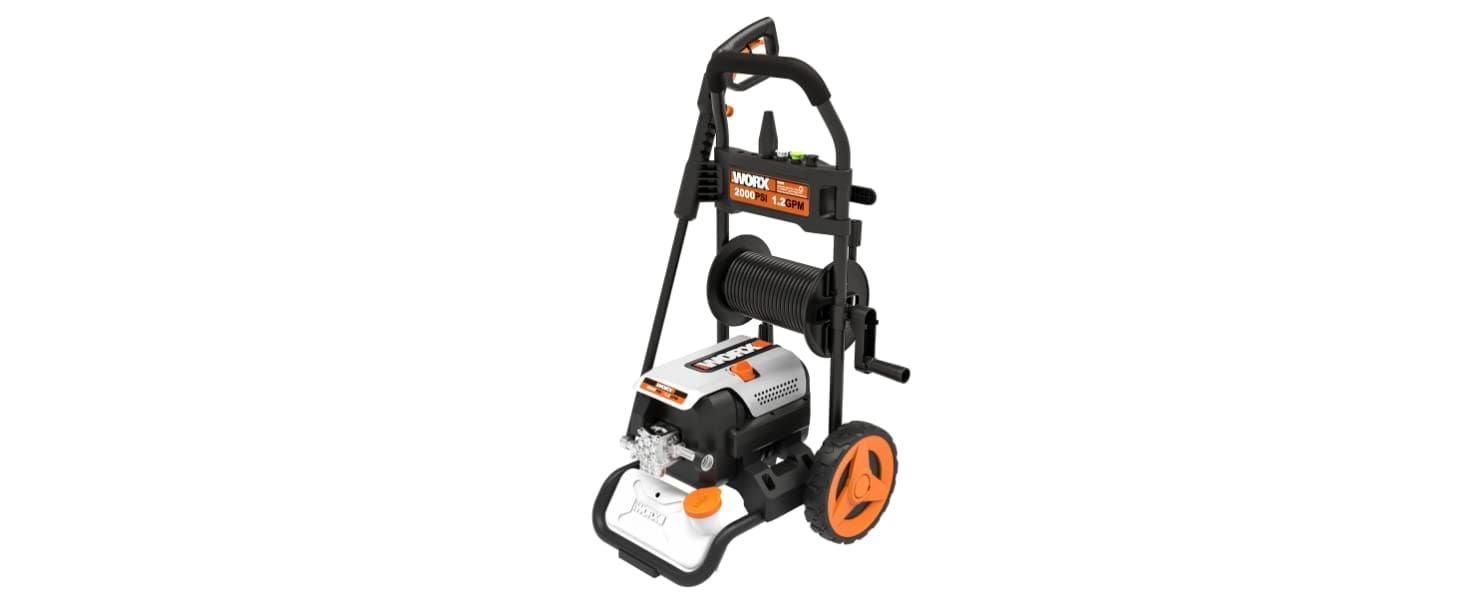 How do I change the nozzles?
The included nozzles have standard ¼ in. fittings that insert directly into the end of the spray wand by depressing the brass ring on the wand, inserting the nozzle, then releasing the ring. The nozzle should then "snap" into place.
Can I use Hydroshot accessories on this product?
The Hydroshot accessories are only designed (and rated) for use on the Hydroshot and cannot be used on other pressure washing equipment.
What is the cause of a "sputtering" type of sensation felt during operation?
Primarily after initial startup, residual air can still be trapped in the hose. Continue to hold down the trigger of the wand to allow the water to flow through the hose and expel any remaining air.
What should be done to clean and maintain this product?
Periodically inspect product for damaged, missing, or loose part.do not operate this product until all missing or damaged parts are replaced. Use a clean cloth to remove dirt, dust, oil, grease, etc., rather than various types of commercial solvents.
WORX Portable Tools Promo