Description
The OXO Good Grips 3.3-Quart Pet POP Container is for any pet parent who's ever struggled with an awkwardly flimsy bag of kibble. The Pop Container can hold up to 3 pounds of dog food or 2.5 pounds of cat food. Decant your pet's food into the Container and just pop the lid when it's mealtime.
The POP button creates an instant airtight seal and doubles as a handle, which you can use to lift the lid out of the way. And because the Container is round, you can get a heaping full scoop, no matter which angle you're coming from. For best results, always use the button to open and close. Do not carry POP Containers by the lid.
OXO POP Containers are dishwasher safe, too.
---
From the manufacturer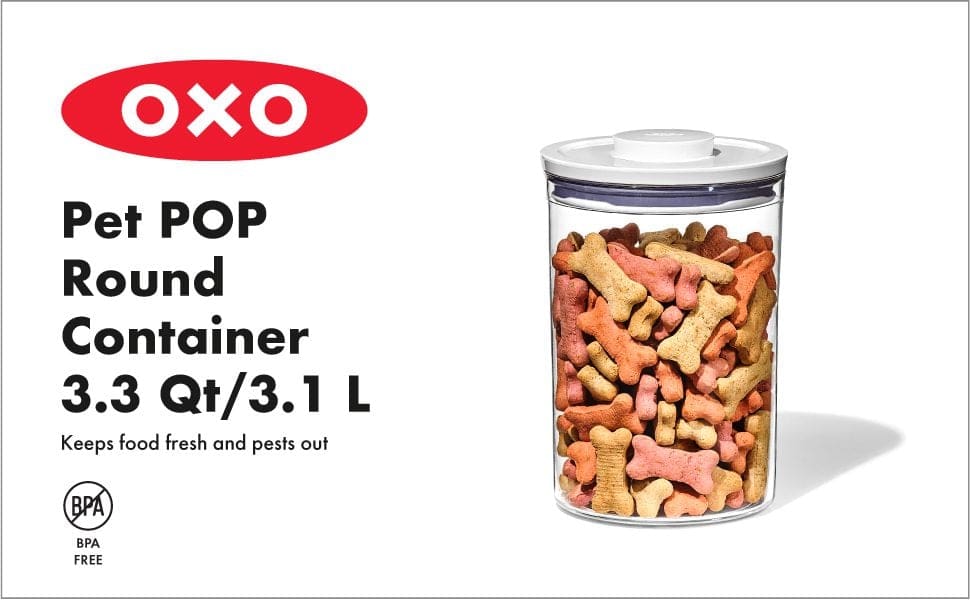 Directions
Always use the button to open and close; do not carry Container by the lid. Lid comes apart for easy cleaning, dishwasher safe
Product Information
Holds up to 3 pounds of dog food or 2.5 pounds of cat food

Lid creates an airtight seal to keep food fresh and pests out

Round shape allows for easy scooping and stacking

Always use the button to open and close; do not carry Container by the lid

Lid comes apart for easy cleaning, dishwasher safe