Description
Patented Oxygenics technology amplifies existing water pressure and widens coverage while minimizing water use and extending the life of water tanks. SmartPause valve helps preserve tank levels by quickly limiting water flow during soaping while keeping water temperatures consistent. Reduces shower time with a special spray pattern that make washing and rinsing faster, especially for those with long hair. Non-stick internal parts prevent mineral buildup and clogging, even in hard water conditions
Includes: Handheld shower head, 60" hose, SmartPause valve, wall mount holder and plumber's tape.
Say "So Long!" to Wimpy Showers
Powerful Oxygenics setting amplifies existing water pressure and widens coverage
Easily control the flow of water with the push of a button
SmartPause® valve helps stretch your RV's water tank by reducing water flow to a trickle
Designed to achieve maximum performance with tank size and pressure limits
Powerful Pressure to Water-Saving Trickle
Reduce flow from a powerful spray to a small trickle.
Made with Durable Parts: Non-stick internal parts prevent mineral buildup and clogging, even in hard water conditions

Limited Lifetime Warranty: Limited lifetime warranty against clogging or performance failures of any kind

Different Finishes Suit Your Style: Multiple available finishes will complement existing décor

60″ Hose: Ample hose length for hard-to-reach places and easy clean up
Water Force and Pressure Data
Most Oxygenics products are WaterSense-certified, meaning you don't have to worry about water regulations. PSI (pounds per square inch) measures water pressure while GPM (gallons per minute) measures the flow rate of the washer.
So, the lower the GPM and the higher the PSI, the better. Our shower heads are designed to be highly efficient. Regardless of PSI-our shower heads feel as if there's more water coming through, when in reality less water is being used. This results in more pressure, less water use, and more savings.
This product performs at 1.8 GPM at 80 PSI – resulting in supercharged pressure with minimum flow rate, which translates to more savings on your utility bills and more money in your pocket!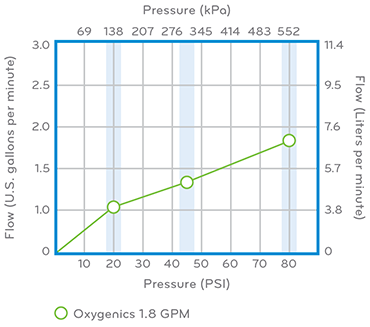 Product Variations
| PRODUCT NAME | FINISH | GPM | HOSE | MSRP | PRODUCT DETAIL |
| --- | --- | --- | --- | --- | --- |
| BodySpa RV Handheld Shower – 26760 | White | 1.8 gpm | 60″ | $38.95 | view info |
| BodySpa RV Handheld Shower – 26188 | Chrome | 1.8 gpm | 60″ | $43.95 | view info |
| BodySpa RV Handheld Shower – 26788 | White | 1.8 gpm | 60″ | $38.95 | view info |
| BodySpa RV Handheld Shower – 26488 | Brushed Nickel | 1.8 gpm | 60″ | $49.95 | view info |