Description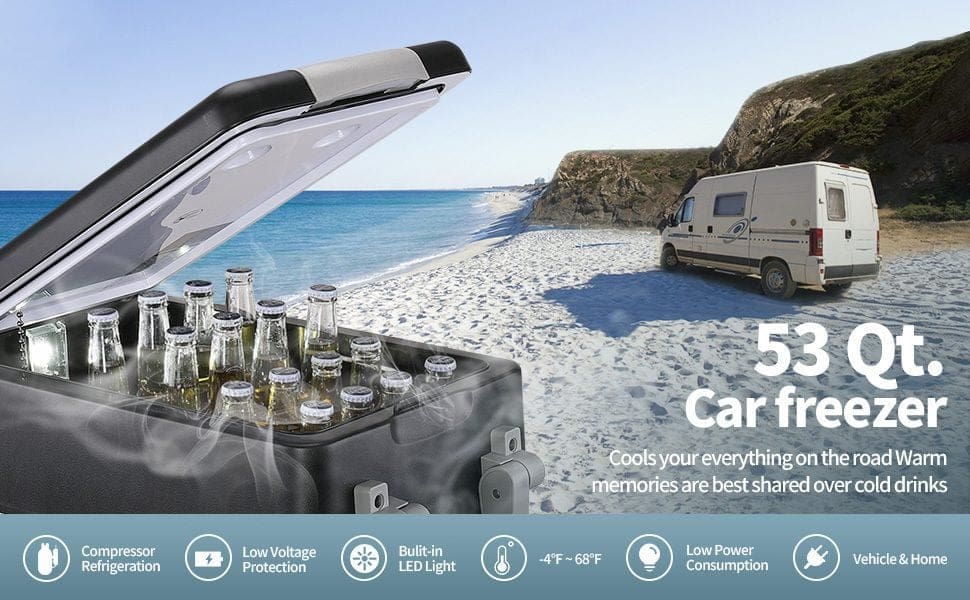 Warranty & Certification
With CE and FCC certification, the 53QT Refrigerator is covered a 2-year warranty for the compressor and other accessories.
Package Includes
Removable basket, DC power cord, AC power cord, and user manual
53 Qt Large Capacity
This 12v Portable Refrigerator can serve you and your family enough food for one-week trips. With a temp range of -4 ℉~50℉, it can be used as a freezer or refrigerator.
Fast Cooling Down to -4℉
This 12v car freezer can achieve 15 min fast cooling from 77℉ to 32℉ and 60 min from 77℉ to -4℉, keeping your food fresh. No ice needed, no food spoiled. It's money and space-saving.
45W Low Power Consumption
With ECO energy-saving mode, this 53 Quart fridge's operating power is less than 45W. Even running on MAX mode, it consumes far less than 1kwh/day for its intelligent cycle work. You can run this fridge with 12/24 V DC power on various vehicles, such as a SUV, Truck, RV, Camper, Jeep, Van, Boat, etc.
45dB Low Noise & Battery Protection
The truck freezer is designed low noise to make sure you have a good sleep after long driving. The RV fridge/freezer is equipped with a 3-level battery monitor to prevent itself from draining your vehicle's battery.
Why choose the BougeRV 53 QT refrigerator ?
With the BougeRV 53 Quart refrigerator, you can hold up enough food to enjoy traveling, off-roading, camping, tailgating, even boating!

The BougeRV 12 Volt is a portable freezer so you will not worry about your food spoiling while camping or on the road.

The BougeRV 53 Quart refrigerator is  low temp portable freezer, you don't need to buy ice anymore, saving money and space.

With the BougeRV DC/AC portable refrigerator, you can power it up with 12V CAR, SUV, VAN. PICK UP, or 24V SEMI-TRUCK, or 110~240v at home.

The BougeRV 45W is a low power consumption  fridge, you just use a little power to get a cool summer.

The BougeRV 45dB is a low noise fridge freezer, you can still have a good dream during the night.

The BougeRV offers 3-level car battery protection portable fridge, you do not need to worry about draining out your battery.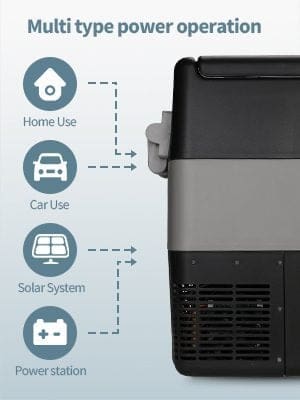 Use following power sources:
Home use: 110V-240V AC power
Car/Big Truck use: 12/24V DC power
Small solar system+controler+battery
Other: power station, generator, backup battery, etc.
Product specifications
Capacity: 5

3 Qt=50 L=1.77 cu. ft.

Freezing zone: 40 L

Refrigeration zone: 10 L

Dimension: 22.44*13.39*19.69 inches

Refrigeration range: -4℉~50℉(-18℃~10℃)

Weight: 38.25 pounds

Voltage:12/24 V DC or 110~240 V AC

Wattage: MAX mode 60W; ECO mode 45W

Noise: ≤45 dB
Essential Features
3 Level Voltage Battery Protection

The RV fridge/freezer is equipped with a 3-level battery monitor to prevent the fridge from draining your vehicle's battery.

Excellent insulation for keeping ice-cold

With 35mm thick insulation, this car freezer will keep your food and stuff cool for a long time after turning it off.

Great cooling fan for heat dissipation

The compressor will produce a certain amount of heat when it works. This efficient cooling fan can take away the heat well without affecting the refrigeration of the refrigerator.
Outstanding Features
Anti-shaking for extreme off-road conditions

With good compressor technology, this portable freezer can still work great even when you spend a lot of time off-roading on bumpy roads with steep inclines and declines.

Energy saving with ECO mode

Once it reached the set temperature, you can switch MAX MODE (60 W, fast cooling) to ECO MODE(45W, energy saving), which is less power consumption and quieter.

Freezing or refrigeration depends on you

With two compartments, a 40Lfreezing zone, and a 10L refrigeration zone, you can keep fresh dairy or a bag of salad in the small compartment and freeze food in the large compartment.
Excellent Details
Interior LED light for convenience at night

The LED light is a nice bonus for rummaging around in the box at night, you will not worry about taking the wrong item anymore.

Durable Latch

Strong, reliable, and fully-tested.

Upgraded Elastic Handle

There are two elastic handles on both sides which are handy for convenient transport. Besides, it is designed as space-saving and repairable.