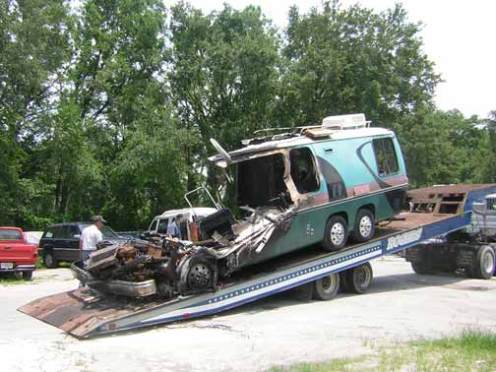 Get the most effective fire suppression chemical for your vehicle application. It's required by NASCAR and demanded by anyone serious about protecting their coach from fire damage. It takes an instant for a coach or camper to ignite beyond help, and it will burn to the ground so quickly it will scare you—it should. Fire on the road is a very serious thing!
Some 10 maybe 12 years ago a GMC owner/fire engineer came up with a perfect "paperclip" fire measure for our GMC. Ralph Kennerknect made is career of designing fire systems for military, maritime and aircraft application. Living on a boat for 20 years in Miami he took his oars inland, purchased a GMC Motorhome for a new chapter in his life.
One day he said to me, "These motorhomes look like a mobile campfire looking for a match!". 40 year old dry, flakey particle board is just like starter wood. Petroleum based glues holding it all together, vinyl and plastic interior parts give off toxic fumes when on fire and all that locked in an aluminum tube…hey, what could go wrong? And what will happen when something DOES go wrong?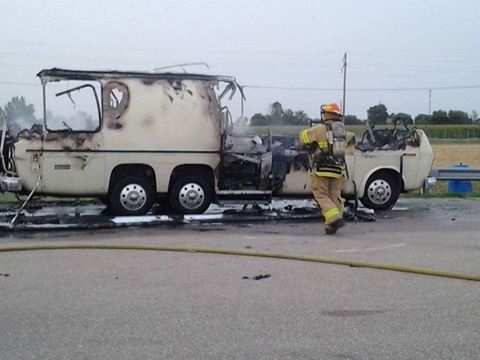 The depressing part of all this to me is through help from a good friend and GMC owner, I wanted to keep Ralphs products going after Ralph passed away…and with a little help from my friends I did. I still haven't paid that man back fully from helping me…why not? Because no one thinks it will EVER happen to them…..but guys it can and it IS happening!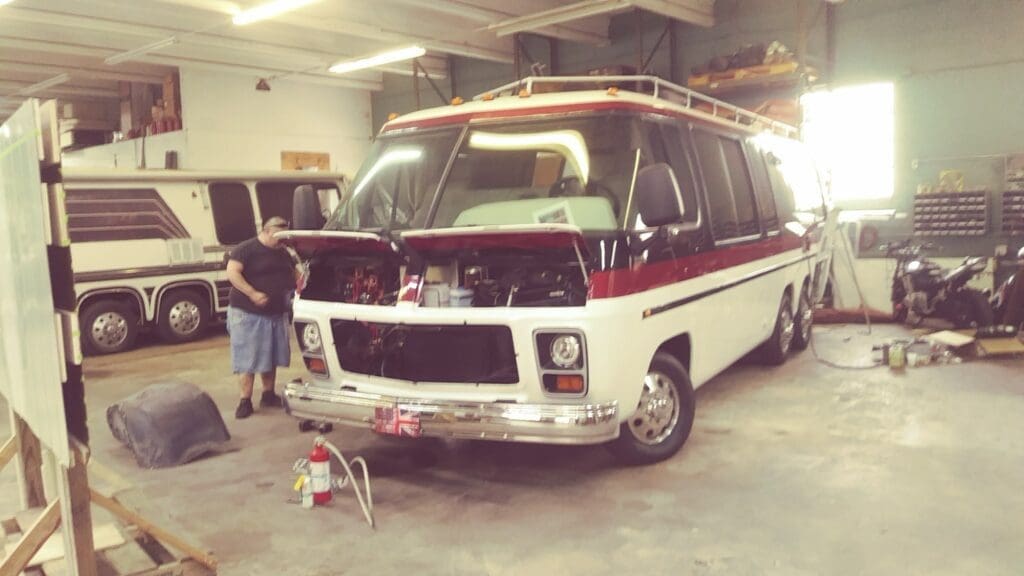 So, for years, we had been looking for the right system, a reliable, passive, automatic, simple system that will economically protect our classic coach from fire dangers at both the generator compartment as well as the engine compartment. We found it in Ralph's systems.
Fire Fight Products supplies custom fire suppression systems are designed specifically for the auto, RV and marine enthusiast interested in having more than the minimum fire measures required by law. The units are easy to install and are very effective when properly used.
Please contact me at the Motorhome Rehab Ranch for specific information on your desired application. Before you do, please visit the Fire Fight Products website for more information.
Guest blogger, Jim Bounds writes technical articles about GMC Motorhomes, explores the history of this very unique RV, and takes the reader through some of the more challenging restoration projects he and his team have worked on over the years.
A version of this article originally appeared on the Daily Pose blog at Cooperative Motor Works.
© Jim Bounds, 2021. Reposted with permission.