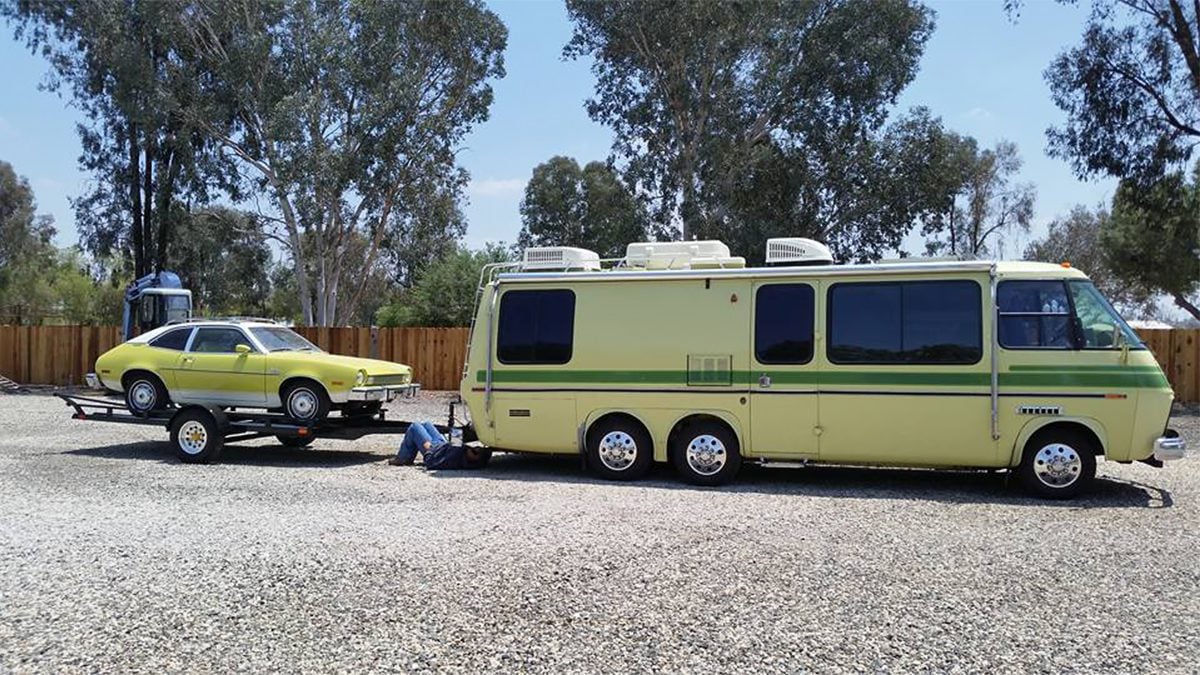 Many people ask me, "Can you tow in a GMC Motorhome?" or "Are there any alternatives to towing a car, crossover, or Jeep?". Those are very good questions and something I want to explore today.
Primary Transportation
Let's take a look at the primary mode of transportation most folks who own vintage motorhomes or modern RVs use – a car, crossover, or Jeep.
Here's yours-truly talking about this very topic:
As I mention in my video, towing capacity is limited due to the GMC Motorhome being front drive — the tow ball is simply too far from the driving wheels to allow for very a heavy "TOWD" in back. Also, rear suspension set up means that there's too much weight at rear, which in extreme cases may lift front end causing severe understeer. So beware!
If you're interested in finding out more about the do's and don'ts of towing a vehicle behind a GMC Motorhome, visit Ken Henderson useful guide here.
Alternative Transportation
No, that doesn't mean your other pair of shoes! You can't drive your coach or RV everywhere and its always a good thing to have some sort of wheeled thing to take you down to the store, around the corner to a fishing hole or just to get away a bit. Many folks tow a car (TOWD) with them and thats all well and good, but sometimes you may rather not have someone following you that close all the time. Here are some ideas we use here at the shop you may be interested in.
It's funny how our beautiful GMC Motorhome was conceived, designed, engineered & built in a time when America didn't even recycle paper on a large basis. The 60s and 70s saw us wasting energy on a grand scale, much of which we are starting to pay for now. American built cars were poorly designed, cheaply manufactured and were not very reliable, I mean think about the Pacer, Pinto or Vega—and then came the Chevette!
No, today we are trying to do better but out of that age came a vehicle that the energy used to produce it was renewable, the GMC Motorhome. It was designed like an aircraft—to be rebuilt. Thank God the production was not high enough so the automotive industry was not tempted to mass produce components using mold injected genuine simulated chromed plastic and cheap plastic non-UV protected parts. Even though our coaches were built from 60s and 70s technologies, they can be reused, retrofitted and renewed to be useful, stylish, cost effective, and economically reliabile. Trust me, you cannot buy a reliable modern RV for less than you can build a reliable GMC Motorhome.
So, there you are with your coach on the road, having a great time getting descent mileage and doing it in style. You pull in to the RV park or camp ground and set up— now what? You want to go to the pool or down to the store for some supplies or the local watering hole for a drink. You may have a "TOWD" (a vehicle you tow behind your RV) but then again, maybe you don't. It would be great to not drag the dead weight of your motorhome down the road. Sure it's great to have a car with you as a "lifeboat" but hey, lugging that 4 wheeled anchor takes away from the performance of you 26′, 12,000 antique hot rod–wouldn't it be great to not have to do that?!
In comes a new alternative: electric motivation. Sure you could bring bikes or a gas scooter but gas scooters are heavy and a bit unreliable. You can only use a bike in some cases and hey, sometimes you simply don't want to use your energy to move (I get lazy too from time to time). New technology and manufacturing concepts have made the use of electric scooters and other DC power motivation possible. These scooters have been around for some time but they have been plagued with reliability and realistic expectation shortfalls. Today however, there are electric scooters coming out of Indonesia and other Asian countries that are convenient, useful and powerful enough to make them a reasonable transportation alternative in many cases.
Here are some alternatives we here at the Co-op have discovered, take a look:
Guest blogger, Jim Bounds writes technical articles about GMC Motorhomes, explores the history of this very unique RV, and takes the reader through some of the more challenging restoration projects he and his team have worked on over the years.
© Jim Bounds, 2021.