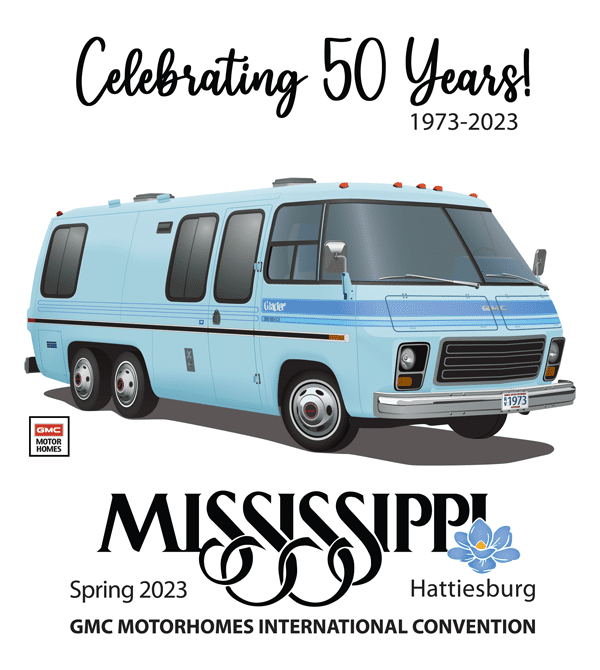 BY Marco Kathuria—Celebrate the introduction of the GMC Motorhome with GMC Motorhomes International (GMCMI) at the 2023 Spring GMCMI Convention. GMC Motorhome owners, their friends and families, plus anyone interested in these classic RVs will be gathering at the Forrest County Multi-Purpose Center in Hattiesburg, Mississippi from April 27-May 3, 2023.
Registration Closes April 1st!
Craft Your Own Adventure
Come a day or two early ($30 a night camping fee) and connect with the bustling live music scene and impressive variety of local eateries. Taste the selections created in the barrels of the downtown breweries. Discover the art scene, military museums, shopping, and outdoor recreation offerings.
Notes of Interest!

Convention First-Timers
Interested in joining us at the convention? You'll be most welcome! Plan on attending the First-Timers Orientation Meeting on Thursday at 3:15 pm. We invite first-timers to sign up on the bulletin board to serve ice cream on Monday evening. It is a great opportunity to meet all of you!

Can't Come for the Entire Week?
Not a problem. Email or call Kim at 612-501-4600 and let her know when you would like to arrive and depart.

Additional Sessions
We have a couple of session slots open, just in case you have an idea or session you would wish to lead or assist with, please contact Kim.

Sing, Sing, Sing…Play, Play, Play
Sunday morning we have a non- denominational worship with a choir! We need you…join the choir and fun. Choir rehearsal is on Friday, April 22 at 1:00 pm. Instruments welcome! Contact Kim for the commonly known music selection.
---
Official Convention Brochure
Official Registration Form
---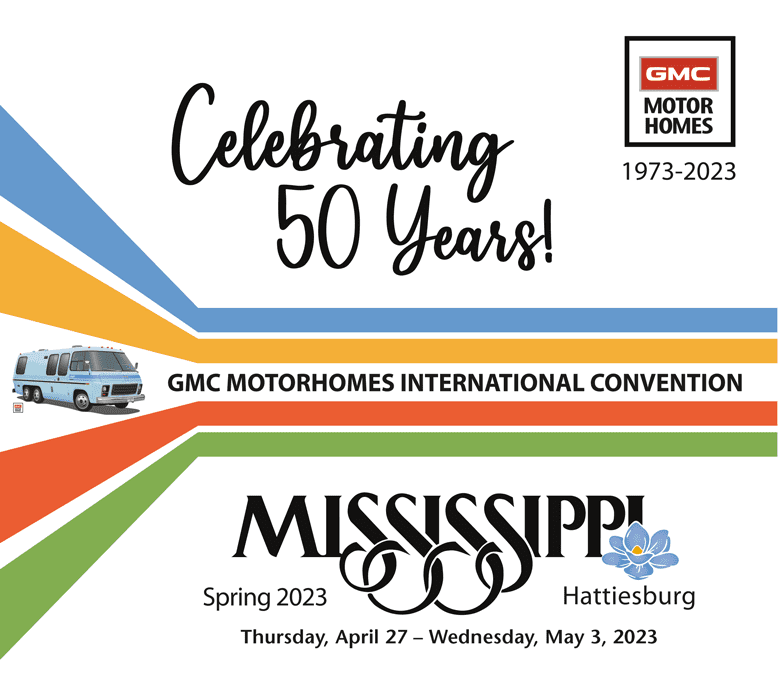 ---
---

GMCMI North American Chapters
GMC Cascaders
Oregon, Washington, Idaho, British Columbia & Alberta (Canada)
Website: www.gmc-cascaders.com
Facebook: https://www.facebook.com/GMCCascaders/
---
GMC Classics
Arkansas, Louisiana, Oklahoma, Texas
Website: www.gmcclassics.com
Facebook (closed group): www.facebook.com/groups/gmcclassicsclub/
---
GMC Colonial Travelers
New Jersey, Pennsylvania, Maryland & SE New York
Website: www.gmccolonial.com
---
GMC Dixielanders
Alabama, Georgia, Kentucky, Mississippi, Tennessee and the Western Carolinas
Website: www.gmcdixielanders.org
Facebook: www.facebook.com/GMC-Dixielanders-610910142357001/?fref=ts
Facebook (closed group): www.facebook.com/groups/751435414991402/
---
GMC Eastern States
The Mississippi River and east in the United States and Canada
Website: www.gmceast.com
---
GMC Flatlanders
Kansas, Missouri, Oklahoma, Arkansas, Nebraska, Iowa, and Colorado
Randy Van Winkle | 417-429-5925
Facebook: https://www.facebook.com/groups/884368598352256/
---
GMC Forty-Niners
Northern California & Northwest Nevada
Club Email: [email protected]
---
GMC Great Lakers
All States & Canada Provinces touching the Great Lakes
Website: www.gmcgreatlakers.org
Facebook: https://www.facebook.com/groups/182402062678966/
---
GMC Greater Midwest Classics
Iowa, Minnesota, Nebraska, North Dakota, South Dakota, Wisconsin, Manitoba and Ontario
Website: www.gmcmidwestclassics.org
---
GMC Heritage Cruisers
Covering Parts of Ontario, New York, Pennsylvania, Ohio, Michigan, & West Virginia
Website: www.gmcheritagecruisers.com
---
GMC Mountainaires
500 mile radius of Denver, CO
Website: www.gmc-mountainaires.org
Facebook: www.facebook.com/GMCMountainaires/
---
---
Further Information about GMCMI
Official GMCMI Facebook page: facebook.com/GMCMI
Vintage GMC Motorhomes Community Facebook page: facebook.com/groups/vintagegmcmotorhomes
The GMC Motorhome Store: thegmcmhstore.com