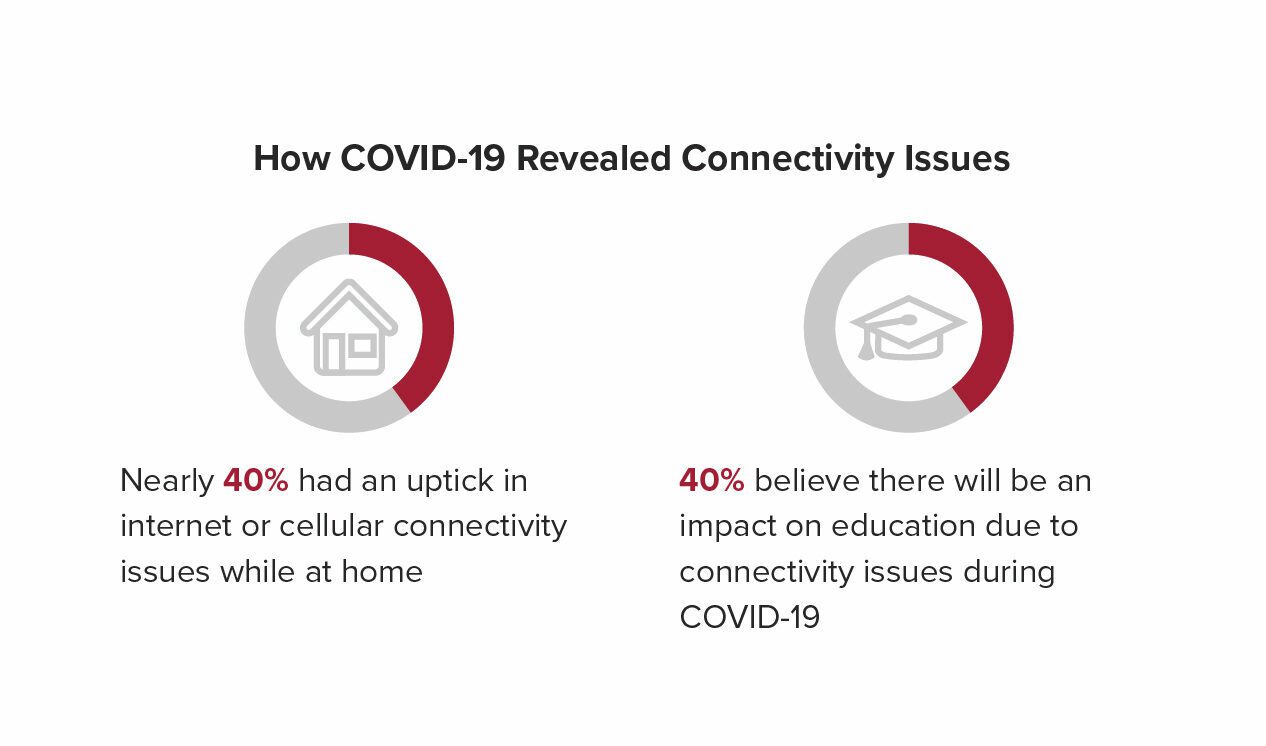 In an effort to keep students safe during the COVID-19 pandemic, schools and universities across the nation have closed their doors and turned to distance learning. Unfortunately, this universal implementation of the remote learning model hasn't been an easy transition for students, parents, or teachers. Uncertainty looms as these institutions are unsure when they will be able to return to a traditional education environment.
To gain a better understanding of how poor connectivity affects remote learning, we recently conducted a survey of over 1,000 American households. Participants were asked about problems they're facing while remote learning due to the COVID-19 pandemic. In this article, we'll outline our key findings
In these unprecedented times, many students are attending classes virtually completing assignments online while parents are also working from home. Not surprisingly, wireless home networks are being overloaded with multiple users, which can cause connectivity issues.
1) Now that you and other members of your household are sheltering in place, have you noticed an uptick in internet and/or cellular connectivity issues

Online learning can be stressful for some students who were unexpectedly forced to leave their traditional classroom settings. Recently, a New Jersey high school student expressed her anxiety and the challenges she and many of her friends are facing. "I live in an area where internet access and WiFi are hard to get and, as a result, I'm not only stressed about school but I'm often anxious that I will not be able to join and maintain access to online classes and assignments."
While learning remotely in their homes, families have experienced a number of connectivity issues, including:
3) Before COVID-19, did you ever have internet or cellular connectivity issues at your home, such as spotty coverage, dropped calls, slow network speeds, or lost signal?
Due to the above factors, students and parents have been compelled to find alternative ways to stay connected while remote learning.
4) During COVID-19, have you ever used your phone or tablet's cellular data instead of a WiFi/ethernet connection or used your phone's hotspot to connect to internet at home?
With the swiftness of school closures throughout the nation, many American families were unprepared for the internet connectivity issues that they now face. In addition, state and federal government orders to shelter in place may have prevented them from finding solutions that will resolve their issues.
5) Have you bought or are you considering buying products designed to help resolve internet or cellular connectivity issues?
Fortunately, there is a solution that will improve the quality and reliability of your in-home cell signal. A cell signal booster, or amplifier, can help your family stay connected as you navigate the remote learning process at home during the COVID-19 pandemic.
Like some of our survey participants, you may not realize there is a solution for poor connectivity a – weBoost cell phone signal booster. Our boosters can help improve the quality and reliability of your cell signal in your home, regardless of the carrier or service provider.
With a booster, you'll experience better call quality, fewer dropped calls, and faster data speeds. Depending on the size of your home and your specific needs, weBoost offers different multi-user boosters that will improve cellular connectivity in your remote learning environment:
weBoost Installed | Home Complete is weBoost's most powerful in-home cell signal booster for entire home coverage. Professional, customized installation is included
Home MultiRoom improves cell signal in medium-sized homes for approximately three large rooms or up to 5,000 square feet.
Home Room is designed for smaller homes and apartments, providing coverage for one room, or up to 1,500 square feet.
---

(Reposted from the WeBoost Media Center. No copyright infringement intended.)