BY RV Industry Association Staff—September and October were banner months for RV travel to farms, wineries, breweries, and distilleries, according to Harvest Hosts Director of Partnerships and Host Relations, Molly Edgington.
Not only did the membership organization see a large uptick in overnight camping reservations, but also a large increase in the number of property owners signing up to host RVers.
"We have over 200,000 active RV members and over 2,800 hosts throughout the country. The RVers love learning about and participating in life on the farm and the farmers enjoy talking about their crops and getting a bit of help."

Molly Edgington, Director of Partnerships and Host Relations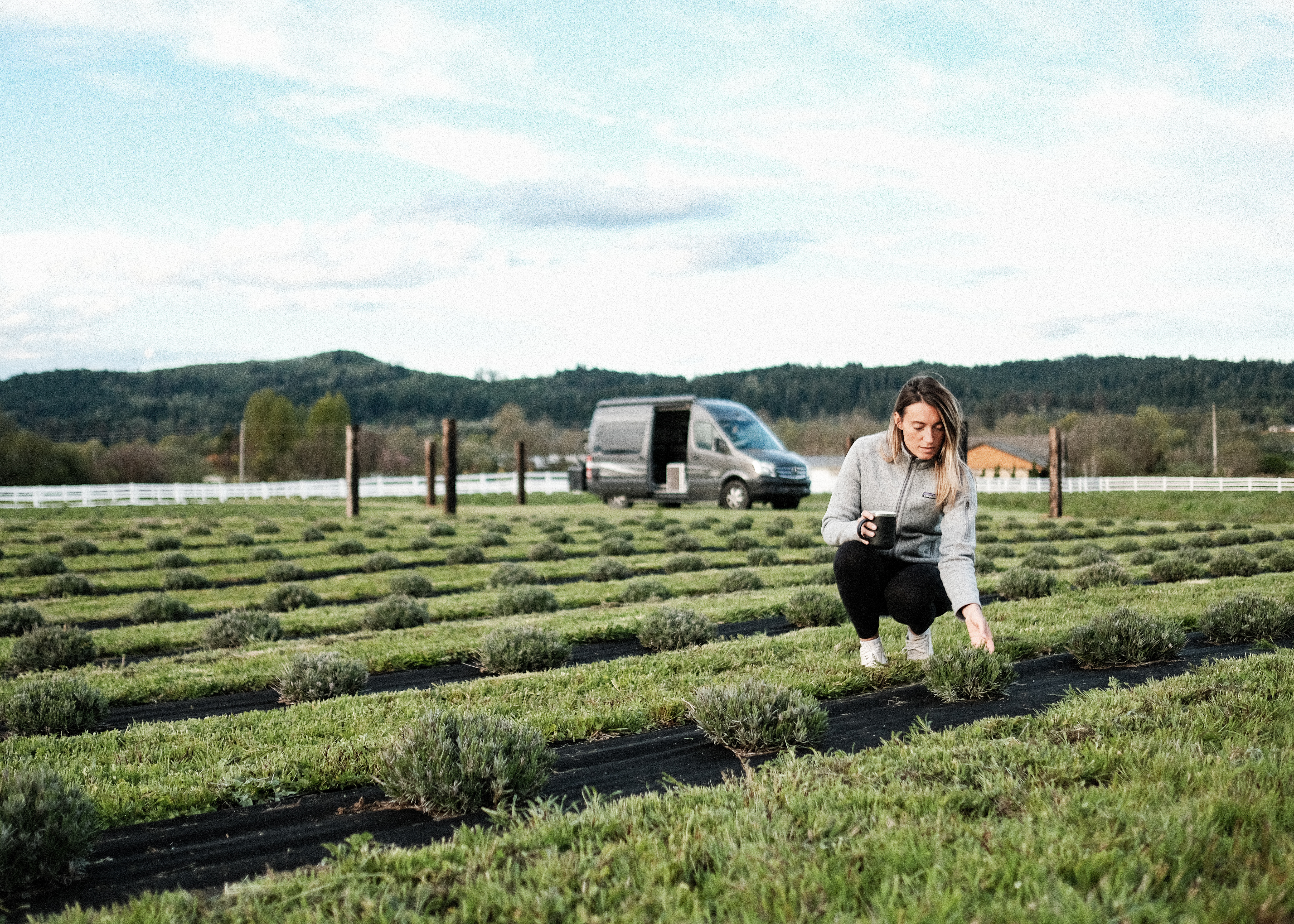 All across the country, agritourism is becoming increasingly popular as Americans seek to understand and participate in the sustainable agriculture and "farm-to-table" movements. Farmers are driving this business as they seek to preserve their rural lifestyles and landscapes and to sell more products. RVers, ever anxious to discover new ways to see, experience, and learn about our country, have discovered a unique way to tap into this trend: by camping on working farms.
The fall is an especially popular time of year for vineyard camping as wineries enter their busy harvesting season. RV guests may help pick grapes, "punch down" grapes in vats, stir the lees in barrels, clean the juice presser, or many more tasks. Some even get a chance to try I Love Lucy-style grape stomping. Their reward is an inside look at the winegrowing and winemaking processes and the opportunity to do tastings from previous vintages.
One of Harvest Host's wineries is Jewel of the Blue Ridge Vineyard in Marshall, North Carolina. RV guests who help with the harvest also enjoy a "Muscadine Grape Experience" that includes learning about the sweet, thick-skinned grape that is native to North America and goes into what the winery calls, "the finest wine in the state." At Redbud Farm and Vineyard in Washington, Oklahoma, the hosts claim there is generally something to pick year-round and they always appreciate the help from visiting RVers.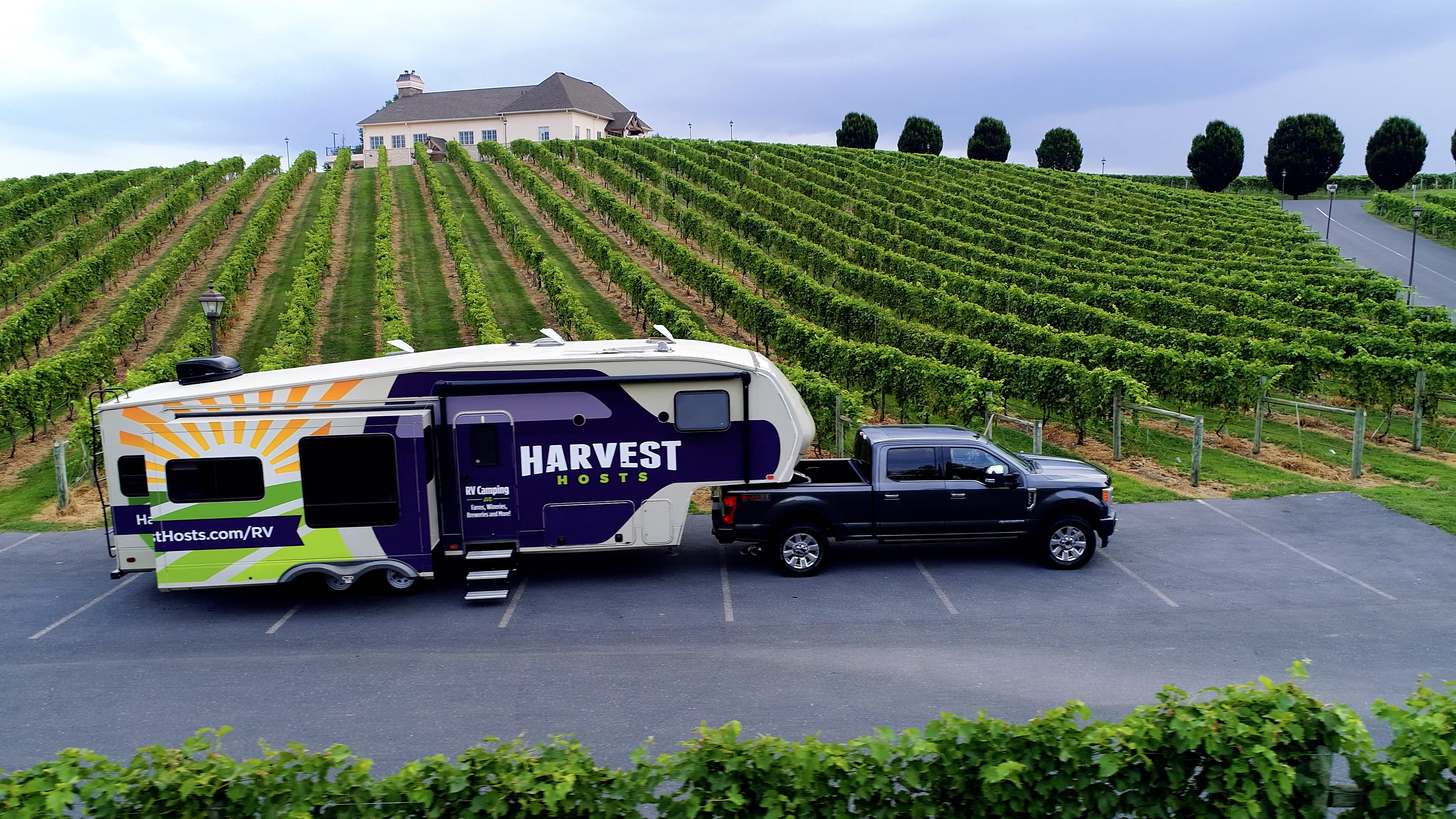 Not surprisingly, 50% of Harvest Hosts' 650 winery host locations are in the Pacific and Great Lakes/Midwest regions. This includes California, Nevada, Oregon, Washington, and British Columbia in the former, and Iowa, Illinois, Indiana, Kansas, Michigan, Minnesota, Missouri, North and South Dakota, Nebraska, Ohio, and Wisconsin in the latter. In many cases, the RVers stop at these locations during their sojourns to the East or West Coast. According to surveys, the number one draw for RVers is accessibility (the properties tend to be near interstate highways), followed by the picturesque locations, then the experience.
The Great Lakes/Midwest region is where the most farm hosts – nearly 800 — are located. RVers are lured into visiting them at this time of year with fall festivals, pumpkin patches, corn mazes, U-pick-em orchards, and Christmas tree farms. While winemakers are very busy in the fall, farmers have usually brought in most of their crops by the end of the summer, so they have the time to engage with their guests. But there is always work to do on a farm, so RVers have been known to gather eggs, help repair barns and fences, and feed livestock. At one unique farm in Churchill County, Nevada, RV guests get to feed and walk alpacas.
"We like to say that we have the best members around. The reason behind this statement is due to the way they go above and beyond with their membership, including assisting host locations on site with daily chores,"

Director of Partnerships and Host Relations, Molly Edgington
Edgington notes that even though 60% of their members are retired; they are now seeing the younger demographic increase steadily.
Over 51% if their members have annual incomes of more than $100K and 99% of them own a self-contained RV. Among RV models, 53% have Class A (23%), Class B (12%) or Class C (18%) models, while the remainder have travel trailers (31%), fifth wheels (12%), truck campers or others (4%).
"Among the young working professionals camping at these properties, we're seeing mostly van-lifers," said Edgington.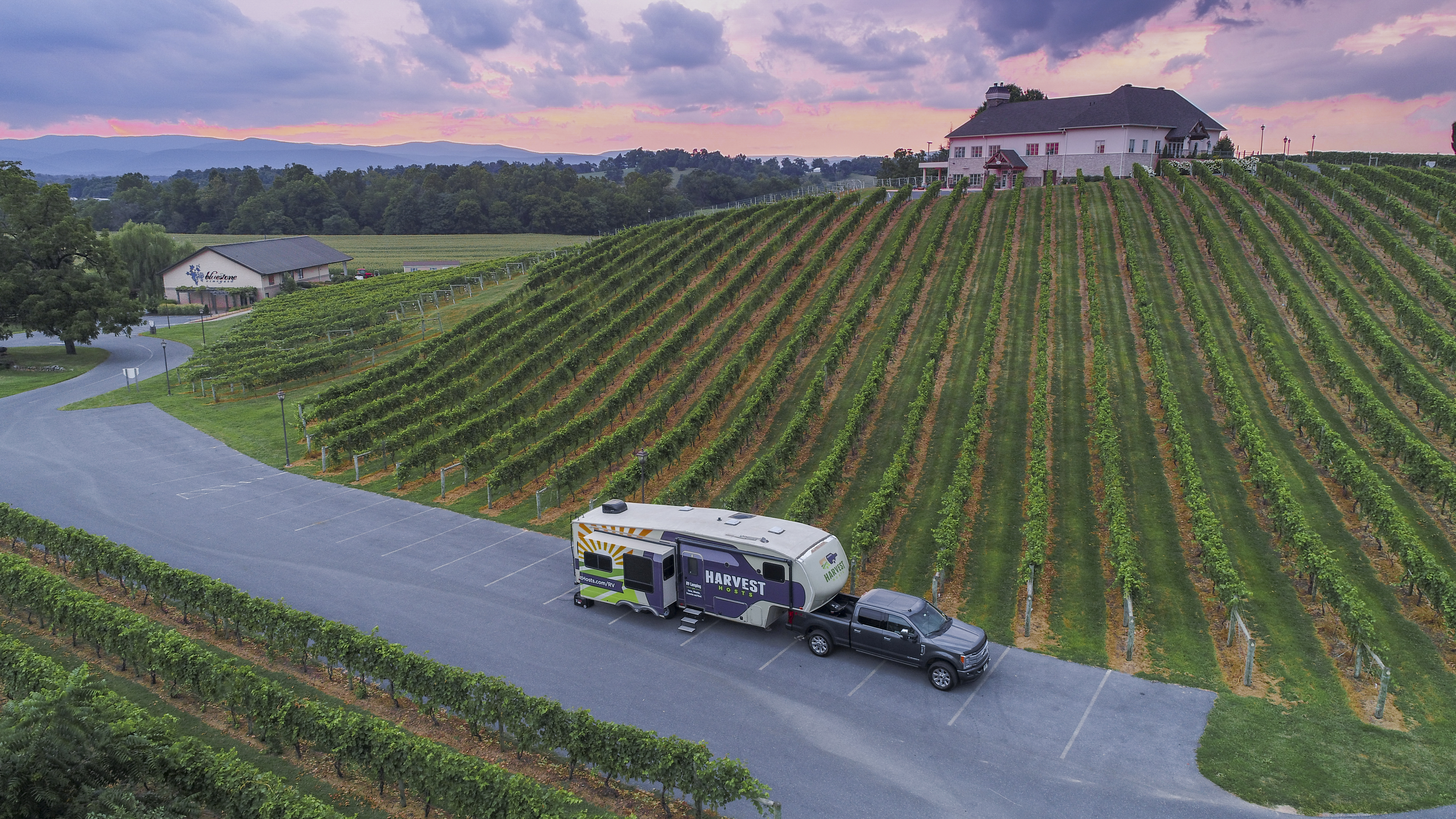 For only $99 per year, RVers, whose rigs must be self-contained, can enjoy an unlimited number of one-night stays at a wide array of properties. And while property owners receive no payment for the stays, there is significant potential for financial rewards. Hosts report an average of $50 per day in product sales to their guests, which can mean a boost in annual income of $10,000-16,000 for well-established hosts.
"We think this trend is here to stay," said Edgington. "Particularly after COVID, people are craving connection and engaging with working farmers and vintners is a great way to do that.

Click here to find out more about Harvest Hosts and to become a member.
(Source: RVIA. No copyright infringement intended)