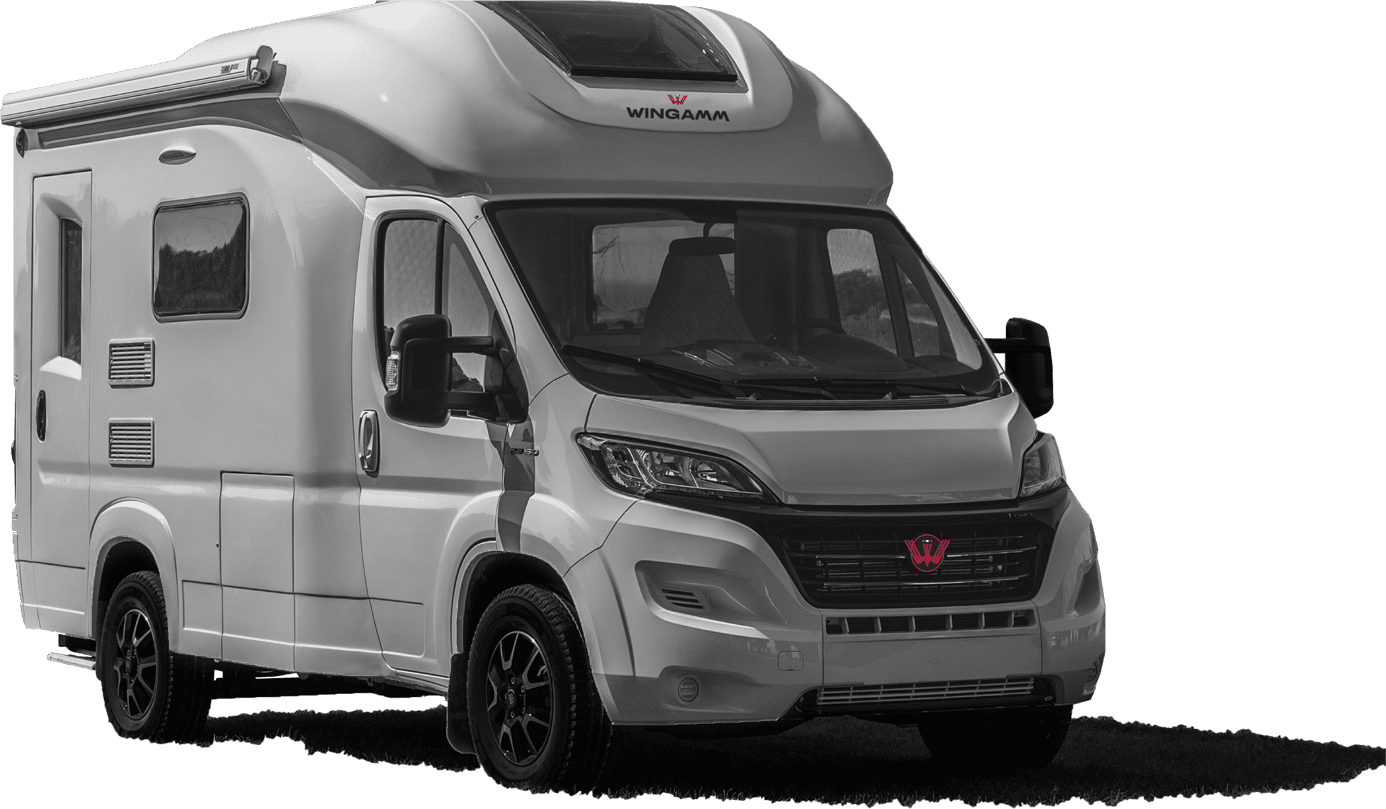 BY Marco Kathuria—Italian RV manufacturer, Wingamm, is holding a series of public presentations of their OASI 540 campervan in Santa Monica, CA from November 15th – December 15th, 2021. The camper features a Ram Promaster chassis with a 3.6L 24V gasoline engine offered with a manual or optional automatic transmission.
The Wingamm OASI 540 camper features everything one could want for an extended stay away from home, including a full bathroom and kitchen. There's a two-burner gas stove, sink, and fridge and freezer combination. The company says the dinette area can seat up to six thanks to the adjustable tabletop. There's an overhead shower, toilet, a generous sink, and two cabinets in the bathroom. The campervan seats 4 and has sleeping facilities for 3+1.
Unique Features
01 / L-SHAPED DINETTE
The L-shaped dinette opposite the kitchen is a space to enjoy together that can be turned into a single bed, when needed. The oval dinette table is secured to a device that allows you to move it and lock it down in any desired position. The L-shaped dinette also has swivel "captain chair" cab seats to provide extra seating options in the lounge area. The prospective buyer has a choice of 'jacquard' fabrics for them to select and customize the lounge upholstery.
02 / KITCHEN UNIT
The kitchen unit has a contemporary design, and is on the righthand side of the vehicle: it has a number of drawers and cupboards featuring chromed push-lock handles. It comes with a two-burner hob with a cover that closes flush with the work surface, a steel sink with a Wingamm wooden chopping board cover, and a 3.3 cubic ft Trivalent refrigerator.
03 / DROP-DOWN BED
The longitudinal drop-down double bed, patented by Wingamm, is quick and easy to use by simply pulling it down or pushing it back up again manually. It comes with slats and a memory foam mattress for maximum sleeping comfort, and you can still easily reach the side roof lockers. The curvy, light and bright interiors are designed to use space as efficiently as possible. Wingamm have a selection of a number of different furniture finishes to choose from when making your purchasing decision.
TECHNICAL INFORMATION
Drive: Dodge Promaster
Length: 213.39 in
Rear overhang: 57.9528 in
Wheelbase: 118.11 in
Turning radius: 11.40 ft
Travel seats: 4
Sleeps: 3 + 1
Total mass: 7716lb
Brochure

Download the OASI 540 brochure here.
The Wingamm Oasi 540 will be presented on:
November 15th – December 15th
Santa Monica Place Shopping Center
395 Santa Monica Pl, Santa Monica, CA 90401
Pre-Orders are now officially open
Contact the company at:
[email protected]
(310) 963-9516