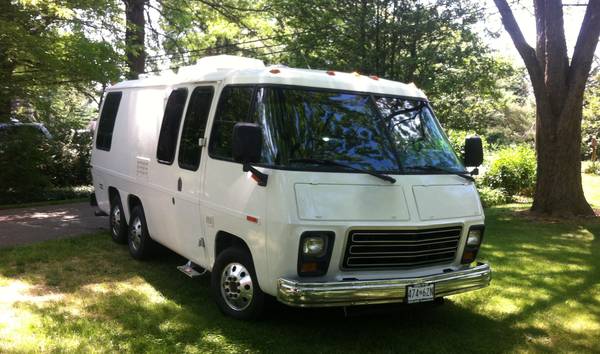 ---
Pete Peek, an owner of GMC Motorhomes for over 20 years, is selling both of his 23ft motorhomes. This is the listing for the 1976 23 ft "Birchaven" with an LS1 crate engine and other significant upgrades and fixes. Both of the GMC Motorhomes he has for sale are in the Washington, DC area.
Got myself started on two 23′ GMC Motorhome Projects in 2019. One is a 23 footer 1973 GMC Motorhome Sequoia with 70,000 original miles, mostly by the first owner who kept it for 40 years in Delaware. I have all the manuals, has both awnings, and a replacement cloth Interior. I have repaired and upgraded many Items, still needs a few details and personalizing. I'm asking $ 25,000 for this one. (I'll be posting a video, photos, and technical specs. in the next week or so.)
The other is a 23 foot 1976 "Birchaven" GMC Motorhome that spent most of its like in California. It has less than 20,000 miles on an LS1 engine that was installed not too many years ago. That's what I want to discuss today.
Watch this video of me describing this other GMC Motorhome I'm selling. It's a 23ft 1976 GMC "Birchaven" Motorhome. The video isn't that long and worth watching to the end. I show you around the exterior and interior of this fine-looking (and sounding!) coach.
This Birchaven GMC Motorhome has less the 20,000 miles on a new and complete front drive train. It also has:
A New LS1 crate engine kit installed
A rebuilt heavy duty transmission
A late GMC truck front suspension
New headers and a 3″ Exhaust
Disc brakes on the second axle
Through-bumper tow hitch
New CR Lawrence main windows
A McNeal dashboard
Over $50,000 in upgrades when I got it (I have the receipts)
However, it needed a complete interior, so a complete Interior was removed from a donor vehicle, plywood and wallpaper replaced the original particle board and Formica. I then added a new headliner, upholstery, and carpeting…plus a lot more. You will have to see it in person. I'm really proud of how "The Beast" turned out.
This GMC Motorhome is finished in Cameo White—a 1970's GM, GMC Color. The coach is ready for personalizing and enjoying by the next owner.
I spent the next 2 ½ years spending time and money to complete, but my wife is not up for camping anymore, so I'm selling both of my GMC Motorhomes.
Asking US$45,000 for this 1976 23ft GMC Birchaven Motorhome. If you're interested in my 1973 23 footer, just contact me.
Email me if interested, will give you a text # and a list of all things done and the costs.