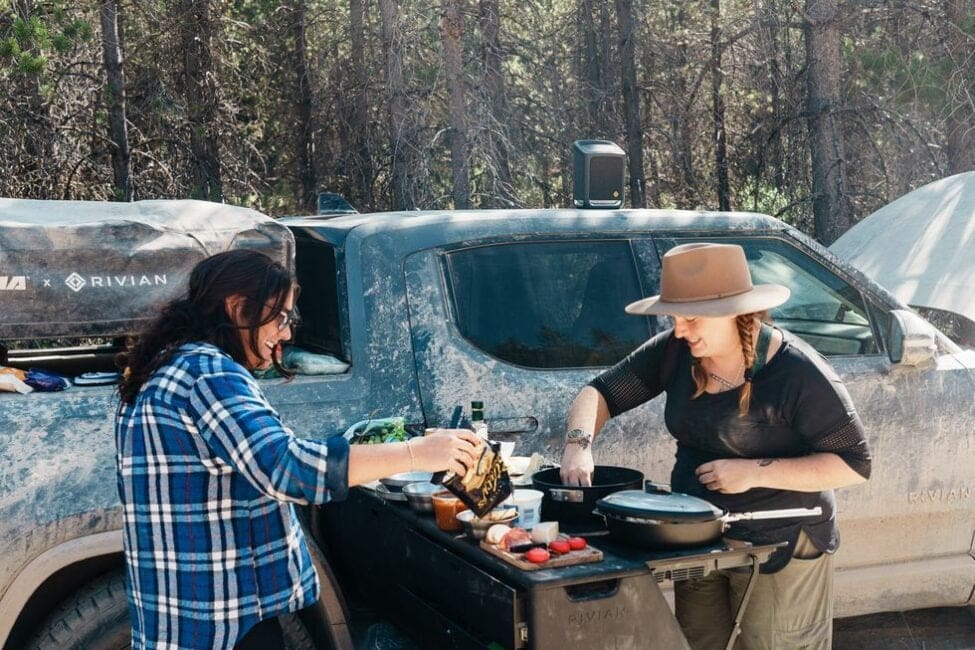 BY Mark Vaughn—Rivian had a number of R1T electric pickups parked on the tarmac of a private airport in the SoCal foothills, with demos set up of everything from charging the truck's 135-kWh battery to cooking popcorn on the $5000 optional slide-out "Camp Kitchen."
Full-size (or near it) electric pickups are going to be a big deal.
The Rivian R1T is the first fully electric pickup truck in customer hands.
With four electric motors driving all four wheels, total system power is a whopping 835 hp and 908 lb-ft of torque, enough to tow 11,000 pounds.
The R1T can raise or lower its ride height by six inches.
Prices start at $68,575, or $74,075 for the Launch Edition, which is the one being delivered to real buyers right now.
---
As the wheeled world slowly transitions from 120 years of gasoline, the electric pickup truck revolution seems to be led by Rivian. Or is it?
Rivian claims that, unlike rivals Tesla, GMC and Ford, it is actually delivering electric trucks to real people. And while early reports said that "people" seemed to mean Rivian employees, who were doing what amounted to beta testing for the company, Rivian insists otherwise. It says actual human buyers outside the company have received R1Ts and many others will get theirs in the coming months.
"Yes, there are non-employees driving their trucks today. More R1T deliveries to come the rest of this year and as we continue to ramp into next."

Rivian Spokesperson
Deliveries of the R1S SUV, meanwhile, will begin "by the end of the year," said another company rep.
Little-known fact: when Rivian was founded in 2009, the first vehicle was going to be a sporty coupe that looked a little like a larger version of the Hyundai Veloster. That product was going to be in customer garages by 2013. Deadlines come and go in the electric vehicle world, and no one seems to worry too much about it except auto writers. Try starting a car company yourself and see how easy it is.
Meanwhile, GMC claims it'll have Hummer EVs in customer driveways by "fall 2021." That gives them about two weeks. Ford's promising F-150 Lightningelectric pickup is due for deliveries in "spring 2022," which would give them until June 21. And the Tesla Cybertruck? Who knows? I'll just call them up and… wait, the number's been disconnected! Regardless, Rivian is (more or less) leading the electric pickup truck revolution. So congrats to them.
As you may have read recently, there's a lot going on at Rivian. It just completed an IPO from which it raised $12 billion. That's after half a billion invested in Rivian by Ford two years ago, three-quarters of a billion from Amazon, $350 million from a company called Cox Automotive, and then billions and billions more from various investment rounds thereafter. The company's market cap hit $179 billion earlier this year before settling in at around $110 billion as of this writing. And it is being sued by its former marketing director, whom it recently fired after, according to her, she was sidelined and ignored.
Somewhere in and among all that news there are actual vehicles being built, and we got a chance to drive one late last week.
Let's begin with the basics. The R1T has four motors, one for each wheel, all four mounted inboard of the wheels for reduced unsprung weight. Total system power is a whopping 835 hp and 908 lb-ft of torque, enough to not only tow a claimed 11,000 pounds (!) but do 0-60 mph in three seconds (published tests got 3.5 seconds, we got 4.1 in an unscientific handheld timing run but that was on A/T tires). EPA estimated range is 314 miles. The independent motors at all four wheels not only help in handling and four-wheeling but allow it to do that tank-turn trick we saw on internet videos a while back. Though word is that particular trick is not programmed into the trucks that are out right now.
It rides on an independent air suspension that you can raise and lower ride height as much as six inches, depending on what you're driving over. Active damping adjusts shock stiffness depending on ride mode and driving style, while hydraulic roll control not only helps flatten-out the ride in corners but reduces "head-toss" when off-roading, saving you from whacking your noggin against the roof rails when crawling through whoops and potholes.
Look underneath the R1T and all you'll see is a perfectly flat underside. Big sheets of steel, aluminum and carbon fiber protect the undercarriage and the battery pack in a seemingly seamless stretch of wind-cheating flatness. Between the aft end of the passenger cabin and under the front of the truck bed is what Rivian calls a "gear tunnel," a 22.7 x 25.4-inch crawl space that seemingly everyone wants to slither into. The tunnel is where the optional $5000 slide-out Camp Kitchen resides, with its titanium flatware, electric cook stove and cute little sink. Yes, you could set up a two-burner Coleman stove on the tailgate just as easily, but the Silicon Valley yuppies don't do two-burner Coleman camp stoves. The doors for the gear tunnel also function as seats, holding up to 250 pounds each.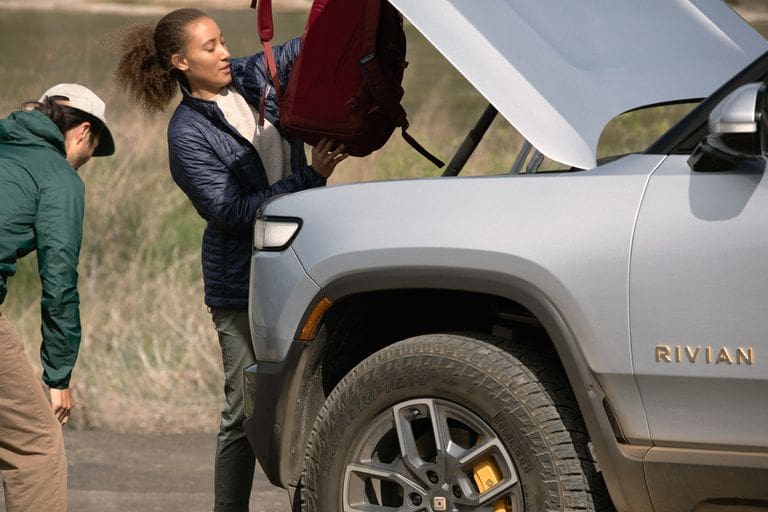 Total storage in the R1T is over 62 cubic feet, including the front trunk, the space in and under the bed, under-seat compartments in the cab, and in the center console and the gear tunnel. The bed itself has a "weatherproof" roll-out cover, too. The bed is 54 inches long with the tailgate up and 83 inches when the gate is down. In every Rivian sold there is an air compressor with an air hose that'll reach all four tires and can pump up to 150 psi of air into any one of them (though don't pump 150 psi, please). Handy. Through a partnership with Yakima, you can add all kinds of racks to your Rivian. At the demo day they had a Yakima pop-top tent mounted on cross rails across the truck bed that sells for $2650. There were also racks for standup paddleboards, kayaks, snow boards, and bicycles.
Inside, the R1T is spacious and comfortable, with all the modern amenities we expect in a luxury car and a lot of the features we've seen on various Teslas. The two scroll wheels on the steering wheel spokes, for instance, perform a lot of the same functions as those on the Model X. There are two interior themes: Adventure, with nice raised-grain wood paneling, and Explore, with matte black finishes and "vegan leather."
A configurable 12.3-inch digital gauge cluster sits right in front of the driver, while a 15.6-inch landscape-oriented touchscreen allows you to control almost all the systems on the truck, from ride height and drive mode to climate control and WiFi. Indeed, the R1T offers LTE, WiFi, Bluetooth, wireless charging, six USB ports, four 120-volt outlets, and Alexa. There's even the coolest Bluetooth speaker that pulls out from under the center console to play tunes or to work as a camp lantern.
With all spec-sheet info mastered, off I set. The R1T was quiet, of course, and right out of the parking spot I was encouraged to floor it. Like many large and modern electric vehicles, the R1T offers impressive acceleration of the actual neck-snapping variety. I tried a few slalom turns on the airport runway and noticed minimal body roll as the hydraulic roll control did its job. We got to a section of potholed, dirt whoop-dee-doos, raised the suspension via the touchscreen, and danced along just fine over the toughest dirt Agua Dulce had to offer.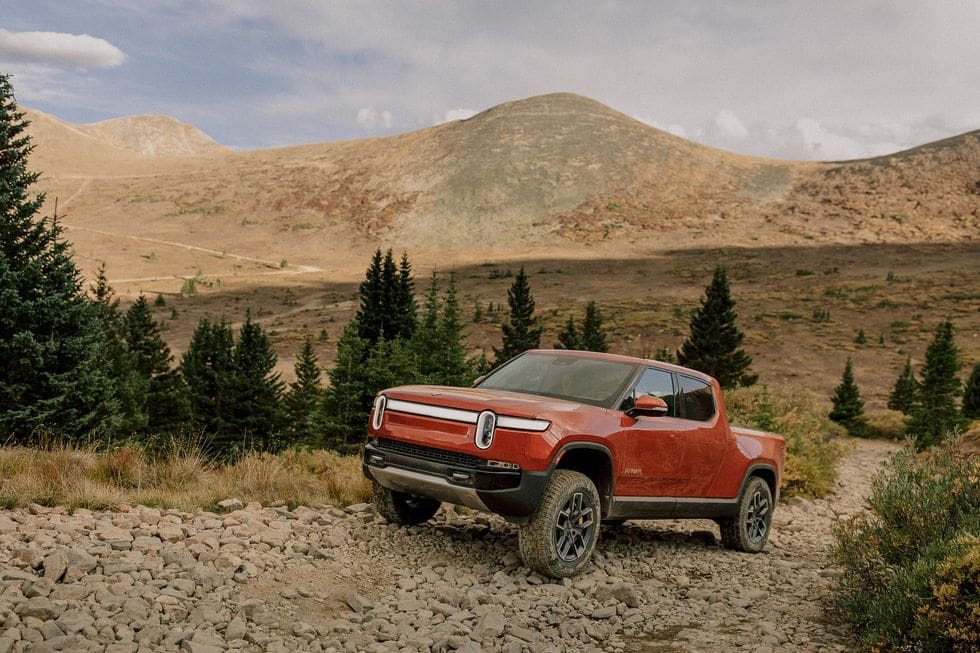 A longer ride would have been preferred but so far, the R1T seems good.
Prices start at $68,575, or $74,075 for the Launch Edition, which is the one being delivered to real buyers right now. Those are higher starting prices than the Ford Lightning, which has a claimed work truck price of $39,974, though you can load a Lightning up to over 90k. Before it removed them from its website, Tesla listed Cybertruck prices at $39,900 to $69,900. No idea when that will be available. All of those are still lower than the GMC Hummer EV, which will start at $108,700.
The real questions may hit next year when rivals from automakers much longer-established get their EVs out on the market and into garages. Indeed, in two or three years, after some quality-control questions have been answered, we'll know a lot more about this brave electric future we're all entering. Like, how far can you actually drive with 11,000 pounds on a trailer (early experiences touted on the internet suggest about 100 miles, in this and other electric vehicles). Also, how will these things all do during their first winter? Cold weather can really sap an EV's range, especially if you're running the heater in it. So there are a few unknowns, but the known knowns so far are promising.
EV trucks interest you? Think they'll find many buyers? Share your thoughts on the Rivian RT1 and other coming electric pickups in the comments below.
SOURCE: Autoweek. No copyright infringement intended.