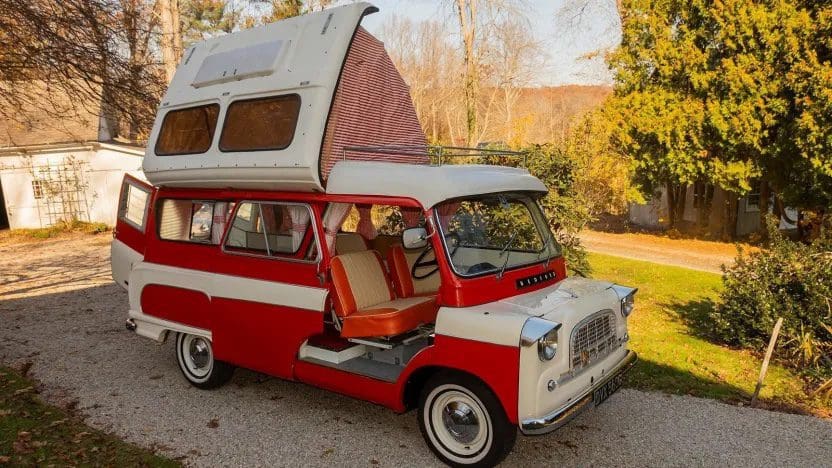 By Mercedes Streeter—One of the great things about the resurgence of camper vans is that a number of fantastic vintage vans are resurfacing. Some of them are known greats like Volkswagen campers, but some are more obscure campers like this van before you today. The Bedford Dormobile is Britain's answer to the campers of its day and it sure is bizarre.
Dormobile's history dates all of the way back to 1773. Back then, the company says, Martin Walter launched a family business that first made horse harnesses before getting into building carriages. Fast forward 150 years and Martin Walter Ltd was still coachbuilding, but now making convertible roofs for cars. Later, the Martin Walter company would create the Utilecon body, a concept that transformed panel vans into passenger vans in seconds.
The Dormobile Story
Timeline
1773: Horse Harness To Carriage Builders
Martin Walter begins a family business making harnesses for horses. They evolve into skilled coach & carriage builders.
1933: Rollers, Bentleys & The Wingham
As an established name at the dawn of the motoring age, Martin Walter forges links with Rolls Royce, Bentley & Vauxhall. The Martin Walter 'Wingham' Vauxhall is launched in 1933. The cabriolet could transform from closed saloon to open top tourer, and in doing so, tips its hat to what Dormobile would become
1935: The Utilecon
The design evolution gathers apace, and the Utilecon multi-purpose vehicle is born. This ingenious motor turns from flat panel van to a 7-seater passenger saloon, all in a staggering 5 seconds, according to adverts of the time. The seed is sown for the Dormatic seats.
1939: Martin Walter Helps The War Effort
Not only do they provide munitions, but the adaptability of the Utilecon proves extremely useful. From Red Cross Ambulances to Royal Navy utility vehicles, the Utilecon 'does its bit'.
1952: The Bedroom On Wheels
The Bedford CA launches, and with it we first see the Dormobile; 'Bedroom on Wheels'. The motorhome's success means Martin Walter quickly outgrows the old premises on Cheriton Road, Folkestone, and production moves to Tile Kiln Lane.
1957: The Side Elevating Roof
In A new incarnation of the Bedford CA Dormobile is launched, complete with seating for 4, a bed for 2, and the real star of the show, a side elevating roof. This Dormobile Caravan is an instant hit, with mountains of headroom throughout.
1961: The Dormobile VW Split Screen
Volkswagen & Land Rover join the growing list of base vehicles being converted into Motor Caravans. That iconic candy stripe canopy & roof bunks on a Volkswagen split screen would go on to become a sought-after classic.
1969: New Name, New Logo
Dormobile Ltd is created, taking care of the ever-growing Motor Caravan side of the business. The roof is immortalised front and centre, in the new company emblem.
1970: Iconic Motor Caravans A-Plenty
Dormobile Ltd launch a host of vehicles ranging from the Fiat Dormobile D4/8, to the top selling Freeway, available as both Bedford CF & Ford Transit.
1994: Folkestone Factory Closes Its Doors
After unprecedented success, the tail end of the millennium sees a rapid decline in Dormobile's fortunes. Rising costs of raw materials, competition & the modern package holiday are all contributing factors. The factory finally closes its doors.
1997: The New Era For Dormobile Ltd
Dormobile Ltd becomes available for purchase. Now operating on the South Coast of England, Dormobile Ltd aimed to keep these classic vehicles looking as pristine as the day they rolled out of Folkestone.
That brings us to the van plastered across your screen.
It was built in 1969, the year that Martin Walter Ltd changed its name to Dormobile Ltd and started making Dormobile conversions for Land Rovers. It's also the final year for the Bedford CA van.
The Dormobile that you see here has the features that you'd expect in a camper van with its stovetop, oven, sink and cabinetry.
PHOTO: Bring a Trailer

PHOTO: Bring a Trailer

PHOTO: Bring a Trailer

PHOTO: Bring a Trailer

PHOTO: Bring a Trailer

PHOTO: Bring a Trailer

PHOTO: Bring a Trailer

PHOTO: Bring a Trailer

PHOTO: Bring a Trailer

PHOTO: Bring a Trailer

PHOTO: Bring a Trailer

PHOTO: Bring a Trailer

PHOTO: Bring a Trailer

PHOTO: Bring a Trailer

PHOTO: Bring a Trailer

PHOTO: Bring a Trailer

PHOTO: Bring a Trailer

PHOTO: Bring a Trailer

PHOTO: Bring a Trailer

PHOTO: Bring a Trailer

PHOTO: Bring a Trailer

PHOTO: Bring a Trailer

PHOTO: Bring a Trailer

PHOTO: Bring a Trailer

PHOTO: Bring a Trailer
Up front is a dining table with what looks like some cushy seats flanking it. The seats in the van fold flat — including the driver seat — so you can sleep in them. This Bedford CA Dormobile sleeps four and the accommodations don't look bad for something this old. The van looks so good because it was restored in the UK before being imported to America.
Through some sleuthing I've found that van was sold on Bring a Trailer back in January for the surprisingly reasonable price of $US23,250 ($32,276). Buying it now would set you back $US48,000 ($66,634), but the seller says that more restoration work has been done since then, including the van's bunk beds.
That said, Dormobile does restorations on its iconic vintage vans, so parts to keep this going should still be around. Bedford Vehicles folded in 1986, but thankfully the engine is also said to have been common back in its day. Keeping that alive shouldn't be too hard, either. That makes this van an import that you won't be afraid to drive. So if you're looking for something a bit different, this could be the ticket.
(Source: Gizmodo.com and dormobile.co.uk. No copyright infringement intended.)
Subscribe to our newsletter!
[jetpack_subscription_form show_subscribers_total="false" button_on_newline="false" custom_font_size="16px" custom_border_radius="0″ custom_border_weight="1″ custom_padding="15″ custom_spacing="10″ submit_button_classes="" email_field_classes="" show_only_email_and_button="true" success_message="Success! An email was just sent to confirm your subscription. Please find the email now and click 'Confirm Follow' to start subscribing."]