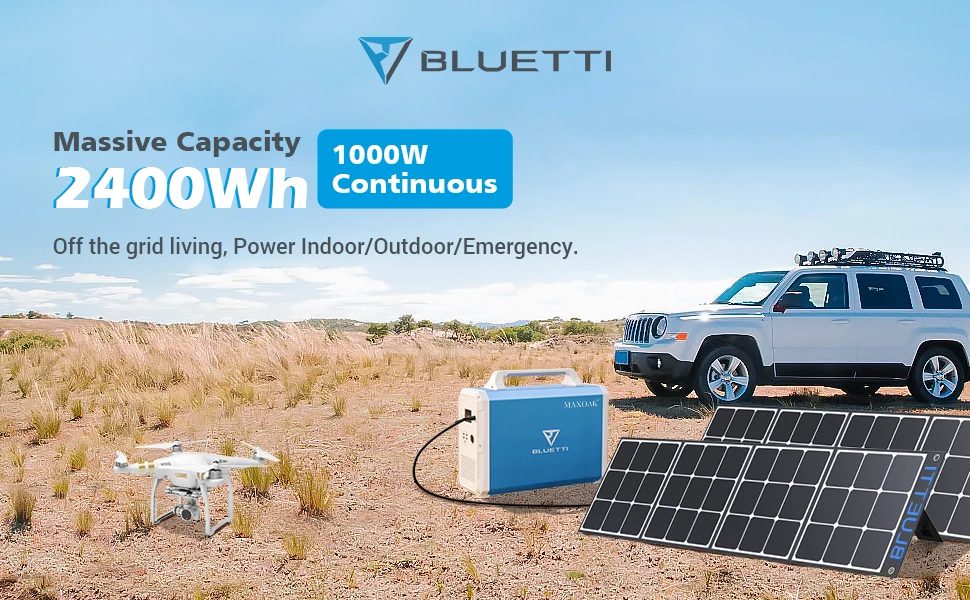 PROMOTION—Apply the additional $100 coupon available to Amazon Prime Members on Amazon.com for a final price of $1399.00 (as of November 29, 2021).
The Bluetti EB240 Portable Power Station is a clean alternative to a gasoline-powered inverter generator that produces 1000W of continuous power and supports up to a 1200W surge.
Their largest, high-capacity portable power station is equipped with over 2400Wh/1000W of lithium battery storage for long runtimes on all your necessary equipment. Versatile energy storage system backs up in your home and scales, reliable access to power sources at any time.
Features
Industry-leading Outputs Including AC and 45W USB-C Power Ports
Ultra-safe Lithium Battery (NCM Chemistry Battery Cell)
Intelligent Cooling Controller
MPPT Built-In
2 Charge Methods(Solar Panel,200w AC Wall Outlet)
Additional Information
CHARGE TIMES
Refrigerator(800w) 2.4Hrs+CPAP(60w) 32+HrsLaptop(60w) 32+ RechargesFan(12w) 170Hrs+Smartphone 200+ RechargesLed lantern light(10w) 200Hrs+LCD TV(100w) 20+Hrs
PORTS
Inputs:
AC Charging/PV Input Port: 7.9*0.9mm DC42V/160W, OCV 16V~68V /MAX.10APV Max Input Power MAX.500W./10A Outputs:
2*AC110V Ports, 1*12V9A DC Port1* 45W PD USB-C Port4*5V3A USB-A Ports
BATTERY DETAILS
NCM Chemistry Battery CellPack Capacity: 2400Wh/1000WLifecycles: 2500+ CyclesShelf-Life: Charge Every 3-6 MonthsManagement System: 'MPPT' Charge Controller, Low Battery Protection
GENERAL
Sku: Bluetti EB240
Size&Net 19.4*6.5*14.4inch,48.5lb
Warranty: 24 Months
Operating Temperature: 0-40°C/10%-90>
Safety By Design
Battery Management System (BMS) Enables Short Circuit Protection, Voltage Control, Temperature Control And More Advanced Safety Operations.
Other Enhanced Safety Features Include:
LCD Screen With Charge/Discharge And Battery Life Status Switch With Indicator Light For On/Off Output Port Charging
Package Includes:
1 x Portable Power Storage (EB240)
1 x 200W AC Wall Charger
1 x PV Solar Charging Cable(DC7909 To MC4)
1 x User Manual
1 x Certificate Of Qualification
Downloads